Flatbreads were known to have been eaten in ancient Egypt, Rome and Greece. It didn't take long for people to add toppings to these flatbreads. Not until after tomatoes were brought to Europe from the Americas, though, did the people around Naples, Italy begin creating what we now think of as pizza. Italian immigrants brought this dish back over the Atlantic, and throughout the 20th century, the popularity of this dish grew into the craze we know it to be today.
In all that time, people have continued to tinker with pizza recipes. Innovation and attention to quality seem to be the hallmarks of successful pizza restaurants today. We see those qualities at Eat Local Pizza in Thunder Bay, My Sister's Place in Grand Marais, and Jimmy's Pizza in Silver Bay.
At Eat Local Pizza in Thunder Bay, their commitment to quality is highlighted by the use of local ingredients in their pizzas whenever possible. Their list of local growers and producers is long and includes flour and canola oil from Brule Creek Farms, cheese from Thunder Oak Cheese Farm, meat from Bogdala's Smoked Meats, and produce from local farms. CEO Jim Stadey grew up on a farm and worked in pizza place as a kid. His dream of a pizza shop using local products came to fruition 10 years ago. He had previous relationships with local growers, and those relationships have become the mainstay of how they do business.
Innovation has also been prominent in their business. Those who innovated to add tomato to their pizzas hundreds of years ago would probably have difficulty contextualizing Eat Local's best seller, the perogie pizza. Made from George's Market cream sauce, caramelized onions, Bogdala's bacon, Brule Creek flour, Lucy Q Perogies, and Thunder Oak extra old gouda, and with two sour cream dips, this pizza certainly fits their business model. And it's a big hit.
"When you taste how the sweet, dark caramelized onions and smooth rose cream sauce pair with the salty sliced bacon and the cheesy perogies, and then you get hooked by the punchy extra old Gouda… we've got you hooked," says Stadey.
Another big seller is their cheeseburger pizza. For the beef topping, they mix local beef with horseradish and mustard, press it flat, and blast it at 500 degrees to duplicate "the caramelized flavors of a char broiler." Added to this is a secret onion relish base, a secret sauce drizzle, extra old gouda, and local bacon. It has been competing with the perogie pizza for most popular. Stadey says, "This pizza is bonkers. If you have tried it, you know what I mean."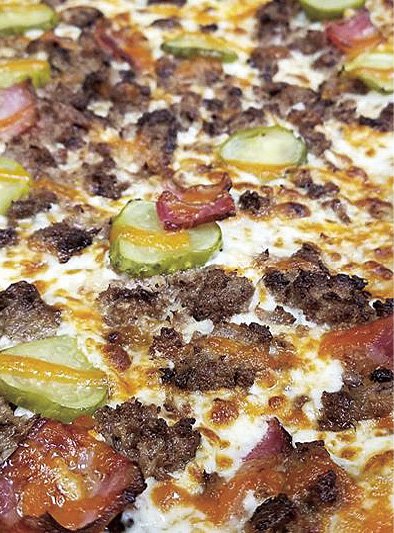 Among the other notable things going on at Eat Local Pizza is their Pay It Forward program. Through it, they have offered thousands of free pizzas to people in need since March. They have also begun selling frozen pizzas. The roll-out of this side of the business has been hugely successful. Their pizzas are available in six local grocery stores. As they have had difficulty keeping up with demand, they are looking into opening a separate facility to make the frozen pizzas.
Innovation is nothing new to My Sister's Place in Grand Marais. This local eatery has long been known for their unique takes on the hamburger. When Paul and Cara Sporn purchased the restaurant a little over 10 years ago, they added the pizza kitchen. The same attention to quality and innovation that has gone into their burger business is evident with their pizzas.
According to Jenny Schuler, "Our pizza starts with a homemade crust that we roll out to a thin blank canvas to be topped with fresh hand-sliced ingredients. Baking it on a stone oven really gives the crust that crisp finish that so many find desirable."
Their bestseller is the House Special. It contains homemade Italian sausage, pepperoni, fresh mushrooms, onions, green pepper and black olives, combined with their house sauce and plenty of mozzarella.
It doesn't take a deep dive into the menu to discover some of their more innovative pizzas. One of their big sellers is the Mexi pizza. A bit like a taco salad on a pizza crust, this pizza incorporates taco sauce, ground beef, mozzarella and cheddar cheese, then adds fresh lettuce, tomatoes, black olives, and more cheddar cheese. Sour cream and salsa are available on request. Of this pizza, Schuler says, "Yes, putting lettuce on pizza is a good thing."
Other crowd-pleasing innovations include the lemon arugula pizza, which features olive oil, mozzarella, and parmesan cheeses and is then topped with fresh arugula and fresh lemon juice. My personal favorite, the pulled pork kimchi pizza, was inspired during a Sporn family trip to Hawaii. This pizza combines house-smoked pulled pork, sambal BBQ sauce, kimchi, red onion, pineapple, mozzarella cheese, and spicy sambal mayo sauce. This pizza will definitely light up every part of your palate. My Sister's Place also offers half-baked (and fully baked) pizzas for take-out and calzones.
Jimmy's Pizza in Silver Bay is part of a franchise out of Wilmar, Minn. Owner Roger Jacobson has a degree in restaurant management and decided on a pizza restaurant when he opened for business nearly 16 years ago. Jacobson prides himself on the quality of his pizzas.
"I like to say I've got the best pizza on the North Shore," he quips.
For him, it all starts with a high-quality sauce. They offer a choice of regular or deep-dish crusts, baked on a stone deck oven, which he says takes a little longer for the pizza to cook but crisps up the crust a little better.
His best-sellers include the Jimmy's Deluxe, with sausage, pepperoni, mushrooms and green pepper. The meat lover's pizza also tops the charts. It is loaded with sausage, pepperoni, Canadian bacon, beef, and a combination of three cheeses. The chicken alfredo and bacon chicken ranch round out the best sellers.
Soft serve ice cream in the form of cones, malts, shakes, and what he calls a Storm, are also for sale. After the hectic summer months, they also offer house-made pastas, including chicken or shrimp fettuccini, Italian spaghetti and lasagna. Jacobson credits his first-rate staff and the quality of their foods for their longevity and success.
Quality and innovation are hallmarks of modern pizza restaurants. We can thank the residents of ancient Naples for their innovations to the cooking of yeasted flatbreads, even though they probably would not recognize the surprising array of ingredients that are featured on pizzas today.