So, what's all this about the "Canadian pickerel" really being a "walleye?" Are we talking about the same fish having two names? For generations, when Americans have said "It is a walleye," we Canadians have—sometimes defiantly—responded, "We call it pickerel in Canada; Americans call it walleye." Have we been wrong all these years? Well, the answer is yes.
A few years ago after I wrote about pickerel fishing on Lake Winnipeg with commercial fishermen, a retired fish biologist contacted me to say that I had actually been fishing for walleye not pickerel. He said that the walleye and pickerel are two unrelated fish, do not even look similar and belong to two different fish families. "But don't take my word for it" he said, "Check it out yourself." I did. He was right. Who knew that all these years, we Canadians have been erroneously calling a walleye by the wrong name of pickerel?
A walleye (Sander vitreus) is the largest member of the perch family; can weigh over 20 pounds; varies in colour; tastes delicious, and is found in most of Canada and northern U.S.
The pickerel is a member of the pike family (Esocidae); found only in eastern North America and is the common name for three closely-related freshwater fish: chain pickerel (Esox niger) which looks like a northern pike with a long snout; and the smaller redfin pickerel and grass pickerel (both Esox americanus).
To many of us Canadians, the walleye is still our pickerel. Restaurants still list pickerel dinners on their menus and most stores (including the famous Fish House) still sell pickerel (not walleye) fillets and the delicious delicacy of pickerel cheeks.
Two states and two provinces have adopted the walleye as their official fish: Canadian provinces of Saskatchewan and Manitoba (though both provinces admit most residents still call it "pickerel") and American states of Minnesota and South Dakota.
Laying claim to the title "Walleye Capital of the World" are a number of places in the U.S: Baudette, Minnesota; Garrison, Minnesota and Garrison, North Dakota; Mobridge, South Dakota; Port Clinton, Ohio; Big and Little Bays de Noc, Escanaba, Michigan; Saginaw Bay, Michigan; and Umatilla, Oregon. In Canada, only Bay of Quinte gives itself the title, though in 2007 Colchester did proclaim itself the Walleye Capital of Canada.
Some "capitals'' have large walleye statues to bolster their claim, like Baudette's huge 40-foot-long, 2-ton Willie the Walleye, built in 1959. Minnesota's Garrison, located on Mille Lacs Lake, has had its giant fibreglass walleye since 1980, while the same year at a cost of $10,000, North Dakota's Garrison erected its own 26-foot 820-pound fibreglass Wally the Walleye. A few like Umatilla and Mobridge put their claim on signs or billboards, while other contenders rely on their walleye fishing reputation and/or hold events like the Lake Erie fishing village of Port Clinton's New Year's bash, "Madness at Midnight Walleye Drop," when their 20-foot long, 600-pound fibreglass walleye, Captain Wylie, is lowered by crane from a roof in downtown.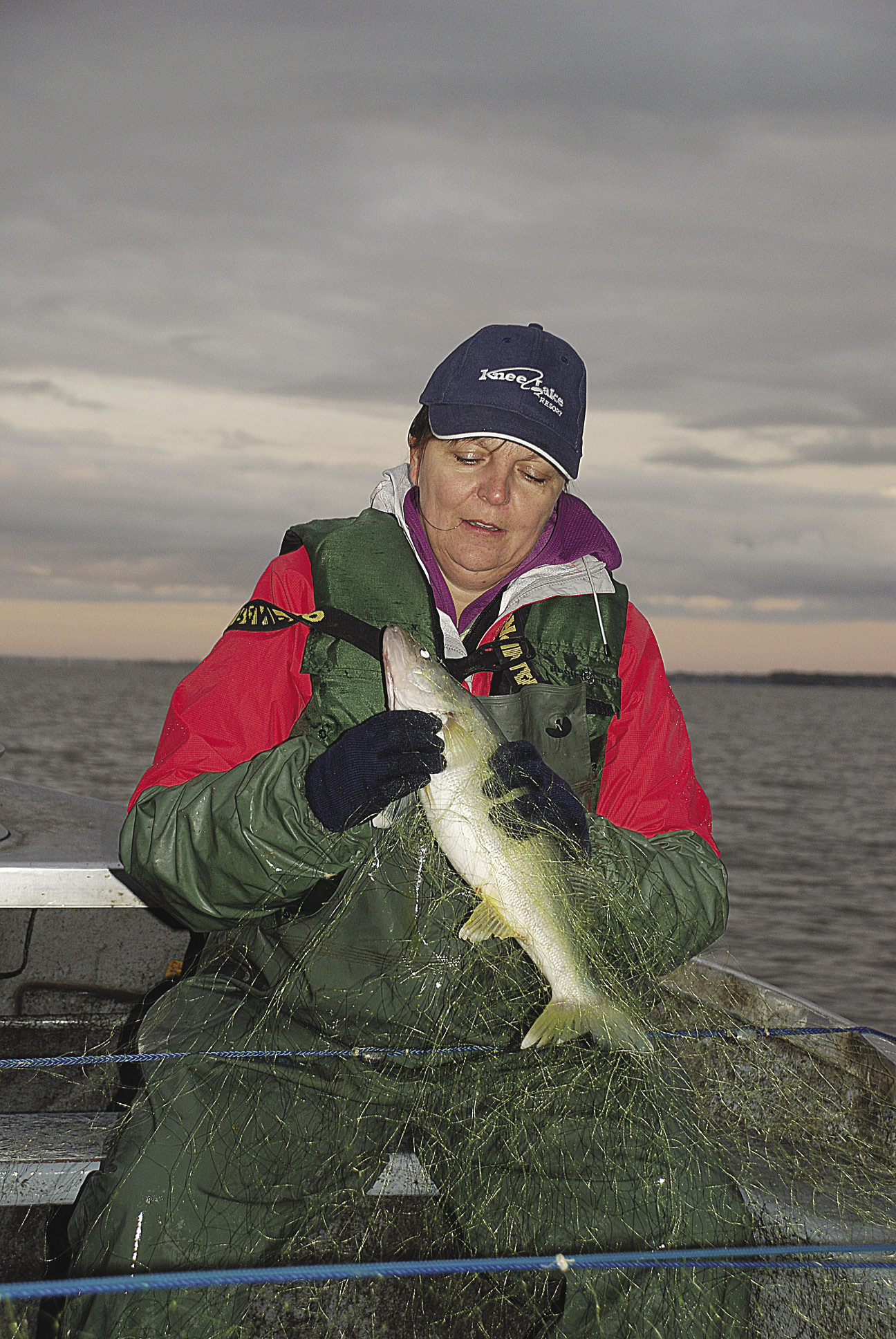 Though not claiming capital status, other giant walleye statues in Minnesota are in Rush City, Isle, Ottertail, and eight miles east of Ray, the 14-foot fibreglass Lake Kabetogama Walleye comes equipped with a saddle for those that want to climb up the stairs and ladder to ''ride the walleye.'' And in Wisconsin's Shell Lake, there's an unusual two-tailed walleye statue.
Over in Michigan, the City of Algonac on the southern end of St. Clair River has been nicknamed the "Pickerel Capital of the World" and for the 77th year, is hosting the Pickerel Tournament. But strangely, there are no pickerel in the area—just walleyes.
The why, where and who first started the misnaming of the walleye remains a mystery. In Canada, to set the record straight, there's a push by governments, scientists and fishing aficionados to give the walleye its proper name. Traditions, however, take time to change, so for the next while, expect us Canadians to still call the walleye, our pickerel.