Lutsen—The North Shore draws people like a magnet. Some people are pulled to it for its unique art culture; some for the ability to find peace and quiet from otherwise busy lives; and some for its quaint atmosphere of great food and northern shops. Still, others find themselves vacationing and living here for the abundance of outdoor adventure opportunities. Adam Krey, director of activities at Lutsen Resort on Lake Superior, is one of many who couldn't say no to the countless trails, wide open water, and impressively maintained cross-country ski trails of the North Shore.
Krey began his outdoor explorations with his family, as many people do. When he was 12, he went on a six-day backpacking trip in the Grand Canyon, with his parents and four brothers. After that, he became hooked on the outdoors. Years later, he went to college and spent his summers in New York, working at a camp where he fell further in love with the wonders of the outdoors.
"I don't know the route I would have taken if not for the summer camp I worked at during college. We had kids from difficult adult-like life situations who simply got to be kids again when exploring a trail or a frog pond," said Krey.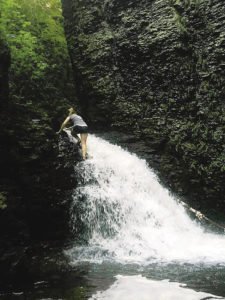 After graduating college, Krey worked a variety of jobs, many of them seasonal. He spent time in Oregon leading backpacking-based wilderness therapy programs, in California teaching outdoor education, and sea kayaking in Alaska.
According to Krey, his work has been "directed toward gaining outdoor leadership experience" and has given him "ample time to be in a place for extended periods and to learn about those places on a more intimate level."
Throughout his many jobs in outdoor leadership, Krey has had the unique opportunity to see how vastly the natural world around us can affect people from all walks of life.
"I think we can benefit most from what we learn outdoors, and there's many layers to that. We learn things of ourselves, of our relationships, and of the place we're immersed in, along with the hard skills to enjoy it or survive it. The benefits to our health go hand-in-hand with that, and there's a real alive feeling to pushing your comfort level, feeling an adrenaline rush, or simply soaking in sounds that have become foreign to us in our own backyards. Idealistically, we learn why wilderness spaces and the great outdoors are important to take great care of," said Krey.
Krey has dedicated much of his life to exploring, preserving and helping others experience the great outdoors. As the activities director at Lutsen Resort, he desires to provide an exceptional outdoor experience to as many people as he can, with the hope that they will gain knowledge about themselves and the natural world. However, it is not necessary to take a guided tour at a resort or to grow up backpacking through National Parks to experience the beauty of the outdoors, especially when on the North Shore.
"Just get out and do it!" said Ellyn Peters, a life-long resident of the North Shore and self-proclaimed adventure lover. "The best thing to do is to just make a plan and go do something outside. Go for a walk or hike after work; get into the habit of doing things like that. Soon, you'll find yourself making plans for bigger and longer adventures."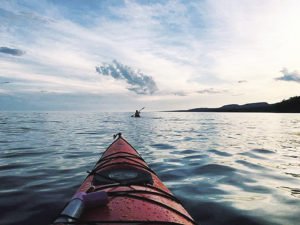 Krey had similar advice for new explorers.
"Start small and just go for it."
With the incredible network of hiking trails, inland lakes, and outfitters filled with maps and guide books, it is not difficult to find a place to start on the North Shore. State Park rangers are always happy to help direct visitors to the best vistas and trails. One of Peter's favorite places on the North Shore is Cascade River State Park; it's easily accessible and provides impressive waterfalls. She also loves heading up the Gunflint Trail to spend time in the Boundary Waters.
Gooseberry Falls, Split Rock Lighthouse, and Grand Portage State Parks are also breathtaking and have many trails for hikers of all levels. So lace up those hiking boots, fill that water bottle, and go see what the incredible outdoors can offer you.