Sometimes art can speak to us in ways that words can't. Whether it's commemorating a loved one, beautifying a city, or expressing experiences that go beyond words, art has a special way of communicating the deeper parts of our life experience. One artist who exemplifies this is Duluth artist Mollie Gilbertson of Mollie Maxine Art. With vivid colors and evocative imagery, her work depicts not only the wild beauty of the Lake Superior region, but the unique stories and relationships forged among its people.
While Gilbertson has lived in the Duluth area for about 10 years, she grew up in northwest Wisconsin where her love of art emerged early as a child. Her art was always more than a mere hobby; it was a way of communicating and conveying her interpretation of the world. Later it grew into a tool for connecting with others, and today has taken the path of expressing her rich dream life.
"My dreaming life has become a huge part of who I am, and I feel I am just as active if not even more active in my dreaming life than in my waking life," she said. "I harness that as much as I can through painting and mural work because I learn a lot of lessons through the symbols and imagery in my dreams that help me guide myself throughout my waking life."
Uncertain about pursuing an art degree, Gilbertson started college at UW-Stout for interior design, but she felt a deep connection to Lake Superior and started taking trips to Duluth on the weekends. Gilbertson followed that pull to the lake–and to art–and transferred to UMD her sophomore year to study fine arts. Her love for Lake Superior and the surrounding region is evident in her art, with many pieces featuring the lake and forests, as well as the people who have called these shores home.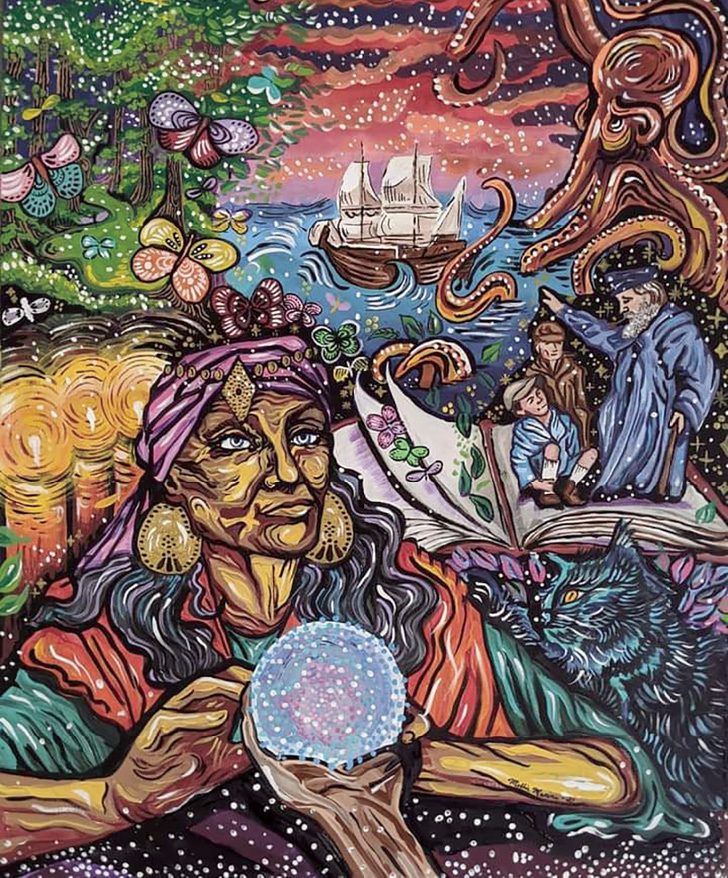 "Humans gathered and built our communities around water," she said. "It's a source of life for us, and I think that I, like many other people, have that innate draw to large bodies of water."
As can sometimes happen when studying something you love, working toward an art degree left Gilbertson feeling burnt out, and her passion for drawing and painting started to fade. She took a few years away from pursuing art more seriously, but that changed when the Covid-19 pandemic hit. At the time, she was in the midst of painting a large mural for VIP Pizza in Superior. Despite being a huge undertaking, the project went well, and the mural–as well as the timing–became a catalyst that started her pursuit of the arts once more.
"When covid hit it was like the world stopped moving, and even though it was a traumatic time for all of us, I also took it as an opportunity be in the fresh air and to start to paint for a living," she said.
This was the start of a new adventure for Gilbertson: she gave up her apartment and during the summer of 2020 she traveled and painted, sometimes staying in a tent with her cat and other times exchanging a mural for room and board. That summer reignited Gilbertson's deep-seated love for art.
"I regained my passion for art and confidence as an artist, which I didn't realize was lacking so immensely before," Gilbertson said. "But now when people ask me who I am or what I do, I can confidently say, 'I'm an artist.'"
The mural-making process involves several unique components: not only is the scale and shape of each project unique to its specific location, but other factors such as the weather and wall textures have to be taken into account during planning. While some mural artists use spray paint, Gilbertson works with a brush. She also said that she prefers not to plan out her murals in advance, which makes space for them to evolve with the creation process.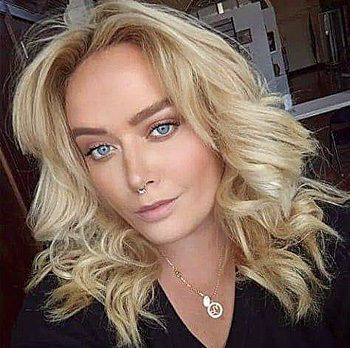 "I get to go on this little journey with each project, and incorporate different things that happen as the week goes on, or different dreams that I have during the process," she said. "People sometimes also come and pull up lawn chairs to watch, which is in some ways daunting, but it's also such a gift because it helps give the piece a little more heart when the people that I'm making it for were involved in the process too."
Over the past two years, Gilbertson has built out her business, Mollie Maxine Art. In addition to murals, she also does her own artwork as well as commissioned pieces. Gilbertson said that a unique aspect of commissioned artwork is the relationships that have grown from it; many of the people who have reached out to her for commissioned art have lost a loved one, and she makes a point to get to know each client and their story when working with them.
"I've made some beautiful friendships in the process, and commissions are my favorite way to work now," she said. "I love connecting with people and both hearing their stories and helping develop their stories with my visuals. I feel like I've always been a compassionate person, and art is an extension of that compassion and a way of utilizing it for the world, for individuals, and the community."
To reach out or to learn more about Mollie Gilbertson's art, visit Mollie Maxine Art on Facebook.