Needing to warm up? Try the Hiki Hut Mobile Sauna in Duluth, owned by husband and wife duo Kelby and Whitney Sundquist.
The sauna itself was once an ice-fishing house that the couple purchased and remodeled beginning in late 2017. Adjacent to the sauna is a changing area and entrance with basket cubbies and coat hooks. The couple began taking it on the road in December 2018.
"It was Whitney and I and the Internet, learning how to build this," Kelby said.
The couple was first turned on to saunas in September 2017. Whitney's brother, a member of the 612 Sauna Society in the Twin Cities area, invited them to a sauna session. Kelby said he and Whitney weren't so sure about the sauna experience.
"Sauna is for the YMCA and the hotels, and you just get hot,'" he remembers
thinking.
But Whitney's brother taught them "how to cycle," as well as sauna etiquette: "kind of how we're teaching people now," Kelby said.
The Sundquists follow the Finnish model, in which you sit in the hot sauna for roughly 15 minutes at a time. A wood-burning stove keeps the sauna heated; the sauna-goers pour some water on the stove's hot stones to create steam. The mobile sauna reaches between 190 and 200 degrees.
A wooden hot room fueled by a wood-burning stove sounds great on a cold day. But you'll soon become uncomfortably hot. When this happens, Kelby first suggests to create more steam and take in the heat.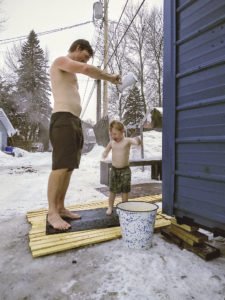 When you can't take the heat, get out of the sauna. You may jump in the snow or pour water over your head. You may use one of a variety of essential oils to build and break a snowball. You might even jump in the nearby Amity Creek, where the couple cuts a hole in the ice each Sunday.
And when you become uncomfortably cold, Kelby suggests to wait a little longer before heading back in the sauna. He suggests that people who jump in the creek stay in for at least 15 seconds. You'll cycle in and out of the sauna about three times per a one-hour session, Whitney said.
"It's about getting the endorphins going," Kelby said, adding that through the cycling, you won't always feel comfortable. "After you do it, that's when you benefit."
After that September 2017 sauna session, the couple felt more relaxed than ever as they drove home. The sauna destressed them from the usual grind of life and work, and they slept better than they ever had. Still, moderation is key—like drinking beer, overdoing the sauna experience defeats the purpose, Kelby said.
The Sundquists aren't the only ones who swear by the sauna. Finnish immigrants brought saunas to the northland, and once here often built their saunas before their own homes.
Today, people across the world swear by the sauna. Users sweat out toxins and relax their joints—many of the mobile sauna users come to the chalet after skiing or snow-shoeing, the Sundquists said.
The sweating can also help burn calories, or in the short term, improve respiratory conditions. Some studies, from Finland and Germany respectively, have even suggested that sauna users have a reduced risk of Alzheimer's Disease or the seasonal flu.
But the physical effects only make up part of the experience.
"There's kind of unspoken rules in the sauna," Kelby said. "You don't bring your phone in the sauna. You don't talk politics in the sauna."
With room for six people, you're bound to sit with some strangers in a space where everyone is vulnerable, yet created equal. In one sauna session, an electrician could be sitting next to a doctor, Kelby said.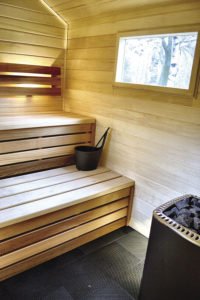 "It's a melting pot."
Whitney suggests to keep an eye on a clock on the wall, as she said that two minutes may easily feel like 15. But the hour-long session often forges new friendships.
"By the end of the hour, people are swapping phone numbers, chatting about their week or their families," Kelby said. "It's a social situation where there is no segregation."
After that September 2017 experience, the Sundquists found that while Finnish immigrants brought their saunas to the northland, there's a scarce local market of public saunas. They decided to create their own, and knew right away they wanted to make it mobile, to be near Duluth's water access, trails and other area scenes. At the urging of friends and family, the couple decided to gauge public demand.
The mobile sauna has found success. The couple completed seasonal residencies in the Duluth area, attended events like Ursa Minor's recent Winter Solstice celebration, and joined pop-up events at breweries, parks and other locations.
After its winter residency, the couple plans to bring back last summer's "Cold Water Club," which proved popular with the public at a time when the couple thought demand would taper off due to warmer weather. Details are still in the works, and people can follow the sauna's website and Facebook page for updates.
"Everyone likes their sauna in different places, too," Kelby said. "Some people, we only see at taprooms." He added with a chuckle, "some, we'll never see at taprooms."
The mobile sauna is brighter in color and lets in more light than a traditional darker sauna. This way it feels as warm aesthetically as it does temperature-wise. The couple wanted to bring nature, quiet, calm and serene themes, Kelby said.
Return customers and word-of-mouth recommendations help the success, Kelby said. Cara Price had tried a sauna at The Y while living in Grand Marais, but first tried the mobile sauna on her birthday.
"It's super relaxing," she said in the nearby lodge, where sauna-goers can enjoy a fireplace and tea after their session.
On this particular Sunday, she returned with three companions. Price said the group enjoyed time away from screens, in a setting that was both a social event and one that promoted wellness.
"You're just sitting there spending time," she said. "You feel like you're doing something good for yourself."
The Hiki Hut Mobile Sauna is completing its winter residency from noon to 5 p.m. on Sundays, at The Lester-Amity Chalet in Duluth, near Lester and Amity Parks on Seven Bridges Road.
The mobile sauna will return here through the ski season, which typically ends in March, said Whitney. The sauna costs $15 for a one-hour session, and guests should reserve their seats at hikihut.com/reserve-your-seat. Come prepared with swimsuits, towels and water bottles.—Tammy Bain