As temperatures become frigid and the roads become glazed, some of us tend to zone out and hunker down until spring finally emerges. But some folks like (and thrive in!) the ice and snow. That includes the kids in KC PRO-East.
KC PRO-East is the Kids Championship Power Racing Organization. It is a snowmobiling, ice race group for kiddos. KC PRO originally came about in 1987 in Thief River Falls. The group split into east and west groups in 1991, with KC PRO-East focusing on the Iron Range area. After that, the group split again later between north and south, as travel was still a concern in the winter (creating KC PRO Ice in the southern part of the state). Coming up, KC PRO-East races on February 22 and 29 in Duluth.
The organization has 15 different classes for every age 17 and under (oval ice races are for kids ages 4-14).
"Our requirements for each class depend on how you set up your sled, gears, and motors. It also depends on the experience of the child," said Shawntel Gruba, the KC PRO-East secretary. "It's all about having fun. Sometimes they're great at it, and sometimes they're not, and that's okay."
Every year the organization has several different races (including the ones in Duluth). They always have a big race, but the name always changes. This year it is the Midwest Championships, hosted by Kids Pro Ice in the Twin Cities area.
"They invite everybody to get together and we do our own little state championship races," said Gruba. "There are cool trailers, cool sleds, fun kids. We're out on the ice all day long, from 7 a.m.-4 p.m. The races start fun and the kids give each other knucks, then they become serious for the race. After it's over, there's a lot of 'Great job, you did great!'"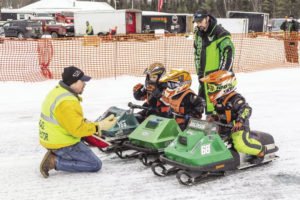 Gruba and her husband Adam (the president of the club) have been involved with snowmobiling their entire lives.
"It seems like around here you're either into hockey or snowmobiling, and our family was into snowmobiling. You'd get home and you'd hop on your snowmobile and go see your friends. [Our group] is like a second family now. I have a huge love and passion for the sport. Our son is now 11, but he started when he was 5," said Gruba. "We race every Saturday in January and February and for two weekends in March. You don't take weekends off. It's not like other sports, there is no practicing really."
Why do the Grubas do what they do?
"It goes back a long way; I love kids," Gruba said. "I run the board at the beginning of the track. I get to see each kid before they go out there. I don't want to sit and watch, I want to be out there giving every kid a high five. I know we're going to be here for a long time. I want to see the club succeed."
The group not only races, but also raises money for a cause. Lately, they've really been focusing on local kids who are ill.
"The kids can identify with them, because they are all around the same age. We raise money, invite the families to come to the race track, do a lap for them, and give them a jersey. We like to raise awareness for a cause and dedicate what we're doing to them," said Gruba.
Do you know someone who would be interested in KC PRO-East?
"Come play! Check it out, it's really neat," said Gruba. "The kids just walk into people's trailers. Be a spectator. Decide if you want to try this. We have all of the protective gear. Check it out around the track. Experience the intense moments. We love having new members, even if it doesn't work out, we're all there to help you. It is a family sport."
To learn more, visit: kcproeast.com.