Lighthouses have been around for thousands of years, the world's first documented one being the Pharos Lighthouse built in the third century B.C. on a small island in the harbor by Alexandria, Egypt. In the U.S., the first lighthouse was the Boston Light, built in 1716 in Boston Harbor, Massachusetts. In Canada, it was the Louisbourg Light built in 1732 in Louisbourg, Nova Scotia. On Lake Superior, the first lighthouse to be lit was Whitefish Point Light in 1849, while Ontario's first was St. Ignace Light on Talbot Island, lit in 1867 (infamous as the "Lighthouse of Doom" after three consecutive keepers died and the lighthouse was removed from operation).
While the era of lighthouse keepers on Lake Superior is gone, their stories remain.
Some say the most dangerous time for lighthouse keepers was getting them to/from their stations at the beginning and end of navigation season. But what happened if stormy weather prevented a vessel from picking them up at the end of the season? In December 1926, the keeper and his three assistants at Rock of Ages Lighthouse were faced with such a scenario. Within a week, they were running out of fuel and water. Feeling stranded and fearing starvation, they opted to cross the wintery waters of Lake Superior in their open boat to get to the Minnesota mainland.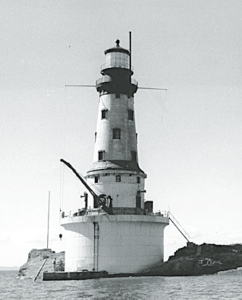 In the meantime, the lighthouse tender Marigold reached the Rock of Ages Lighthouse on December 18, but found the site abandoned and a note on the door saying the men had left. A search by Marigold found no trace of the men, leading to fear the men had perished. A few days later on December 20, a weary Robert Morrill, the assistant keeper at Rock of Ages, reached Duluth and reported all had survived. Heavy ice floes had prevented them from landing at Grand Portage, so they had gone to Pigeon Point. Leaving the others at the Point, Morrill rowed and walked in waist-deep snow before travelling by boat to Duluth. A happy ending as all the keepers were safely rescued.
Some keepers opted to stay the winter with their family at their light stations, like Danish-born William F. Demant, the keeper of the Passage Island Light located 3.25 miles (5.2 km) NE of Isle Royale and about 42 miles (67.5 km) from Thunder Bay. But their first winter was a harrowing one for the family. As the story goes, in 1883 after the season closed, his wife and three children stayed on the island while Demant went to stock up on winter supplies in Port Arthur, Ontario (now part of Thunder Bay). While there, the weather turned bitterly cold with dangerous ice conditions, preventing Demant from returning and leaving his family stranded for the winter on a remote rocky island with few supplies and battling the cold. When Demant returned in the spring, the family was close to starvation, having barely survived on fish and snared rabbits. Undeterred, Demant continued as the Passage Island Lighthouse keeper for another decade.
In the early 1900s, at Ontario's Pie Island Lighthouse on the island's western shore, two keepers met tragic endings. In 1906, two First Nations men arrived on May 19 with provisions for 61-year-old Thomas Hamilton, who was single and had been the keeper since 1899. Sadly, they found Hamilton dead. On his death certificate, his death is listed due to a hemorrhage about May 12. Then five years later, John Forbes, the island's lighthouse keeper since 1908, died on October 16, 1911, but the actual cause is somewhat of a mystery. An article published October 21 in the U.S. newspaper The Syracuse Journal, reports that he was murdered on the island by two men who, after drinking a gallon cask of wood alcohol, also died and their bodies were found in a cabin at a nearby bay. However, on Forbes' death registration it lists that the 75-year-old Forbes died on October 16 at McKellar General Hospital in Fort William (now Thunder Bay) due to "excessive drinking of whiskey and wood alcohol" resulting in "alcoholic poison." (Wood alcohol was used to clean the light at the lighthouse.)
Lighthouse keepers had to be hardy, sturdy and resourceful, particularly if they were posted on remote locations like Ontario's Caribou Island Lighthouse in eastern Lake Superior, about 65 miles from Ontario's North Shore (the lighthouse is actually on the small Lighthouse Island, southwest of the larger Caribou Island). In 1912, on his first year as keeper of Caribou Island Lighthouse, George Johnston brought along plenty of ammunition for hunting, but forgot to bring a rifle—so, he made himself a homemade rifle. And when he broke his leg in an accident, Johnston set the bone, splinted the leg, and made a pair of crutches to get around. Johnston stayed as keeper at Caribou with his family for another 10 years until 1922.
In 1991, the last lighthouse keepers were taken off the Great Lakes when all the lighthouses had become automated.