The North Shore of Lake Superior is a place people return to time and again. Families develop rituals around the journey regarding where they stay and where they stop along the way. Many people include their favorite restaurants as part of their must-stop destinations. Building upon the loyalty of their customers, some restaurants have stood the test of time; have remained where others come and go. Eventually they become landmarks, familiar and trusted points along the road. Three such landmark restaurants are: The Pickwick in Duluth, Betty's Pies in Two Harbors, and Trail Center Lodge on the Gunflint Trail near Grand Marais.
Few Minnesota restaurants have a more extensive history than The Pickwick in Duluth. It has existed in its current location on Superior Street since 1914, and its roots go back to the Old Saloon at the Fitger's Brewery in 1888. It has survived prohibition, economic downturns, and a changing downtown landscape by maintaining its Old-World European charm while adapting to changing circumstances. During prohibition they served "near beer." A photo of their past on display in the restaurant depicts throngs of customers packed in like sardines waiting for midnight and the end of prohibition so they can grab a pint of the real thing.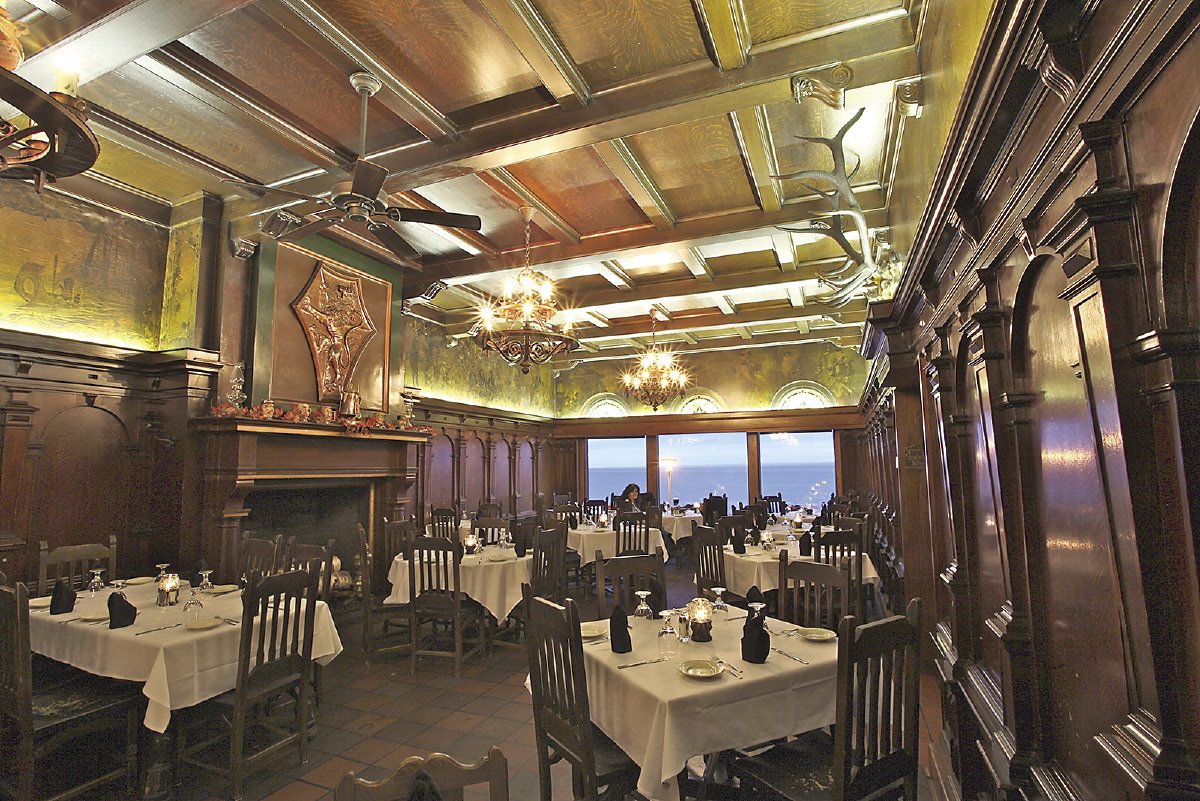 In 2010, after 90 years of ownership, the Wisocki family sold the restaurant. Tim and Amy Wright, as majority owners, have been running it ever since. Tim's family owns a chain of restaurants in the Chicago area. Tim and Amy have built upon the reputation of quality that The Pickwick is known for while expanding the menu. It is primarily a steak house, serving the highest quality of meats in town, cooked to perfection on their indoor charcoal grill. For those not up to a steak, there is an extensive menu to choose from, with a wide variety of salads, pastas, burgers, fish, and seafood dishes. Their best-selling menu items are their pepper cheeseburger and their onion rings. Both are hand-breaded and deep fried. One can wash them down with any of the 21 tap beers. Many of the local breweries are represented.
A bit north of Two Harbors stands Betty's Pies, a landmark known to all who wind their way up the North Shore. Whereas the Pickwick's origins were affiliated with a brewery, Betty's began in 1956 when her father opened a fish shack. Betty Lessard started selling coffee and donuts to the fishermen who stopped by. The menu expanded to include hot dogs and hamburgers, and in 1958, Betty's Café was born. She added pies to the menu and the rest is, as they say, history. Ever the perfectionist, Betty would bake all the pies herself, making as many as 150 in a single day.
Betty sold the restaurant in 1984, and by 1998, when Carl Ehlenz and Martha Sieber purchased it, the pies had changed, and customers were complaining. The new owners called on Betty for help, and help she did. She passed on her original recipes and methods, and the business has thrived. In 2000, a larger building was constructed. Carl now employs five to six bakers who make up to 550 pies a day. They now do it Betty's way, using quality ingredients and lard for the crust.
The building isn't the only thing that has expanded. The menu has grown to include a variety of burgers, sandwiches, salads and pasties. They still used Betty's rye bread recipe, and it is included in many of their dishes. Their pasties, which also feature a larded crust, are their best-selling menu items. Well, except for their pies. They now have 45 varieties on their menu, and while they have added new recipes, they still adhere to Betty's techniques. Their best-selling pies are a couple of Betty's favorites: her Lemon Angel and the five layer chocolate. It only takes a glance at their parking lot to see that business is thriving. During the summer they have 95 employees and serve 1,100 people a day.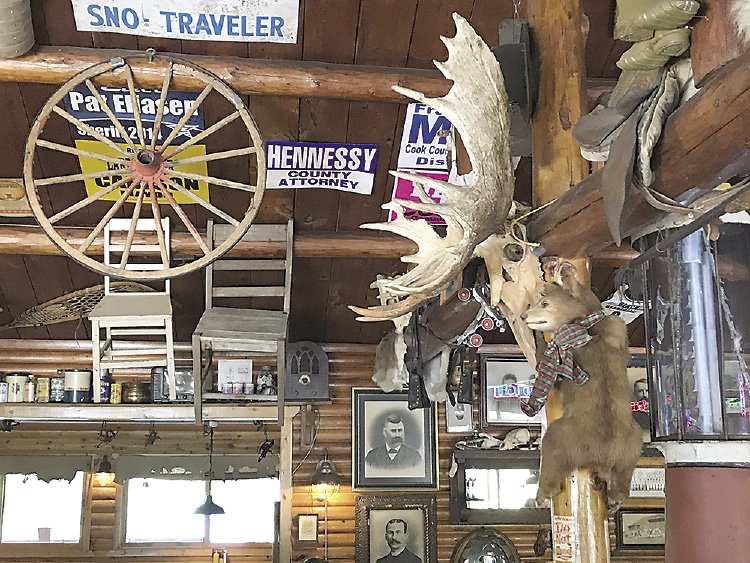 The Gunflint Trail, which originates in Grand Marais and winds for 60 miles through canoe country, is a destination in itself. Located near its midpoint, on Poplar Lake, is Trail Center Lodge. While Betty's Pies began with a fish shack, Trail Center Lodge originated as a logging camp in 1938. The first owner, Sam Seppala, ran a sawmill on the lake. However, he drowned in 1940. After his death, the land reverted to its original owners, and it became Trail Service Center, where they had a tire repair shop. They began selling food to fishermen and the business evolved into a fisherman's bar and grill.
Fast forward to 1995, and the business was purchased by Sarah and Anna Hamilton. They had roots in the restaurant business, as their mother owned restaurants in Des Moines, Iowa. She came up to help out. It wasn't long before Sarah began filling the empty walls with knick-knacks. The changes didn't end there. They remained open year-round and set regular hours. They broadened the menu, adding pastas and salads and a variety of steaks and burgers. And they made their sauces from scratch. Still, they kept what worked, namely the homemade pies and the malts. Today their best-selling menu items are their BBQ ribs, with Sunday specials, and their Swedish meatballs. With their emphasis on both quality and variety, they have attracted a loyal following. According to Sarah, "We wanted to create a place where everyone was welcome." I think they succeeded.
These landmark businesses had relatively humble beginnings. They succeeded by focusing on the qualities that gave them a great word of mouth reputation and kept people coming back, while still adapting to change. Whatever the reasons, they have become a part of the landscape of the North Shore.