It's often said that we can find the most joy in the seemingly small moments in life. But is it possible to capture those moments?
That's exactly what Karin Kraemer, owner of Duluth Pottery, Tile and Gallery, sets out to do with her own art. Her goal is to 'capture color and movement of the moment,' and create pieces that people can use every day.
Using inspiration from gardening, cooking, and being in the woods, she shared that she "wants to convey the feeling of being in the garden and looking, listening to my surroundings in the moment. I want the work to bring that experience to serving and enjoying our food." (Fans of the Duluth Grill may recognize her work in the mugs that they use and sell at the restaurant.)
Kraemer has always been making art, but it hasn't always been pottery. In college, she got a degree in biology, and another one in art, specifically working with glass. She did glasswork in Minnesota and Wisconsin, before moving to West Virginia.
"I worked in glass until I moved to West Virginia for a couple of years. There was nowhere for me to work, so I dug clay and pit-fired pottery in my yard," she said. It was here that Kraemer started to develop a love of working with clay, and she set out to learn additional techniques by getting involved in the clay community by working at an art studio in Morgantown, WV. Eventually, she went back to school and received her master's degree in fine arts in ceramics.
While she still enjoys working with glass, and tries to go "play" in her friend's studio when she can, her love of pottery stuck. After receiving her master's degree, Kraemer moved to Victoria, British Columbia, where she lived for two years before landing in Duluth when her partner accepted a research position at the University of Minnesota Duluth.
She started renting a studio in Superior, WI, and showed her work at fine art fairs and in galleries. Eventually, she started building a community by hosting open studio hours and creating a display area right in the shop. The work put into her studio in Superior helped create a natural transition into opening the Duluth Pottery and Tile Shop in the Lincoln Park Crafts District.
Duluth Pottery, Tile and Gallery itself is very airy and open. Visitors will find art pieces from Kraemer herself, as well as from Luke Krisak, the Warrior Printress Letterpress and Design, and others in the art community. Occasionally, they will also have a guest artist's work on display as an exhibit, like the most recent one highlighting work by Wendy Lee Savage, an enrolled member of the Fond du Lac Reservation Lake Superior Band of the Minnesota Chippewa Tribe, which runs through October.
One thing that's unique about Kraemer's work is that she specializes in the Maiolica technique. Often seen in pieces from the Italian Renaissance time period, Maiolica is known for being white tin-glazed pottery or ceramics pieces that are handpainted. "Maiolica is a rare application in the U.S. and a great technique for those who like to decorate and paint," she said. Because of how rare this technique is, Kraemer likes to teach workshops in schools and art centers on the topic (as well as other topics too).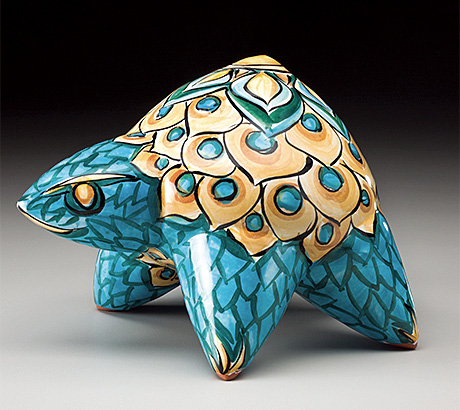 While the journey has been a good one, it hasn't always been easy. She says one of the biggest challenges in making a living as an artist is to learn to balance "creating" with the business side of things. One example Kraemer shared was about renting versus owning a studio space. "When you rent your space, it's hard for stability and affordability. I was determined to change that when I had to leave my last studio, and bought the building we are in now."
When asked what she would tell an artist who is trying to make art for a living, Kraemer shared that she would tell someone to: "Work. Make a schedule and keep to it. Make lots of work and try to get it out in every way you can. You will find your niche. Always explore new educational opportunities (residencies, workshops, working for other artists)."
Additionally, she added one thing that she's shown throughout her journey, and that's the importance of getting involved with a local community. "Work with others in your community: it will bring you to areas of opportunity. We need more art in the world."
Good advice for all of us.
To learn more about Karin Kraemer and her work, or the Duluth Pottery, Tile and Gallery, visit: duluthpottery.com.