Josh Tolkan crafts handmade wooden boats, including canoes, skiffs, and sailboats. He is an artist-in-residence at the North House Folk School in Grand Marais, and is the owner and founder of Manywaters Boatworks, a small business dedicated to the craft of wooden boatbuilding. Though he did not originally plan to become an artist, Tolkan's love of the water runs deep, and his passions for both boating and carpentry led him to the craft of boatbuilding, which is now his full-time trade.
Beginnings: A love of sailing
Tolkan's experience on the water goes back to a childhood filled with sailing and paddling. Originally from Milwaukee, he learned to sail as a child in Hayward, Wisc., and later took sailing lessons on Lake Michigan at the Milwaukee Community Sailing Center. Tolkan carried his love for boating into college, where he and a friend began a sailing club at Carleton College. While in college he also did a semester at sea on a ship in the Caribbean, which gave him a deeper appreciation for maritime culture and heritage.
"After I finished college I went to Israel to take a three-month class on permaculture," said Tolkan. "I'd done some work on organic farms before, but I really took to building things. When I was in Israel, we did a lot of building with materials like straw and adobe. That was a pivotal experience that turned me toward traditional craft and wanting to work with my hands."
After college, Tolkan continued to graduate school and then to working in management. However, this was at the height of the recession, and finding full-time work was difficult. Tolkan's friend, with whom he had started the sailing club at Carleton, was working as a youth program manager at the Center for Wooden Boats in Seattle, and Tolkan decided to take up work there as a sailing teacher.
"I was teaching kids, and the kids would ding up the boats, so after the lessons I'd do repairs," said Tolkan. "That was where everything came together."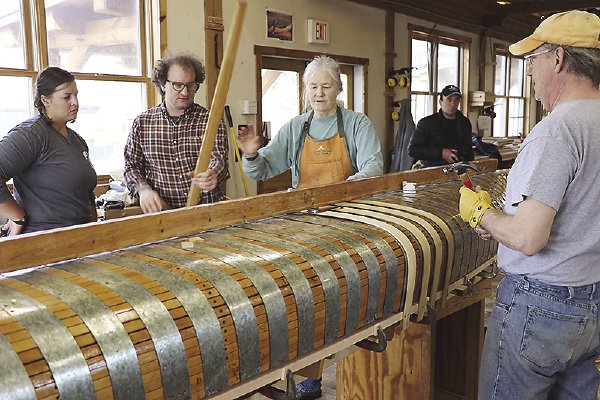 Becoming a full-time boatbuilder
After his experience in Seattle, Tolkan moved back to Minnesota, where he found a position in affordable housing. His work involved management and diagnosing housing issues, and it was during that time that he continued with building projects on the side and even built his first cedar strip canoe.
"After seven years, I was ready for a change," said Tolkan. "I wished I could be working with my hands and be the one who was doing the actual work on the houses, not just diagnosing the problems. I had saved some money, and finally I decided to leave that job and enroll in boatbuilding school."
The boatbuilding school that Tolkan attended was the Northwest School of Wooden Boatbuilding near Port Townsend, Wash., a school that attracts students from around the world. At the school, Tolkan worked on a variety of boats, including sailboats, motorboats and rowboats, and after his year was done, he got a job at Wilderness Inquiry in Minneapolis.
"I had worked for Wilderness Inquiry for a little bit in the past, and the executive director had been following my journey," said Tolkan. "After I was done at the school, he wanted to hire me to build voyageur canoes. A former employee had built a voyageur canoe for them, and they started taking school groups out in them. Wilderness Inquiry was growing as their old builder retired, so they hired me to come in and build for them."
The voyageur canoes that Tolkan built were 24-foot long cedar strip canoes: the same style as the very first canoe he built. Since boat designs are proprietary, Tolkan had to create his own design for the new voyageur canoes. While he was familiar with the cedar strip style, building a canoe this large required modern materials and using the skills he had learned at Northwest. He consulted with a naval engineer during the design process to ensure that the canoes would be safe, having some concerns about the size and stability of other voyageur canoes he had seen. He decided to make the boat bigger and taller to increase stability, and ended up with a design that was beautiful, practical and safe.
Tolkan finished the voyageur canoe after 11 weeks, putting in 60 hours a week to ensure its completion. Wilderness Inquiry was impressed with the design and asked him to build 12 more in the next year. Given the heavy workload that would entail, Tolkan decided instead to work for Wenonah Canoe and built them a master mold called a plug. Wenonah continues to mass-produce his design from that plug.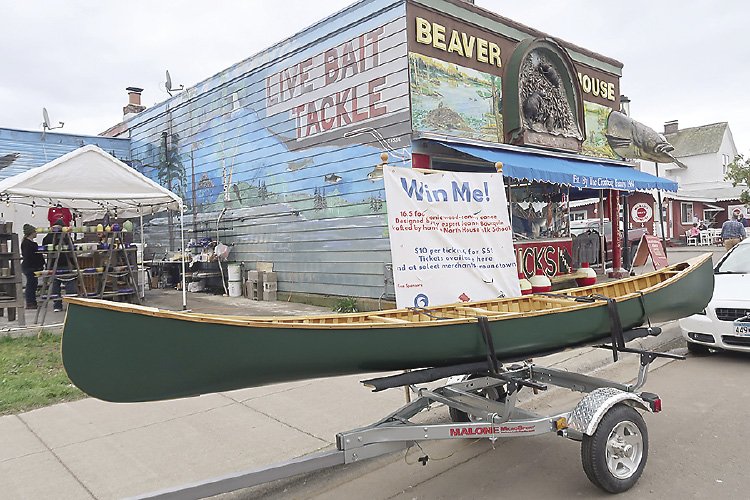 Grand Marais and North House Folk School
Currently, Josh Tolkan is a resident artist at the North House Folk School through the Artisan Development Program. There he has the opportunity to hone his boatbuilding schools by teaching classes, sitting in on classes, and working in a studio in the Betsy Bowen building.
"North House has been on my radar for a while and I'm super lucky to be in this program," said Tolkan. "I get to spend my time developing my future as a self-employed craftsperson. I want to be self-employed if I can be, and while that's challenging for any artist, it can be especially hard when your craft isn't easy or quick to make and sell."
Through his opportunity at North House, Tolkan has gotten to engage with the community, and hopes to continue community involvement with his work. This past year, he helped build a canoe for the Cook County Chamber of Commerce that is being raffled off to support the community. North House was already teaching a class on canoe building, and they decided that Tolkan would build the canoe for the Chamber along with their other class. Tolkan had several volunteers from Stone Harbor who donated labor hours to help build the boat.
"It was a really great community effort, and neat that we built the boat together," said Tolkan. "Canoes are so important to this area, and supporting the community through something that's both meaningful to the community and made by the community is really special."
Looking ahead, Josh Tolkan hopes to continue community involvement in his work. An upcoming project in conjunction with the Cook County Historical Society is building a replica herring skiff. Volunteers are welcome to join in to learn more about wooden boatbuilding and Cook County's history.
For more info, visit: manywatersboats.com.