It was Amber's idea. After collaborating on freelance projects, we decided our skill sets—she a graphic designer and me a writer—were well matched. So, she pitched this idea of starting a quarterly publication devoted to outdoor activities on the North Shore. She thought there was an obvious hole in the local media market, because so many folks who live on or visit the North Shore enjoy the outdoors.
I had questions. Amber assured me that we'd find advertisers. Ok; but how would we pay for printing?
"We've got credit cards," she said.
It was 2004. Around the country, magazines and newspapers large and small were laying off staff and closing their doors. Some said the end of newspapers was nigh. We didn't agree. Folks would continue to read about topics they found interesting, especially if the publication was free.
We didn't have much other than an idea on a single sheet of paper when the three of us—Amber, me and a yellow Lab puppy named Tanner—hit the road to meet with potential advertisers. Our first stop was at Golden Eagle Lodge on the Gunflint Trail where, after a rambling conversation, Dan Baumann announced that he wanted to purchase the back cover. Golden Eagle Lodge remains a monthly advertiser.
By the time we were ready to assemble our first issue, we had enough advertisers to make a go of it with a 16-page issue. More importantly, our time on the road had allowed us to have dozens of conversations with folks from Duluth to Grand Portage. We learned about their businesses, nearly all of which could be described as 'Mom and Pop.' We learned what they thought about their communities and the entire North Shore. We also got an idea about what they wanted to find in our new publication.
The latter was actually pretty straightforward. They wanted to read about the outdoor activities that visitors and residents enjoy on the North Shore, as well as about interesting people, wildlife, events and history. Since the first issue, we've tried to provide all of that and more to our readers.
Our start-up wasn't easy. Producing a magazine with a staff of two, working out of separate home offices, with dial-up internet was challenging. We sent pages back and forth for proofing. When the issue was ready for the printer, it took hours for Amber to send it via dial-up. On more than one occasion, the connection failed and she'd have to start over again. Many of our photos came in on slides, so we purchased a slide scanner to convert them to digital.
My father, Dan Perich, was able to see our first issue, but died of cancer before our second issue came out. Amber moved into our new Northern Wilds office in Grand Marais alone, because I was helping with my father's hospice care. We kept at it, though, growing the magazine and getting new work, including the editing and design of an annual, national magazine for an organization called the North American Grouse Partnership.
Our Summer 2005 issue had enough advertising to support 36 pages thanks to the additional sales efforts of Vikki Elberling, Kevin Bovee and Leroy Pratt. It was also the first issue with stories from Thunder Bay writer Elle Andra-Warner. We'd decided to truly represent Lake Superior's North Shore, we had to cover Ontario as well. Amber coined the phrase, "We blur the border" as part of our pitch to advertisers.
In the Winter 2007 issue, our first full-time employee, Laurie Johnson, appeared on the masthead as graphic designer. We needed to hire Laurie to keep up with our growing operation. Real estate companies in Cook county approached us that year to take over publishing a weekly real estate guide. The weekly publication was necessary, because the real estate market was so hot that new listings were constantly coming in. Laurie took care of that publication, which became North Shore Highway 61, our arts and entertainment publication, in 2009. But she did more than graphic design, taking over our billing and bookkeeping. Laurie was very much the right person at the right time.
Our second employee, Sarah Hill, appeared on the Spring 2007 masthead. Coming to us from a community radio station, she took over advertising sales. She was a force of nature; and one of the funniest people to ever join the Northern Wilds team. The same issue was the debut of Elle Andra-Warner's column Strange Tales, which has been a mainstay of the publication ever since.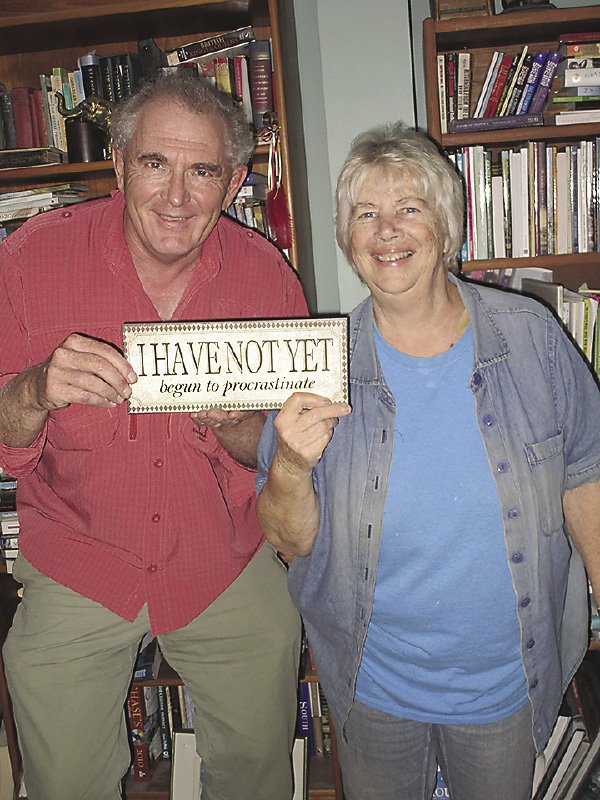 In 2008, Northern Wilds became a bimonthly publication. This came at the request of our advertisers, who wanted to see a fresh, new issue more often. Of course, our readers didn't complain. That year we grew to a staff of five, including bookkeeper Dominique Holz, graphic designer Kate Watson and sales representative Calie Vannet. Sue O'Quinn, who is known to many folks throughout the Northern Wilds, joined out team in late 2008 to handle the sales first for the North Shore Highway 61 and eventually as the primary salesperson for all of our Northern Wilds products.
A big year of change was 2014, when artist and graphics whiz Kyle Sobanja took on the task of combining Northern Wilds and North Shore Highway 61 into one, monthly publication. The new look was an instant hit with our readers and advertisers. In September we held a party at the Grand Marais Art Colony to celebrate our 10th anniversary. My partner in life for over 30 years, Vikki Elberling, was in attendance. She passed away from cancer a few weeks later. Amber and our staff did what was needed to help me get through that difficult time. I remain grateful to them.
As our company grew, so did the workload. Over the years, we added a managing editor to handle editorial tasks, assigning stories to freelance writers and making sure they turned them in on time. The first was Shelby Gonzalez, who wrote fun and energetic stories and headlines. Next was veteran outdoor writer Javier Serna, who today writes our monthly fishing lake feature and (labor of love) craft beer column. He was followed by wilderness adventurer and dog musher Erin Altemus, who continues to write about the mushing life every winter. Current managing editor Breana Roy, who began working here while in college, writes the Art Spotlight and, with her sister Christine Curtis, leads a popular dance program for children and adults at the Grand Marais YMCA.
Our graphic designers have included the quiet (and danged good) Breana Super, the girl in the penguin hat Haley Vesta, "frog man" Drew Johnson, Kathy Hellner and Leah Pratt, who used to come to work with her mother, Amber, when she was in grade school. Our lead designer, Katie Viren, is the island of organization with the Northern Wilds sea of chaos.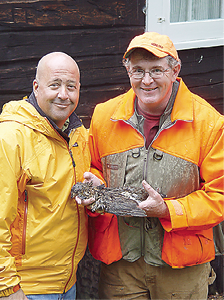 Some of the most important folks on the team are the ones who make sure you can easily find Northern Wilds everywhere along the North Shore, from Duluth to beyond Thunder Bay. Distribution begins with Derek Breemeersch and Cathy McKinnon, who pick up pallets of the new issue in Duluth and deliver them to our office in Grand Marais. For many years, they also were responsible for Duluth distribution, a task now ably handled by Teri Glembin. In Thunder Bay, Glenn Warner and his chocolate Lab Bear are so punctual with his monthly deliveries that we get calls from some businesses if he is running late.
Other folks who have been part of the team over the years include Kathy Johnson, Bev Wolke, Joan Farnum, Jim Boyd, Billie Lusero, Leah Carpenter, Wendy Grethen, Aaron Carlson, Mike Pratt, Deke Burnham, Carin Gulstrand, Jane Shinners and Mandy Theiner. And there are the dogs: Evee, Rainy, Yuki and the gone, but not forgotten Kiki, Tanner, Abby and Casey. Staff members' dogs that hung out in the office included Belle, Lola and Tofer.
The people who really make Northern Wilds come alive are the talented writers and photographers whose work we featured over the years. Outdoor writer Michael Furtman has been with us since the first issue. Photographer Paul Sundberg made his first contribution to our second issue. Thunder Bay outdoor writer Gord Ellis came onboard with our third issue. Eric Chandler's kids weren't in school when he began writing stories about their family adventures. Son Sam, his eldest, just started college this fall. In addition to aforementioned columnists Andre-Warner, Ellis, Serna and Altemus, columnists Amy Schmidt, Chuck Viren, Emily Stone, Deane Morrision, Will Moore and Julia Prinselaar deserve recognition for their consistent, monthly contributions.
A couple of contributors are no longer with us: Ely historian "Iron" Mike Hillman and Lutsen photographer Dave Brislance. So many writers and photographers have appeared in Northern Wilds over the years that it is impossible to name all of them. Folks like Dave Benson, Earl Orf, Scott Benson, Stephanie Love, Amy James and others were with us in the early years. In recent years, our mainstays have included Kelsey Roseth, Ali Juten, David Johnson, James Smedley, Kathy Toivonen, Kim Casey, Casey Fitchett, Rae Poynter, Joe Friedrichs, Peter Fergus-Moore, Jolene Banning, Rhonda Silence, Maren Webb and Shelby Lonne-Rogentine.
Since Northern Wilds is a free magazine, it wouldn't exist without the support of our many advertisers. We are indebted to them for their support. And then there's you, the reader. We thank you as well for picking up Northern Wilds every month and for your many words of encouragement. Now, let's start working on the next 15 years.