Using Natural Beauty to Create Traditional Crafts
Near Two Harbors, just north of Betty's Pies, is Cooter Pottery & Handweaving, an art studio run by husband and wife Dick and Debbie Cooter. The Cooters incorporate the natural beauty of the North Shore into their traditional crafts, and partner with local artists every year to put on a studio sale that helps support and celebrate artists in the region.
While the Cooters are originally from the Twin Cities, Debbie felt drawn to the country and wanted to live in a more rural area. A friend on the North Shore helped make that happen. In the summer of 1987, Dick and Debbie moved into their friend's 120-square-foot cabin and left the urban life for good.
"That first summer was a wonderful, warm summer," said Debbie. "We ended up finding a place for the fall, and went on to build our house and studio, where we've been ever since."
Debbie's love for weaving has been a constant throughout her time on the North Shore. When they first moved, one of the few possessions she brought with her was a spinning wheel.
"I met many rug weavers in the area," Debbie said. "I had a friend from Finland who was living on the North Shore and who taught me to weave rag rugs. I still weave rugs, as well as blankets and clothing."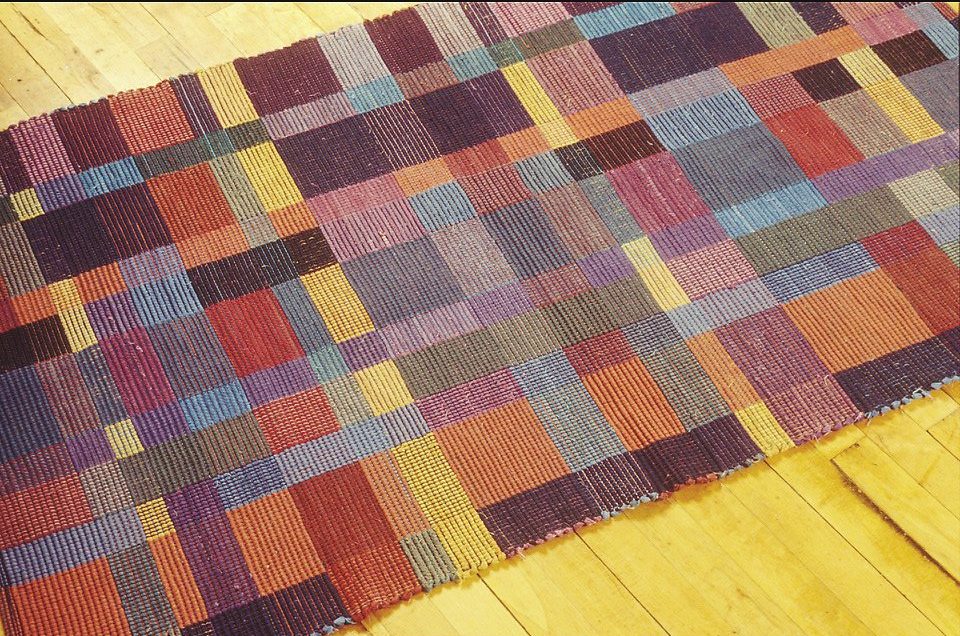 Dick began studying pottery in college, and studied under Warren MacKenzie. Dick makes stoneware pottery and focuses on every day, usable pieces such as vases, plates and jars. He even made the dinnerware at the Angry Trout Cafe in Grand Marais.
"It took about 15 years for me to become a potter," said Dick. "You can't always make a living from it, but I've been exclusively making pottery for about 15 years now."
One facet that makes his work unique is that Dick uses a wood-fired kiln for his pottery. Wood-firing is a labor-intensive process: it takes about 36 hours of stoking to properly heat the kiln and five days to cool. Loading the kiln with around 500 pots takes about a week, and the firing process uses two and a half to three cords of wood. Altogether, wood-firing is a good two-week process, which in itself is the culmination of a few months of work on the pottery.
"The wood-firing process has an effect on the pots that you just don't get with other methods," said Dick. "At 2,000 degrees, the ash turns to glass and gets incorporated into the pieces. The results are not necessarily predictable, but each pot is different and tells a story."
Though they work in different mediums, both Dick and Debbie draw inspiration from their surroundings on the North Shore and include some of the area's natural beauty in their work.
Debbie forages for plants that she uses to create her own dyes. Leaves from area trees and shrubs often yield yellow dye, and mushrooms can yield ochre and purple. Other sources of color include tree bark, lichen, and rhubarb leaves.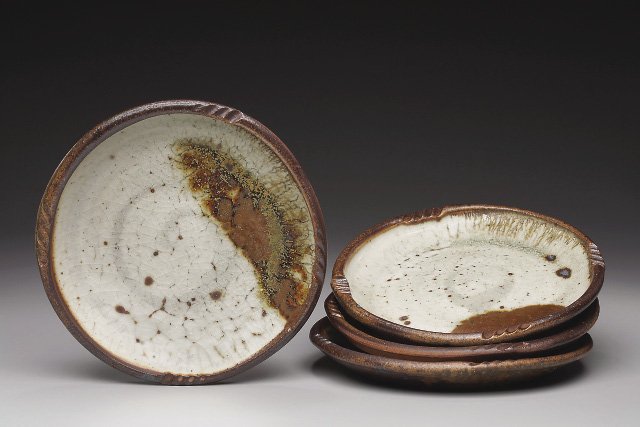 "Gathering wild plants is certainly one of the greatest pleasures of my work," said Debbie.
In addition to local plants, she also sources indigo for blues and an insect from Mexico called the cochineal that yields reds, oranges, and purples. All together, she has a full spectrum of naturally sourced colors to work with.
Dick also uses naturally sourced materials to create the glazes for his pots. Sand collected from a nearby gravel pit makes amber and green glaze, while mud can create glaze that ranges from a reddish-brown to a deep black. Clay from an old brick pit makes a glaze that can include all kinds of colors.
To make dyes from rocks and dirt, the materials need to be broken up–usually with a sledgehammer–and softened in an electric kiln. They are then pulverized with a metal mortar and pestle until the pieces are small enough to fit through a window screen. The last step is to put them through a rock tumbler to get the consistency of flour, at which point they can be used to create glaze.
Since their beginnings on the North Shore, the Cooters have been actively involved in the local artist's community. Every year they help host the Cooter, Tonder and Friends Studio Sale, an event where local artists come together to put on a sale near Two Harbors. This year marks the 25th anniversary of the sale, and it is scheduled to take place Oct. 4-6 at Cooter Handweaving & Pottery and the nearby Blue Skies Glassworks, both in rural Two Harbors. Present will be 12 local artists, including potters, glassworkers, and jewelers, among others.
The Cooters also hold office hours at their studio where visitors can see and purchase some of their work in person. For more information, visit: cooterpottery.com.