For some people, winter can be a drag—the days seem shorter and the bitter cold can make outdoor activities miserable. Thankfully, our writers provided us with some indoor activities to pass the time and cure the winter blues, such as knitting, making jewelry to sell on Etsy, cleaning fishing tackle, or creating a charcoal drawing.
Agates Rock at Online Jewelry Shop
When I first mentioned moving to the North Shore permanently, my wife Maggie had one concern: winter.
"What about the six or seven months of cold and darkness?" she reasonably questioned.
My immediate (and very excited) response did not settle her uneasiness toward the situation.
"Ice fishing!" I exclaimed, foolishly thinking this would be a mutually sound solution to pass the time during winter.
The fishing works for me as a means to combat the winter blues. However, Maggie needed something else. And two years later, using her own creative prowess, she's found the perfect recipe to make winter meaningful and downright enjoyable in the Northern Wilds. And it all starts with the agate.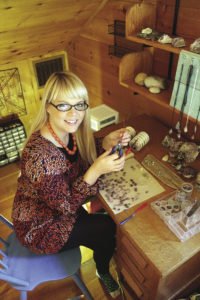 A longtime collector of stones, gems and other interesting items found along the shores of Lake Superior, Maggie has taken her collecting habits from that of the casual hobbyist to one of an entrepreneur. These days, she continues to collect what she refers to as "treasures" from the shorelines and wooded areas of nearby lakes and streams. But now, rather than simply putting them on a shelf for display or to stare at under a magnifying glass, she wire-wraps the pieces and sells them online as jewelry.
Online jewelry sales from independent artists continues to grow in popularity. In this sense, Maggie happened to open her online shop on the website Etsy at the exact right time.
"It seems like people are looking to shop locally or avoid corporate merchandise," Maggie said. "So my shop allows people to buy things that are handmade; from polishing the stone, to wire-wrapping it, and even making the gift box that I put it in."
Etsy not only allows Maggie to sell her pendants, earrings, sun catchers and raw or polished stones, it opens up her "rock shop" to a worldwide market.
According to its website, Etsy was founded in 2005 in a New York apartment, "to fill a need for an online community where crafters, artists and makers could sell their handmade and vintage goods and craft supplies."
In other words, Etsy allows Maggie to work and sell from home without having to rent an expensive art studio or open a physical location in order to sell her products.
And with Etsy, business has been solid as a stone for Maggie since she opened her online store in October 2015.
"I spent about a year making pendants, polishing stones and just kind of building an inventory for the shop," she said. "And I was pretty nervous leading up to the launch of the page thinking 'Is anyone going to like this?'"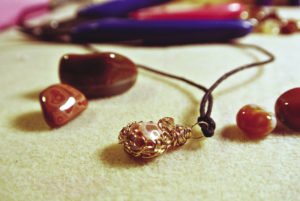 As of the first week in December 2016, Maggie had more than 230 sales at her Etsy jewelry shop. Her products have been shipped to Paris, Minneapolis, San Francisco and tiny towns she's never heard of before. Sales have ranged from amethyst pendants using stones Maggie found near Thunder Bay, to pieces of driftwood collected on a beach near Grand Marais. Sale prices ranged from $5 to $30, with most items selling for approximately $18.
"My reason for opening an online shop was not so much for the money as it was to connect with other 'rockhounds' from around the world. I've always had a passion for rocks. There is so much beauty in nature, even on a small-scale, like the banding on a tiny agate. All you have to do is to look closely," said Maggie, who is also a teacher at the local high school in Grand Marais. "My online shop has opened up a new world to me."
And while ice fishing works for me to pass the time during winter, for Maggie and other hobbyists looking to take their craft to the next level, opening an online shop on Etsy is the perfect avenue for wintertime success.
To view Maggie Friedrichs' online store, visit: etsy.com/shop/earthrainbowgems.
Fishing Fever—Cleaning Fishing Tackle
The most dangerous time for an angler, especially one with no interest in ice fishing, is at the onset of January. With Christmas festivities over and nothing but long cold nights to look forward to, he can come down with a serious case of fishing fever. There is nothing more heartbreaking than to see a full-grown man moping around the house, muttering about the big one that got away. Sadly, there are no vaccines for the malady and if left untreated, he won't be able to look at pictures of past fishing trips without becoming teary-eyed and despondent.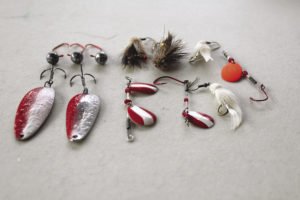 But it's not all bad news. He can break through his feverish funk by cleaning up his gear and fishing tackle. At first it won't be easy, and each time he gets near his prized fishing implements, he will be flooded by fond memories. Some so strong he will swear that each time he picks up his rod, he can feel the slight tug of a sure fighter on the other end of the line. But with some coaxing from his loved ones, the angler can start by sharpening his pocket and filet knives. Once his pliers have been lubricated, he can gently wipe down his rod and open up his reel to make sure everything is intact.
By the time he gets to testing his fishing line, it may look like he's gotten through the worst. But the fever can never be fully cured until he has opened his treasured tackle box. Sweat may pour from his brow, when he lovingly holds up the bent hook that caught the pickerel now stuffed and hanging on the living room wall. But remind him it's all about patience and timing, as he carefully takes out the spinners, bobbers, sinkers, hooks, plugs, jigs, spoons and plastic worms. It is usually at this point, when he's cleaned the tackle box and put the lures in a more organized system, that he will be smiling and well on his way to a full recovery.
If the angler experiences a relapse, which is very possible with spring fishing being so far off, he can put his renewed fever at bay by making his own customized fishing tackle. There's plenty of suppliers and internet tutorials on the art form. And if he is looking for a more adventurous and economical approach, he can make lures from recycled materials found around the house. The possibilities are limitless and best of all, it will keep the angler distracted until he can get back outside and cast his line in the promising waters again.
Please note: women can also contract this serious condition and it was only for the sake of pronoun simplicity, that anglers in this article were referred to as males.
Charcoal Drawing­—Creating Trees from Trees
By Kathy Toivonen
The contrast of soft, white snow and a silhouette of trees makes an inspiring subject for charcoal drawing. But the trees provide more than just the scene, they also provide the medium of charcoal and paper; and with the addition of only an eraser, even the novice artist can create a charcoal drawing masterpiece.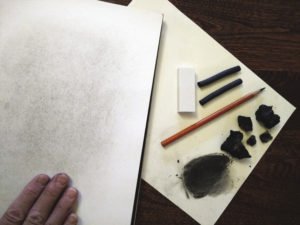 Charcoal can be purchased in many forms: pencils, compressed sticks and processed willow sticks. Or you could try the grass roots method and use the cold, raw charcoal from the fireplace. The kind of charcoal produced is determined by the kind of tree that was burned; and even though it all looks the same, there is a way to identify the different kinds of charcoal. Softwoods are evergreen trees, such as spruce and pine. Charcoal from softwood produces soft, chalk-like images and the charcoal can easily crumble when in use. Conversely, charcoal from hardwood, such as birch and poplar, draws more like a pencil with sharp, dark images (this is a generalization as you may discover a piece of charcoal with both characteristics.
The paper to create your image on is also made from both softwood and hardwood trees. Use a paper with some "grit" or "teeth" that will hold the charcoal. Smooth paper, such as copy paper, will not hold the image well; but a multipurpose artist paper will work fine. Also, have a piece of scratch paper handy so you can test the charcoal. You will also need a white vinyl eraser.
To begin your charcoal drawing, scribble some soft charcoal on the scratch paper to make a pile of charcoal dust. Rub two or three fingers in the dust and rub the charcoal from your fingers onto the working paper. This will make a base of colour much like applying a base coat for a painting. Then, erase out the trunks of a few birch trees and a moon. Always resist the urge to wipe away the eraser crumbs with your hand as you may smudge your work. You can blow or shake off the crumbs.
Next, draw in some background evergreen trees with soft charcoal. You can tap the images lightly with your finger to fade them out a bit and give them a far-away look. Lastly, add details to the trunks and branches of the birch trees with the hardwood charcoal or a charcoal pencil. Once you've finished your artwork, spray it with a fixative to protect the image from rubbing off.
Charcoal is a very forgiving medium in that you can easily re-apply charcoal or erase out images. So try your hand at charcoal drawing using these basic techniques and you will soon discover how to add and subtract layers and develop your own style of winter scenery.
Knitting is the New Yoga
There's something wonderfully creative and therapeutic about knitting. It's rhythmic and repetitive, yet so calming, relaxing, stress-relieving, meditative and comforting that it's being called the new yoga.
Today's knitters are carrying on a craft going back over a thousand years, with the earliest example of knitting with two or more needles being cotton socks made in Egypt about 1000-1200 A.D. The first European knitters were in Spain and Italy, and according to Irena Turnau (The Knitting Crafts in Europe from Thirteenth to Eighteen Century), the first guild of knitters was active in Paris by 1268. By the end of the 16th century, knitting guilds were all over west and central Europe, with membership open only to men who had gone through six years of training to become master knitters. And it was the Middle Ages powerful fashion trend of wearing knitted stockings that drove the professional knitting industry (similar to Europe's later obsession with beaver hats that drove the fur trade in North America).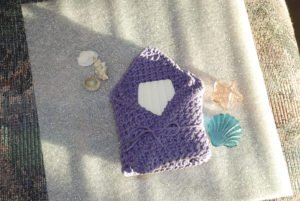 Fast forward to the 21st century; knitting is still one of the world's most popular crafts. Besides the sense of accomplishment it delivers, researchers now recognize its health benefits, even hailing it as a form of meditation. American-born designer and artist Kaffe Fassett called knitting the "most therapeutic thing in the world."
So how is yoga like knitting? In the article Reap the Mind Health Benefits of Yarn Craft, Australia's Dr. Jenny Whiting, University of Sydney, wrote, "The relaxation, calmness, clarity and the rhythmic action of repeated stitches are highly reminiscent of meditation practices and forms of meditation have been studied for their effects on the brain." She noted that Albert Einstein is said to "have knitted to calm his mind and clear his thinking."
Repeating stitches over and over has been compared to doing a series of yoga poses over and over—both calm the heart rate and breathing, helps relieve stress and leads to better concentration. And, a half-hour of knitting burns 55 calories. Bottom line—knitting is good for your brain and your health.
During the long cold winter months in the Northern Wilds, knitting/crocheting is a particularly relaxing activity. I've been a knitter for years, making things like spa cloths (dishcloths), mitts (texting mitts are 'in' now), socks, cowls, slippers, wrist warmers (big in northern Europe) and the occasional sweater or afghan. I use bamboo knitting needles, knit in the Continental style (wool used on left hand), and use the website Ravelry (ravelry.com), to find hundreds of knit/crochet patterns, many of which are free.
Why is the ancient craft of knitting still so popular world-wide? A line in Sheep&Stitch's online article History of Knitting, Part 2 says it best, "Knitting satisfies a deep desire in us to create beautiful things and it allows us the satisfaction of being a creator."
---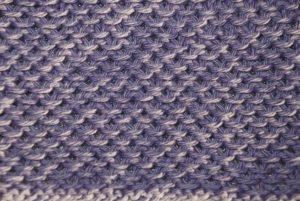 The Chinese Wave Dishcloth
Pattern by Margaret K. K. Radcliffe/Maggie's Rags
Materials: 100% cotton yarn (such as Sugar'n Cream; Lily's) and US7 (4.5 mm) needles.

Cast on 45 stitches.

Row 1 (Right Side): Knit

Row 2 (Wrong Side): *K1, Slip 1 purlwise*, repeat, ending with K1.

Row 3: Knit

Row 4: K2, *Slip 1, K1* to last 3 stitches. Slip 1, K2.

Repeat these 4 rows to desired length, finishing the last row on the Wrong Side.

Bind Off.