The next time you're stuck indoors and looking for something to do, why not try something new? Take a class, see a concert, or try a new craft. Here are a few indoor activities to get you started.
Libraries Offer Something for Everyone
Colder, shorter days means seeking out indoor activities and spaces. Along the North Shore, public libraries continue to be integral parts of communities, and offer comfortable spaces and interesting activities throughout the winter months. Both the Two Harbors library and the Grand Marais library provide excellent resources and programs for people of all ages.
The Grand Marais library continues to be a busy place, and director Steve Harsin explains that the high usage of the library points to the strong community. "It's really the community that makes the library great, and the awards we've gotten are all about the community. They have really high expectations, and we work hard to meet those. People have interests in unique topics and we supply that."
In addition to supplying resources, the Grand Marais library has a full schedule of activities with different programs every month. Some of the highlights include speaking events by local authors, writer's workshops, and technology assistance nights. The Grand Marais library will also be continuing their Winter Wednesdays series, with guest speakers presenting on a variety of topics. Harsin says they're currently working on assembling a cast, but past speakers have included musicians, artists and photographers. The Grand Marais library will also be continuing their Friday night film series, where people are welcome to come to the library on a Friday night and screen a movie. All events at the library are open to the public and free.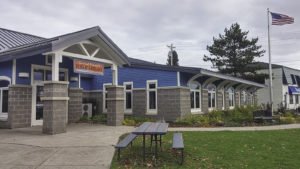 Harsin says they do their best to make it easy to find out about events at the Grand Marais library. "We send out our events to all the media. You can find our events on the library's blog and at Visit Cook County. The local paper gets press releases, and WTIP picks up when there's an interesting interview for an event. Some of the community blogs have our events, as well as the North Shore Journal."
Further down the shore, the Two Harbors library also offers excellent programs and spaces for indoor fun and learning. Director Katie Sundstrom says that they do their best to keep the library a place where people of all ages can find something that interests them.
"We host at least 20 events per month, but we offer more than just programs; we have free Wifi, plugins, and computers available. It's a great place for people in the community to use."
One of the draws at the Two Harbors library is the opportunity for interaction through games. They have a board game collection available for checkout, as well as for use in the library. There's a Scrabble and cribbage night for people who want to play with someone, and Sundstrom says they will be hosting a chess tournament. The library also has an ongoing puzzle table, where visitors can stop by and work on a puzzle.
The Two Harbors library also has resources for kids. "We're giving the children's area a makeover," says Sundstrom, "we have a play store, train set, and early learning spaces. It gets families together and interacting with each other."
The Two Harbors library also has some unusual materials available for checkout, including cake pans and STEM kits, a home planetarium, and a quality microscope. They're also adding a telescope that will be good for amateur astronomers observing the long winter night skies.
To top it all off, visitors to the Two Harbors library can get a taste of good art with the rotating art wall. "Some of our artists are local, while others are from greater Minnesota," says Sundstrom.
Those wishing to find out about activities at the Two Harbors library can visit the library's website and Facebook page, or pick up a handout at the front desk.
---
Hooked on Stamps: Exploring the World without Leaving Home
Did you know that one of the world's most popular indoor activities (ideal for the winters of Northern Wilds) is stamp collecting?
Five years ago, the Wall Street Journal estimated there were 60 million stamp collectors around the world. They include England's Queen Elizabeth, billionaire Warren Buffet, Ronnie Wood from the Rolling Stones and actor Patrick Dempsey.
These days, it is impossible to collect all stamps from every country in the world as there are just too many stamps. So today's collectors limit their collections to certain countries, time periods, or size (e.g. only triangular stamps). Or they collect by a particular subject ("topicals" in stamp lingo) with popular themes being ships, lighthouses, birds, Disney, space, butterflies, frogs (world record is 1,600 stamps with frogs from 195 countries), Olympics, etc. And topicals are a unique and fun way for children to explore the world.
As Bill Hay, past president of Thunder Bay's Lakehead Stamp Club recently said at their bi-weekly meeting, "Key for any new collector is to start with a topic you are interested in. Start small and then build up the collection. And the stamps don't need to be expensive." (He started as a child after sending in six Popsicle Pete wrappers for a free stamp album; he came back to collecting later in life.)
Stamp collecting got its start after the world's first adhesive stamp, Great Britain's 1 cent Penny Black, was issued in 1840. Seven years later in 1847, the first U.S. stamps were issued (5 cent Benjamin Franklin and 10 cent George Washington), then four years later in 1851, Canada's first stamp was issued (3 cent Beaver). The first stamp club appeared in 1869 in London, England and is still in existence as the Royal Philatelic Society London.
I recently attended a meeting of Lakehead Stamp Club (established 71 years ago in 1947) to see what was happening in stamp collecting. It was an evening well spent. Interesting speakers, a stamp auction (like a new stock book for $1; bags of stamps for 50 cents), attendance prizes, a raffle, and opportunities to purchase stamps and borrow the latest Scott's Catalogue. The annual membership fee is only $20 (yes, I bought one) and there's an annual spring exhibit at the Thunder Bay Art Gallery.
Later, I chatted with Charlie Brown (also a LSC past president and currently president of the Lakehead Transportation Museum Society) who got hooked again on stamps in 2000 after finding his childhood stamp collection, which had been stored in a box for 40 years. "So I joined the Lakehead Stamp Club, and got back into the hobby as an adult," said Brown, now an avid collector focusing on transportation-related stamps, especially streetcars. "But I still do spur-of-the-moment collecting when I see a well-detailed or beautiful stamp and just have to have it. I call it collecting the 'wild thing'."
How to get started in stamp collecting? After choosing a country or subject, all you need are a few basic items: stamp tongs (to handle stamps safely), magnifying glass to view details, and an album or stock book to store the stamps.
---
CSS's Spotlight Series: Enriching Local Culture for Decades
A heart-warming holiday sing-along. An uplifting tribute to veterans. Thought-provoking conversations about the Israeli-Palestinian conflict. These are just a few of the free or low-cost offerings that are part of this year's "Spotlight Arts & Lecture Series," put on by The College of St. Scholastica.
"[We have] always believed in adding to the cultural and intellectual life of the community," said Bob Ashenmacher, CSS's executive director of communications. "We strongly believe in being deeply engaged, and since we have the resources to help bring music, art, lectures and theatre to campus and to the wider public, we are happy to do that."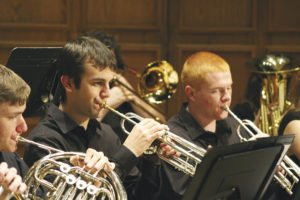 Founded on Catholic Benedictine values, The College of St. Scholastica puts effort into encouraging local culture through events and programming each year. It has for decades, and the 2018-19 season is no different.
"It's a real variety, and that's intentional. We want to host events and programs that can appeal to almost anyone," said Ashenmacher.
This season, the "Spotlight Arts & Lectures Series" includes music performances by the college's choir and instrumental groups as well as community performers, such as the 34th Infantry Division "Red Bull" Band. It offers children's theatre camps and comedic theatre productions by The St. Scholastica Theatre, one which even explores the trying and humorous aspects of receiving a Catholic education. Importantly, the Israeli-Palestinian conflict is explored through a series of lectures coordinated by The Alworth Center for the study of Peace and Justice, and events that focus on matters of faith and immigration.
When developing programming, careful consideration takes place to ensure the offerings are relevant. Faculty, staff, students and at times, community members, come together to create the calendar of events.
"It keeps us up-to-date and relevant, and people appreciate it," said Ashenmacher. "[Our experts] have networks that they are in touch with, and groups who advise them, when they are seeking out programming. I think we do a great job of having relevant, and even newsworthy, programming."
Ashenmacher said attendance each year is in the thousands, and people have traveled from the North Shore, Iron Range, northwestern Wisconsin and even the Twin Cities to attend events in the series.
For the full calendar, visit: spotlight.css.edu.
---
Belay on! Indoor Rock Climbing
Whether training for difficult outdoor routes or simply using the gym for exercise, indoor climbing facilities in Duluth and Thunder Bay offer opportunities for both skilled and novice climbers to practice their hobby.
The 550 members at Vertical Endeavors in Duluth test their skills on 25 roped routes that are part of climbing walls up to 42 feet high. The four types of climbing available at this gym—auto belay, top roping, lead climbing, and bouldering—ensure that participants can utilize increasingly complex techniques to progress in the sport.
Cody Benz, the facility's assistant manager, has been climbing for about three years and working at this gym for just over two. Vertical Endeavors of Duluth, which also has locations in the Twin Cities, is located inside the Adventure Zone in the Canal Park district of the city. Benz says this variety draws in a wide range of climbers.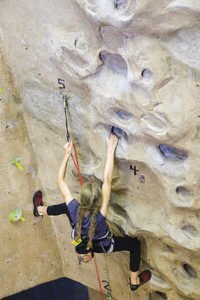 "It's a good mix. We have a lot of people who come in from the arcade, so that's kids and families. They just happen to see us here and think, 'that looks fun'. We have routes for people like that, made so it's intentionally less difficult," explained Benz. "We have very strong climbers that do this as their main hobby or activity to do extremely difficult things. They use it as a means of training or figuring out certain moves so when they want to go outside they can push that limit."
The Boulder Bear Climbing Centre in Thunder Bay also offers routes and experiences for climbers of all levels. They advertise 6,500 square feet of climbing terrain with walls up to 31 feet high. Beginner climbers can attempt the sport with a day pass and then continue to use the gym with a 10 pass punch card. The instructors can tailor a day or afternoon of climbing to serve as an introduction, a refresher, or an advanced lesson.
Both locations know the importance of capturing the interest of young climbers. By hosting birthday parties, climbing team practices, and seasonal class sessions, the staff members who introduce the kids to a new after-school activity can have a lasting impact on both the sport and the individual.
Because of the multitude of climbing locations along the North Shore, winter drives many rock climbing aficionados indoors to practice in order to stay in shape for the spring melt. For individuals hoping to use their indoor skill set as a transitional step to climb outdoors, the guides in Duluth and Thunder Bay can help.
On the American side of the border, Benz recommends—and guides climbs—at Shovel Point, Palisade Head, and Ely's Peak. In Canada, an Association of Canadian Mountain Guides certified instructor from the Boulder Bear Climbing Centre will meet participants at either the Bluffs, Silver Harbour, or Pass Lake in the Thunder Bay area for practice in real scenarios.
"It is an indoor activity that can set you up for something really awesome outdoors, depending on the season," says Benz. "You don't have to be an Olympic athlete to do this; that's the biggest thing. It's really not an impossible sport."
Vertical Endeavors in Duluth and the Boulder Bear Climbing Centre in Thunder Bay are open seven days a week. More information about both gyms is available on each of their respective websites.