Eating is a fact of life, whether at home, on the run, or at a restaurant. Many people have been rediscovering the joy and art of cooking at home and seeking out ways to increase their skills and expand their cooking repertoire. Home cooking can be beneficial for your health, pocketbook and your own enjoyment. Cooking classes are a fun and tasty way to gain confidence, ideas, and a willingness to try new recipes and techniques. Classes are available across our Northern Wilds, from Bayfield to Thunder Bay, including these upcoming class options.
Rhonda Bill has taught over 150 cooking classes and she's not slowing down. The cook and entrepreneur behind A Fine Fit Catering, Rhonda regularly offers four- to five-course dinner-style classes, as well as custom classes and corporate workshops for team building in Thunder Bay. Rhonda is a professional cook and teacher by trade, with a love of hosting and entertaining. Cooking classes allow her to combine all of her passions, to our benefit.
Monthly classes are typically 3.5 hours in duration and are hosted in a studio kitchen space in Rhonda's home. Many of her classes focus on eating with the seasons, as is the theme for her already sold out November classes, or focus on a dietary need or ethnic cuisine. For December, she is offering two sessions of "Entertaining for Christmas," on December 6 and 7. Her classes are dinner-style, where the guests get to watch, ask questions, and eat, while Rhonda does the hands-on food preparation and shares helpful tips and tricks. If you are a tactile learner, Rhonda also welcomes guests to jump in and help, but you can also sit back and relax and socialize during the evening.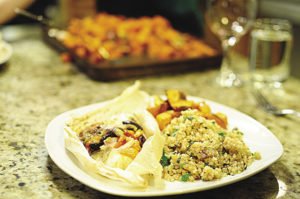 "Anyone can become proficient in the kitchen—all it takes is a little confidence and willingness to try new things. Attending classes or workshops along the way will definitely help in instilling this confidence," said Rhonda.
At the end of the evening, guests have enjoyed a four- or five-course meal, learned from an expert, and will bring home a cookbook of recipes from the evening and ideas for how to use them at home. The regular class fee is $65.00 CAD per person (HST and gratuity included). Registration is available online at: afinefitcatering.ca.
In addition to the monthly course offerings, custom classes are also available, whether for a special event, like a bachelorette party, or for a team-building work event. These custom classes can accommodate up to 20 participants and range from a meal to a full day team-building workshop. "I enjoy the camaraderie that happens organically when people come together around food. I enjoy seeing people excited about cooking, savouring a delightful bite, and catching the 'cooking' bug!" said Rhonda. For custom classes, more information is available from Rhonda at 807-708-3509 or info@afinefitcatering.ca.
In Bayfield, Wisc., a chef named Lars is on a mission to help people cook healthy, delicious meals at home. Lars Dukowitz, of Cooking with Lars, is cooking up classes from the foundational knife skills class to soups and quiche. Drawing on his experience as a chef and now master gardener, Lars connects his students with locally sourced ingredients and knowledge that creates a delicious result during the class and at home.
Cooking with Lars classes are typically 1.5 to 2.5 hours in length and held at either Lars' Kitchen Classroom (85195 State Highway 13, Bayfield) or at the Chequamegon Food Co-op in Ashland. Many of the classes offered are hands-on and some are more informational/instructional. No prior experience is necessary.
"I've had a variety of students, some with basic cooking knowledge and others with restaurant experience. I welcome any and all to try cooking, it's essential for healthy and fresh meals, and I also encourage anyone who might be interested in starting a career as a chef," said Lars.
Each class includes a custom handout with helpful information to take home. And what's a cooking class without eating? Most classes wrap-up with participants getting to enjoy the finished product they created. In November, choose from Leftover Love on November 6 in Ashland, Quiche Lorraine with Homemade Crust on November 13 in Bayfield, and Soups: Puree and Broth on November 27 in Bayfield.
Classes vary in price and registration details are available online at: cookingwithlars.com. A listing of current and past classes is available on the website, ranging from pizza on the grill, sushi, fish, sauces, knife skills, etc. Cooking with Lars also offers gift certificates, if you are looking for a holiday gift or a way to mark a special event.
In Grand Marais, the Cook County Whole Foods Co-op has been offering cooking classes for many years, even in the tiny co-op building of yesteryear. Today, their larger store offers a better facility for classes and other educational opportunities.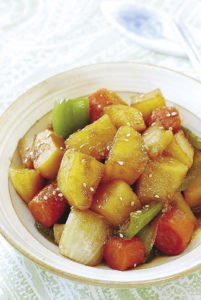 This November, the co-op is teaming up with Yafa Napadensky to offer a Korean cooking class on November 5, 7-8:30 p.m. "The co-op has lots of interesting ingredients that can be used to make food representing different cuisines from around the world," said Yafa. For this class, they will prepare a main course of Dubu Jorim, a braised tofu marinated in a soy sesame garlic and hot red pepper sauce. Side dishes will include Gamja Jorim, braised potatoes with carrots in a slightly sweet, soy-based sauce, and Oi Bokkeum, stir fried cucumbers in a garlic and sesame sauce. As is commonly served with Korean meals, a spicy pickled cucumber, Oi Muchim, will also be prepared. And don't forget to bring an appetite, Yafa reminds participants. The class is $20 for co-op members and $25 for non-members.
The co-op welcomes community members to teach classes, which is a paid opportunity. "We like to share the joy of cooking healthy and tasty foods which are fun to prepare," said Becky Rayman, marketing and education coordinator for the Cook County Whole Foods Co-op.
For more information on teaching, or to register for a class, contact Becky at (218) 387-2503.
Cooking classes are a fun way to expand your home cooking skills while also enjoying an interactive and delicious event. Many other stores, B&Bs, and restaurants offer cooking classes, so keep an ear out in your community to find the perfect match for you this winter.