Carlton—After many years of homesteading and growing their own food, Matt and Sara Weik decided to become full-time farmers. In January 2014, Yker Acres Farm came to be with the purpose of providing food to the local community. But, the Weik's are not your typical farmers. They love bicycling almost as much as farming, and pride themselves in growing "happy pigs" from farrow to finish. Meaning, their pigs live on the farm from the time they're born until they are processed into food. These pigs are outside 365 days a year, but have access to housing, fresh water, mud and, according to the Weik's, "lots of love."
A visit to Yker Acres, pronounced WHY-ker, would show you the "love" in the way they treat, pet and talk to their 35 sows, three boars, and many litters of piglets.
"Sometimes it's like having 600-pound black labs or golden retrievers, or 20 of them. Sometimes you pet them and they roll right over on their back like a dog," Matt said.
In general, pigs are known to be social animals that like routine and, Yker Acres pigs can definitely tell when new people come around.
"We find them a challenge and we like that we can interact with them. Not saying chickens aren't smart, but we like the social interaction of pigs. They're just a joy to raise," said Sara.
Being a direct to consumer farm, the Weiks think of themselves as farmers, marketers, sales, delivery and mechanics. And, with more restaurants wanting to serve local food, Matt would love to eventually help link other local farmers to restaurants.
"Some farmers are really good at farming, but may not have the time to build relationships with the restaurants," he said.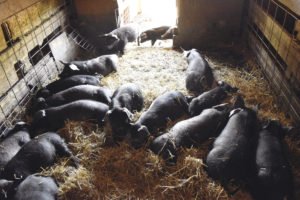 Yker Acres direct to consumer farming model has given them a bit of success. They recently had to move their operation to a larger farm; from a nearly 20-acre farm to a 160-acre farm. They also attribute their success to having great tasting meat.
According to Matt, the way they achieve great tasting meat is by giving their pigs a low stress life and a low stress, humane end. In fact, they went through seven different butchers before choosing Lake Haven Meats in Sturgeon Lake, Minn. to process their pigs. He says that chefs that work with the meat say that they can tell the difference between a stressful or non-stressful butcher.
"It is complex, but we don't take it lightly. The harvesting process could ruin the meat if not done correctly," he said.
Full-time Yker Acres Farm manager, Tiffany Edholm, says she feels good about the way that they run the farm. She says that the goal is to ultimately produce a healthy and great-tasting protein source for the community.
"We choose to eat meat—it's hard to get used to the life and death part. We try to give them the best possible life. I am proud of that and can honestly enjoy eating the meat," she said.
Although about 90 percent of their piglets are born right in their barn, they do buy piglets from other farms at times. If they do buy young pigs from other farms, it is only to be sure that they have enough in the herd to meet the demand for their meat. Each month, they bring 20-25 hogs to Lake Haven Meats to be processed for area restaurants like Duluth Grill, Crooked Spoon Café and Red Table Meat Co based out of Minneapolis.
The relationship with Red Table Meats was the catalyst that started Yker Acres; and that relationship began because of a fundraiser for cycling. That's right, bicycling. In order for the Weik's son, Josey, to go to Europe to race cyclocross, he needed to raise money. And raising pigs was his way of doing that. Mike Phillips, who is an avid cyclist himself and now the owner of Red Table Meats, bought one of these fundraiser pigs and liked it so much that he wanted more. So Yker Acres came to be and, today, Red Table Meats is still their biggest customer.
Today, when it comes to working with local businesses, Matt and Sara choose their partnerships with those who are authentically committed to local food and not just to boost their marketing image. They feel that these relationships are important so that money is able to stay in the local economy. Matt added that businesses that want local food have to make a timing commitment and plan their menus around the realities of local food production.
"When restaurants commit to local food, it's a big deal," he said. "One example is Duluth Grill. They use real lard from us for their pies, it's pretty amazing."
For the foreseeable future, Yker Acres will continue to refine their product by listening to feedback from local chefs, cross breeding, and ultimately trying to create the "perfect pig." They are also starting to grow their own feed by planting peas and barley, with the goal of reducing the amount that needs to be trucked in. And, by adding cattle to graze on about 80 acres of pasture, they hope to improve the farm's biodiversity.
"From the beginning, we knew what kind of farm we wanted to be, and we feel good about raising animals like this," Matt said.
For more information about the Yker Acres Farm and to find out where you can purchase their meat, visit their website at: ykeracres.com.