Thunder Bay—After a widespread and intensive two-year search, the Thunder Bay Symphony Orchestra (TBSO) is thrilled to announce the appointment of Paul Haas as its new music director, effective July 1.
Haas steps into the position after maestro Arthur Post ended his seven-season tenure as music director of the TBSO this past April.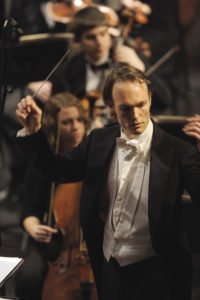 Haas, a truly dynamic and innovative musician, composer and conductor, is the founder and artistic director of Sympho, a New York-based contemporary music ensemble dedicated to the creation and performance of radically engaging musical experiences in unusual venues and unexpected contexts.
Haas is former music director of the acclaimed New York Youth Symphony and since 2010 has also been the music director of the Symphony of Northwest Arkansas (SoNA), which has more than tripled its yearly budget since he began his tenure. As composer, Haas has been commissioned by iconic venues like the Park Avenue Armory and Rubin Museum in New York, Grace Cathedral in San Francisco, and the Anchorage Museum of Art in Alaska. He is a graduate of Yale University and The Juilliard School, where he studied orchestral conducting.
During the 2016-2017 season, the TBSO worked with seven finalists for the position of music director. Each candidate conducted the orchestra during at least two concerts over the course of the past two seasons, Haas leading both the second Cabaret series concert and the fifth Masterworks series concert. His visits, along with all of the candidates, involved a tour of the city and the opportunity to meet with board members, TBSO musicians and chorus, and members of the organization's administrative team.
"I knew from the first time I stood in front of the TBSO that this was a special group," said Haas. "The level of artistry, the camaraderie, and the commitment to excellence was palpable. I felt a kinship with these musicians, a special connection. I'm honoured to have been chosen to lead this exceptional ensemble, and I'm excited to continue working together for the benefit of the Thunder Bay community."