North Shore fermentation fans have two new options for locally made adult beverages near the big lake. Residents and travelers near Thunder Bay can enjoy some freshly brewed beers at the Dawson Trail Craft Brewery and those passing through Lutsen will find a glass of wine or cider at the North Shore Winery.
The Dawson Trail Craft Brewery opened its doors to the public on February 25 of this year. Inspired by the turn-key brewing systems he saw online, George Renner and friend John Kivinen first started talking about opening a brewery about two years ago. Though they decided to not pursue the turn-key system because of a lack of brewing capacity, the duo still moved forward.
"The first beer we brewed was a test batch of the Red Ale," explained Renner. "At the moment, we have four beers that are available regularly: an Oatmeal Stout, Irish Red Ale, IPA, and Cream Ale. We are planning on offering a few seasonal beers in the coming months."
Currently, the brewery sells their brews from their storefront and to bars and restaurants in the Thunder Bay area. Though canning is a future goal, currently the only to-go options are 64-ounce growlers and 32-ounce howlers.
Though there is an extensive amount of work involved in owning and operating a fledgling brewery, interacting with the customers makes the efforts worth it, says Renner.
"We get a pretty big variety of people into our store: travelers, homebrewers, or just avid craft beer enthusiasts, from all age groups. I find those conversations really enjoyable," he said.
Adventurous hop hounds can get more information at www.dawsontrailcraftbrewery.com or on Facebook.
Chuck Corliss and his wife Kim Schroeder have been working hard since 2012 to make their dream of owning a small business on the North Shore a reality. In just under four years, the couple purchased a property in Lutsen, built two structures on it, installed the necessary well and septic systems and got full approval for their winery and cider house to be a fully functional operation.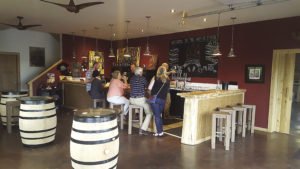 Officially opening its doors in July of this year, the North Shore Winery and Sawtooth Mountain Cider House currently offers three white wine varieties, five options for red wine, and three hard ciders. The most popular red wine, the Boundary Waters, is designed to be young, fruit forward and very juicy. Though the Cascade was the most popular white throughout the summer, the Artist Point blend is starting to pull ahead in glasses purchased. Other hits include the Kim's Blend cider and Herbie's Blend cider, made with local Caribou Crème maple syrup.
Corliss and Schroeder did their due diligence in researching red and white grape sources for the wines and apple sources for the ciders. After tasting wines, observing processes and interviewing growers, they decided to single-source their red grapes from a third generation grower just south of Sacramento in Lodi, California. Because the white grapes are easier to work with and less particular than the reds, they buy the whites from a variety of sources as-needed. Though finding an apple source can be a challenge for many cider houses, a long-standing relationship with the Pine Tree Apple Orchard in White Bear Lake keeps the cider flowing.
Incorporating local residents is an important theme for the duo. Local artist Hazel Belvo agreed to do the artwork for their upcoming winter spirit (an apple maple port) label and artists from Last Chance Gallery have their work on display both inside and outside the tasting room.
Though the potential for growth is ever-present for a small business, Corliss and Schroeder remain focused on keeping their efforts local and sustainable.
Various hard ciders and wines are also sold at several locations along the shore.
To learn more, visit www.northshore­winery.us or Facebook.