By Amy Schmidt
Community Partners in Two Harbors gives its community a lot of reasons to be thankful. Dedicated to helping those 60 and older not only stay in their homes, but to maintain independence while there, Community Partners has established itself as an organization intricate to a thriving community.
"By 2030, 60 percent of Lake County's population will be 60 or older," says Taylor Holm, executive director of Community Partners. "Knowing this, we're focused on ensuring our community has the capacity to allow our population to age well and as independently as possible."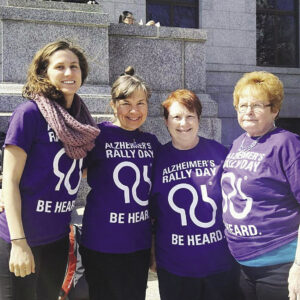 Relying on the help of volunteers, neighbors and family members, Community Partners coordinates support services for those who wish to stay at home but who require regular or specific assistance to do so. By coordinating such services as rides to medical appointments, grocery shopping assistance and help with chores like cleaning or snow shoveling, Community Partners has found an effective way to meet the varied needs of its aging population. By utilizing volunteers and neighbors to provide a majority of the care needed, they've created an approach to elder-support that is more home-grown and authentic, taking the relationship of neighbor from someone you borrow a cup of sugar from when your pantry is low, to someone whose life you are actively involved in and changing for the better.
"We couldn't do anything without our committed volunteers and our donors, large and small," Holm said. "They make what we do possible."
Community Partners doesn't limit its focus to only those who require care. Aware of the strain care-giving places on the caregiver, their dedication is also to providing quality caregiver support. A caregiver is defined as someone who provides daily care for a frail or disabled person that enables them to live at home. For those who fit this description, a full Family Caregiver Support Program is available, offering services such as Caregiver Consultation, Service Coordination, evidence-based education classes and an annual educational conference featuring speakers and panel discussions.
Respite care services are also available, allowing family caregivers to attend to personal needs, such as church or shopping, while trained volunteers stay with the loved one. By caring for the caregiver, Community Partners makes the challenging task of in-home family support a little less daunting and a lot more doable.
The scope of this organization's services is thorough. Striving to leave out no good thing when it comes to caring for Two Harbor's aging population, Community Partners truly grasps what it means to be community-minded. According to their website, they value "compassionate service that makes a difference in the lives of people in [their] community." It's obvious that this value statement is at the heart of everything Community Partners does. And for that, we all have a reason to say thank you.
If you would like more information about Community Partners, visit their website at www.communitypartnersth.org or call (218) 834-8024. And because giving back is a great way to say thanks, consider a donation through Give to the Max at www.givemn.org.