A lot is happening at the creative space in downtown Grand Marais that houses the companion endeavors known as Threads and The Garage. Owner Jill Terrell is in the process of transforming portions of her shops into what will be an interactive experience for her customers and a business incubator for local artists and crafters.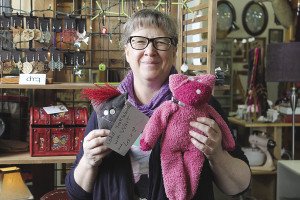 "You will be able to see somebody making something or sit down and make it yourself," she says.
New this year is an area called Maker's Space, where artists can have studio space and people can watch them work. Cooper Ternes, owner of Nordic Wooden Ware Bowls, now has a studio there. Terrell smiled when she said recently that she and others at The Garage watched Ternes' child while he ran errands. It's what she views as collaboration.
"We can all work together," she says. "Doing favors for one another makes it easier for people to live and work here."
Terrell has more studio space available. She envisions artisans like Ternes becoming the anchor businesses within The Garage. She will continue to have space available for local artists and crafters to sell their works.
"We'll continue to partner with local artisans," she says. "We support craftsmen and hobbyists, as well as people who want to make it their business."
In fact, just about anyone can get creative in an area called My Maker's Space, where everyone, including kids, can make something on their own. It will also be an area for learning. For instance, Bob Pranis has his 3D printer there. People can watch objects being made with the printer or make an appointment to come in and learn how to use it.
Terrell says her "next wave" of development in the shop will be the addition of a sewing space, which will have two industrial sewing machines as well as regular machines people can come in and use for an hourly fee.
Also on the agenda is a plan to deliver the creative endeavors of The Garage to the world, via the Internet. A new website will feature products made in Grand Marais.