It was a warm spring evening in the town of Grand Marais, and the theater hummed with energy. It was opening night of the Cook County YMCA's annual dance recital, and a sold-out show. Preschoolers talked excitedly backstage, waiting to take the stage as dancers for the first time. High school students showcased gracefully polished moves, while adult-aged dancers took the stage in styles ranging from ballet to hip hop. And all the while, people from all corners of the community showed up to support and revel in the joy and beauty that is dance.
Every culture around the world has dance. Its prevalence across time and place—and its emergence in even the youngest of children—has led to some dubbing it "the universal language." As both a physical sport and a form of art, dance has the power both to grow confidence and strength in individuals and also to bring people and communities together. Several places along the North Shore offer dance programs that enable people of all ages to take part in this uplifting activity.
In Cook County, residents have the opportunity to take part in dance classes through the Cook County YMCA. The Y has been offering dance classes since 2013. Director Emily Marshall said that they began with a few classes that were held in the dance studio, and over the years have expanded the programs to include more styles of dance and more dancers.
"We have around 105 dancers in the program today, and they range in ages from three to over 60. We've added hip hop and tap classes, too." said Marshall. "About five years ago, we asked Christine Curtis, Lesli Higgins and Breana Roy to step up as teachers. All three had been involved in dance for years and are very passionate and committed to what they do."
For beginning dancers, especially those beginning as adults, starting a new activity like dance can seem daunting. But the Y offers classes for all ability levels, including beginner classes, so new dancers can start out with those on the same level. There's also a shorter fall session, where people can sign up for a shorter term of classes to try it out without committing to a performance or a full season.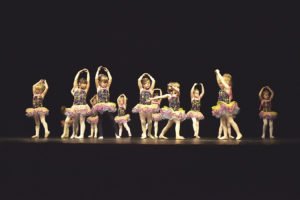 "We'd encourage anyone who's interested to try it out," said Marshall.
For those who wish to continue with classes, the spring term brings the opportunity to participate in the recital at the Arrowhead Center for the Arts. The recital showcases the passion, effort and love that the dancers and teachers have put into their routines, and it's also a highlight for the community. Marshall said it's neat to see how supportive the community is of the dance program, and how the show brings people together to share in something entertaining and fun.
This year's performance dates will be May 9-11 at the Arrowhead Center for the Arts. Tickets are available at the box office or online at: tix.com. The performance is also recorded and the YMCA sells copies of the performance for $10.
Another person who knows the value of dance in connecting community is Renee Moe. Moe founded Sterling Dance in Grand Marais in 1994, which she now directs in Two Harbors. She's also an instructor for the Minnesota Ballet.
"My aunt, Brenda Moe, was my dance teacher growing up," said Moe. "She instilled in me a love of dance and I learned so much from her."
She went on to study dance at UMD, and continued to study dance post-college in New York City before moving back to the North Shore.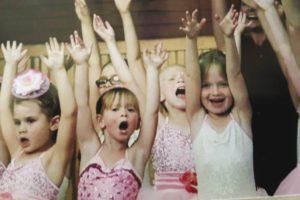 "Eventually, the Lake pulled me back, as it tends to do," said Moe. "I wasn't moving back to start a dance studio, and I was only intending to live in Grand Marais for a summer. But then I met Tom McCann and Betsy Bowen at the Grand Marais Art Colony, and they said, 'This floor has to be danced on!' I started offering classes for kids, and then I had parents grow interested in taking classes themselves, so I started offering adult classes. Grand Marais is such a great artistic community and people were really supportive."
Sterling Dance is now located in Two Harbors, where Moe continues to offer dance classes for all ages. She likes to do intergenerational work, and create pieces to include dancers of different ages.
"I've had pieces include both three-year-olds and grandmas," said Moe. "Dance is a wonderful activity, but it's also about community, family, and being part of something bigger than yourself."
This year, Moe is organizing a show to celebrate Sterling Dance's 25th anniversary. The performance will be on Saturday, June 29 at 6 p.m. at the Two Harbors Band Shell Park. The event is free and spectators are welcome to bring a lawn chair. (The rain date will be Sunday, June 30 at 6 p.m.) Moe is welcoming anyone who's worked with her in the past to be part of the performance. Those wanting more information about Sterling Dance, or the performance, can email: sterlingdance@ymail.com.
Not only is dance enjoyable for dancers and spectators—and a means of building community—but from an instructor's perspective, teaching and helping students grow into confident dancers is also a joyful and rewarding experience.
For dance instructor Stacie Juten of Duluth, dance is a way of life. Juten began dancing when she was just in preschool, and in high school she began to assistant teach with her instructor, Joyce Torvund. After attending college for elementary education and working in the school systems, she had the opportunity to fill in for a dance studio owner on maternity leave when she was living in Wyoming. Once she moved back to Duluth, she started working with Torvund again at her studio a few nights each week, and when Torvund retired, Juten took over the business. She is now in her 19th year as the owner and director of the Duluth Dance Center.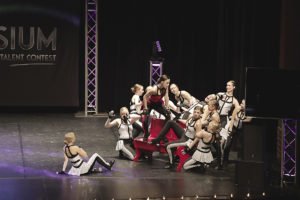 "I've always loved dance," Juten said. "I didn't think dance would be my career, but it worked out that way and I love what I'm doing."
At the Duluth Dance Center (DDC), Juten offers a variety of classes including ballet, lyrical, jazz, pointe, and tap. Class levels include both students and adults and start as young as preschool.
"I love working with all different ages, and I especially enjoy working with preschoolers," said Juten. "Some of them are so enthusiastic and they definitely keep you on your toes."
As students get older, they also have the opportunity to try out for the DDC's competition and performing lines, where they get to participate in dance shows and competitions in the area and in the Twin Cities. Students also participate in other events in the area: every year the younger students put on a show for the residents at Marywood assisted living, and a big highlight of the year for the students is dancing in the Christmas City of the North Parade.
"We've danced in all weather: rain, snow and sleet. But the kids love it," said Juten.
For Juten, her work at the DDC is rewarding, not only because of her own love of dance, but also how she gets to see students grow as dancers. Three of the teachers at DDC are previous students.
"Dance helps you with confidence and poise, and it's really a fun thing," said Juten. "I love watching these kids grow into amazing people and dancers. Their passion inspires me to keep creating new dances, and many students become dance teachers and choreographers themselves."
Dancers living in the Northland may be interested to know that the DDC has a dance shop that sells shoes, tights, and other necessary dance apparel. Having an in-person shop is especially helpful for dancers looking to try on shoes and apparel to ensure the right fit.
The Duluth Dance Center will be having their annual recital on Saturday, May 18 at the Decc Symphony Hall. The performance starts at 6:30 p.m. and tickets are available at the door or in advance at the studio. For more information, visit: duluthdancecenter.com.