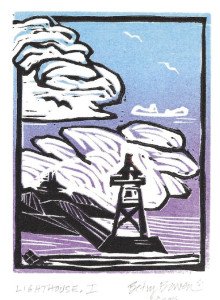 Betsy Bowen must exercise self-discipline to take days off from her artwork. And though Bowen is nearing 70, she won't stop working anytime soon.
The Grand Marais printmaker, known for her illustrations in children's books, thrives in her art and the studio in which she works—a 113-year old church renovated into an informal artist collective.
Betsy Bowen originally came to Grand Marais with her family from the Chicago area. Those first trips were short family vacations, but when she was 18, she started coming for longer periods of time. She took classes from John Spelman and from the Grand Marais Art Colony.
"People took me seriously as an art student," Bowen said. "It was a natural, normal thing to be an artist here."
Bowen established relationships over the years with the Sivertson Gallery and the Art Colony. Jan Sivertson helped Bowen secure her first book project and Bowen rented the printmaking studio at the Art Colony until she needed the studio more than she could use it—and the Art Colony had become busy as well.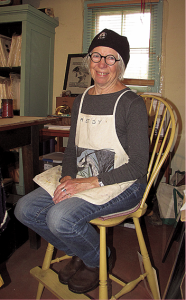 Meanwhile, a few blocks away, a small Norwegian church built in 1903, later used as a school and then a home for the Grand Marais Playhouse, had become empty. In 2002, Bowen purchased the somewhat dilapidated building and remodeled it.
Pictures made their way onto the walls and soon the church turned into a gallery. Today, the church houses five working artists and the gallery carries outside artwork as well, including jewelry, pottery and woodwork.
The studio continues to be a work-in-progress, but, "There is a lot of creative 'hoopla' that goes on here," said Bowen.
Currently, Bowen is working on several projects at once. One recently finished book project, "One North Star," will be coming out soon. Another, called "The Lost Forest," written by Phyllis Root and illustrated by Bowen, is a picture book about a 40-acre piece of old growth forest near Deer River. The land is often referred to as the "Lost 40" because the surveyors who went over the land in the 1800s mistakenly designated the land as swamp. This meant loggers passed it over, and today the forest remains untouched.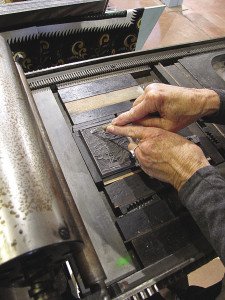 Bowen is also working on a print for the Wolf Ridge Environmental Learning Center fundraiser as they work on an expansion. And then there are the smaller projects, such as hand-printing cards to sell at the shop and the art fairs during the busy summer and autumn months.
Bowen works on her art more than full-time, but when she isn't carving wood and pressing ink to paper, she plays bass guitar for Shaky Ground, a house band for the Gun Flint Tavern's open mic night.
"I feel a bit like grandma Moses in a rock 'n roll band," Bowen says.
This summer, she will also be found paddling a North House wooden boat on the harbor and cooking on a wood fire.
But mostly, she loves making stuff, she says. "Making the prints and the design part of book-making. You lose track of time, immersed in the story, and make the story-telling effective."
The Betsy Bowen Gallery & Artist Studios is open 11 a.m.-5 p.m. daily, until the end of October. Bowen's work can also be seen at the Grand Marais Art Fair, July 9-10, or by visiting www.woodcut.com.