When one thinks of art, usually paintings, sculptures, and drawings come to mind. Museums and art classes enforce that idea. Really, anything can be art if it's a labor of love and dedication. Eric Schultz of Electroforge Custom Welding and Marine Fabrication uses his creative juices to form a different kind of art than one might find in the Louvre or the Met. He isn't the cookie-cutter Bob Ross type. This is what makes him a Minnesotan treasure.
Electroforge Custom Welding website describes Schultz's business as follows: "Electroforge Custom Welding & Marine Fabrication is headed by master marine fabricator Eric Schultz. With more than 20 years' experience, Eric is a master of his trade. The highest quality and standards show in every piece. Eric's perfectly crafted structures are well known from Hawaii to Minnesota. His fabrication style is one of a kind; unique, functional, and built to last! We work closely with each customer to help give them the unique, personalized structure they desire. We specialize in Radar arches, hard tops, soft tops, and much more! We can design and fabricate your dreams!" Just looking at the photos of his work, it is apparent that what he does is more than simply working with metals.
Schultz spent his early working years working in the ship yards in Duluth. He had an interest in underwater welding, so he decided to join the Navy to give it a shot. He didn't end up liking the underwater welding, but kept working with the Navy. For 10 years he lived in Hawaii, on the island of Oahu, spending his weekdays working for the Navy and his weekends doing welding projects for extra money. After transitioning out of the Navy, Schultz decided to move home to Minnesota and settle in Two Harbors, roughly six years ago, to continue welding. Living in Hawaii had gotten expensive and he looked forward to moving back to his home state. He got a job in Silver Bay at the taconite plant and did welding on the side. He had his first boat show that year and the rest is history. Electroforge is now popular all over the state and Schultz is busier than ever.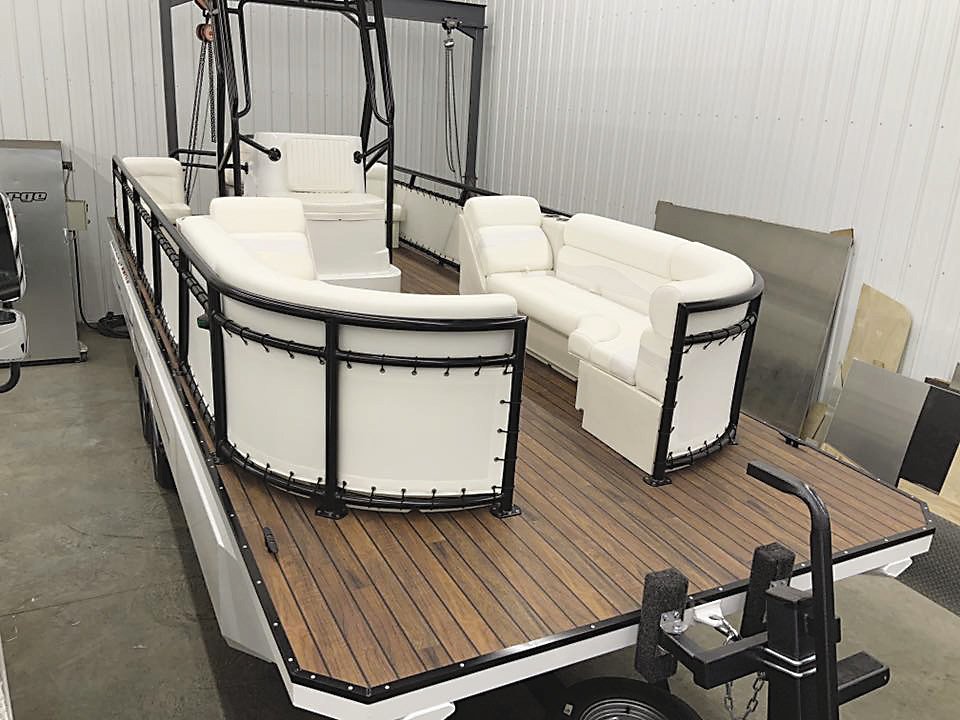 "I would say that I do half and half. Half of my projects are commercial; for the City of Two Harbors, DNR [Department of Natural Resources], Castle Danger Brewing, places like that. The other half is private, people's own personal projects," Schultz said.
The Electroforge website features photos of a custom bar, a memorial cross, an intricate metal fence, and of course lots of marine fabrication (using a variety of welding tools and techniques to assemble pieces together for boat projects). Marine fabrication is Schultz's favorite part of the job, which is no surprise as he explored his love for welding in Hawaii where boat projects were not hard to come by. Luckily, living in Two Harbors in such close proximity to Lake Superior, boat projects are plentiful here, too.
"My favorite project that I've recently completed is the last boat I worked on. It was a white Electroforge boat," Schultz said.
A lot of artists say that their work can tell a story. Schultz had one particular project that he really enjoyed putting together. Two to four years ago, Schultz assembled a bridge that was pretty diversified in design. It was for a client's personal yard, running over a small pond. It was a kind of yard art and something Schultz was very proud of. Now the client also has a lighthouse playhouse in the yard as well. While boats might be his thing, it is clear that Schultz has a knack for creative projects. One might even call him a welding artist.
Anyone interested in contacting Eric Schultz for their welding needs should call him at (218) 343-7174 or visit: facebook.com/electroforge. The Facebook page is also filled with pictures of his work.