As one of the newest members to the North Shore art community, rising artist Emily Wick finds modern expression in a craft that is almost 30,000 years old—weaving.
Using a frame loom, a tool that she covets both for its simplicity and portability, Emily specializes in crafting decorative woven wall hangings, as well as household goods such as pillows, coasters and jewelry. Wick prefers to adventure with her loom and weave in a variety of outdoor landscapes, the very landscapes whose essence she strives to capture in her work.
"I find a lot of inspiration from nature, particularly bodies of water and celestial bodies," says Wick. "Lake Superior and the boreal forest surrounding it are particularly inspiring to me and my work, and it is my hope that my weavings connect people to these beloved places."
In addition to the natural world, Wick finds inspiration in shapes, incorporating a variety of shapes into her work at different moments throughout her journey as an artist.
"When I first started weaving," says Wick, "I focused a lot on diamonds. Lately though, I've been obsessed with the delightful challenge of weaving circles, something that is both difficult to master and thrilling when you get it right."
Wick's journey as a weaver has its roots in her decision to move from the Twin Cities to Cook County in 2017. In doing so, Wick chose to leave the beginnings of a career in communications in the non-profit world for a life "full of unknowns" in a place that she'd always dreamed of calling home.
"I was just ready for a major change," says Wick. "At that point, weaving wasn't a thought in my mind, but I believe all of those big decisions pre-weaving opened up the space needed to let weaving in when it came along."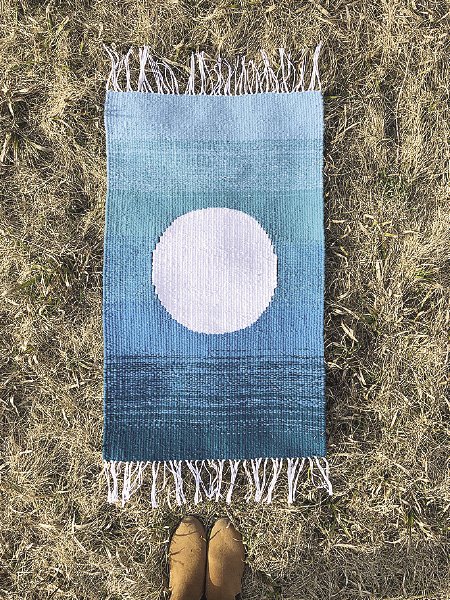 A year or so after moving to Cook County, Wick "stumbled" into weaving when cleaning out her room back home and coming across a small loom from her childhood. She decided to bring the loom back north with her, and after experimenting with yarn she had on hand for other projects during a particularly long Gunflint Trail winter, Wick became hooked.
Testament to her talents as an artist, Wick is mostly self-taught, relying on Google and weavers on Instagram to get started.
"When I first started," says Wick, "there were few resources out there for the exact type of weaving that I was interested in, so I learned mostly by trial and error."
"It took me a while to feel like I'd developed my own 'voice' in my work," continues Wick, "and it is, and I assume it always will be, an ongoing process. I was familiar with the idea of a unique voice from being a writer—rough drafts, editing, reworking, polishing—and have enjoyed applying that mindset to my work as a weaver."
Wick recently acquired a much larger loom, and has started to work on weaving rugs in addition to her other woven works. Weaving rugs is something that Wick hopes to "dig into" in the near future.
Faced with fewer in-person sales opportunities due to COVID-19, Wick has been focusing her energies on finding ways to "show-up online" and recently launched an initiative of made-to-order wall hangings in her moonrise design. Wick is hopeful that the fall and winter will provide opportunities for local holiday and pop-up shows, but understands that such events are anything but certain.
"Long-term," says Wick, "I hope to find new and creative ways to make weaving more accessible and inclusive. I want to be a resource to other weavers, to learn more about the history behind my craft, and to continue to expand my weaving practice by taking risks and carving out time to play with new ideas."
Emily Wick's work can be found on Etsy at: etsy.com/shop/northwovengoods, and on her website: northwoven.com. She also has an active Instagram presence @emily_wick_, where she posts all of her latest news, updates, and recent projects.