The folks who own and operate the many lodges, outfitters, and camps along the Gunflint Trail are undoubtedly a breed of their own. However, if you think the locals are interesting you should meet their dogs—the furry companions who call the Gunflint Trail home, 365 days a year.
Over the summer, I was invited in to rub bellies and throw sticks for a handful of these lucky dogs in exchange for a glimpse into their lives.
This is by no means an exhaustive list of pups who live and work on the Gunflint Trail. Many more exist.
Fresca, Gunnar, Jack: Rockwood Lodge
Rockwood Lodge has not one but three highly skilled resort pups on their team. Fresca (pictured right), the English setter, is the elder of the trio at 12 years old. As the elder, she has retired from her career in the resorting world and spends her days napping in the shade and swimming in the lake. The handsome devil in the middle is 5-year-old Gunnar, a golden retriever/Lab mix. As the youngest of the team, his days include going over here, going over there, sniffing around, and greeting people…he's still in training. In his spare time, he chases squirrels and keeps the bears away. Finally, we have 8-year-old English setter, Jack (pictured left). He is Rockwood's very own Early Alert Technician—If there's something folks need to be alerted to (especially chipmunks), he's on it. When he's not on duty, you can find Jack eating bugs and chasing orange training ducks.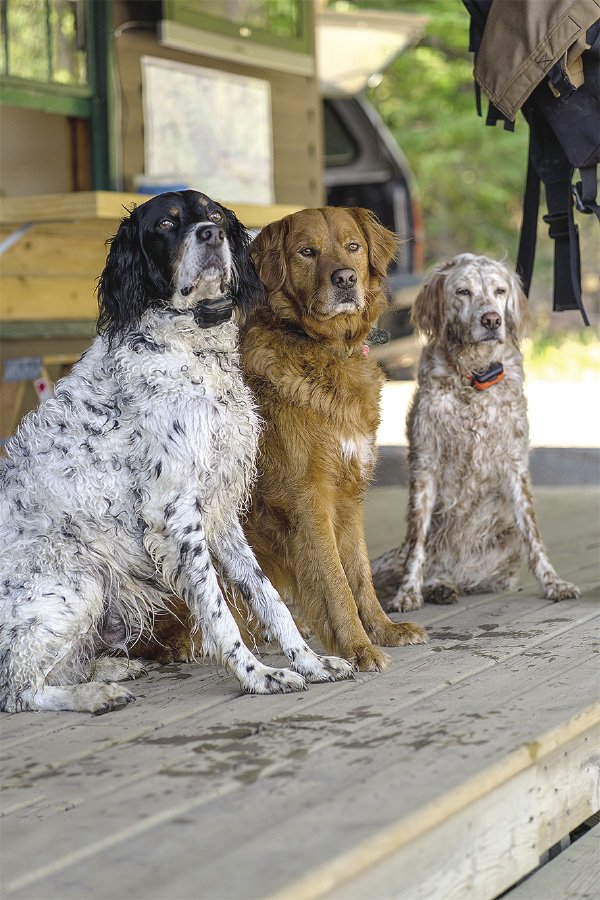 Shadow: Gunflint Pines
Shadow, the English Springer Spaniel, has been at Gunflint Pines Resort & Campground all of her 13 years—making her the most experienced resort pup on our list. She has hung up her hat as the resident Hiking Guide and, instead, taken up post as the lodge's Greeter and Candy Bar Protector. While she loved her guiding career in the hiking department of the business, Shadow enjoys the slower pace of lodge life with her two feline siblings. When Shadow's off duty, you can find her "looking cute" as payment for milk bones or barking and chasing anything shiny.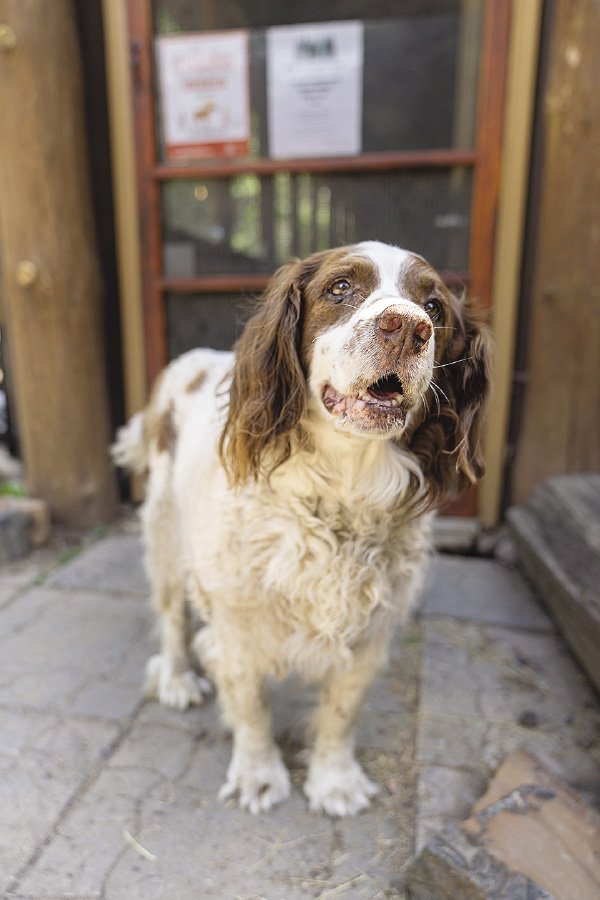 Arlo: Birchwood Wilderness Camp
Where the Gunflint Trail ends and the Seagull River begins, you can find this 100lb gentle giant cuddled up next to a camper or two at Birchwood Wilderness Camp. Although the youngest of the resort dogs on our list, Arlo, the 15-month-old Shiloh Shepherd, has found her true calling in life as the (Canine) Camp Mother. When camp is in session, she holds herself responsible for the happiness of each and every camper by licking faces, singing (howling) along to camp songs, and providing dog hugs as needed. But don't let her sweetness fool you, Arlo has a zero-tolerance policy for bears and horse play in camp. Of her many responsibilities, Arlo's favorite job is waiting on the dock to greet campers as they return from Boundary Waters canoe trips. During the summer months, Arlo is so busy keeping track of her 50 campers that she doesn't take much time off.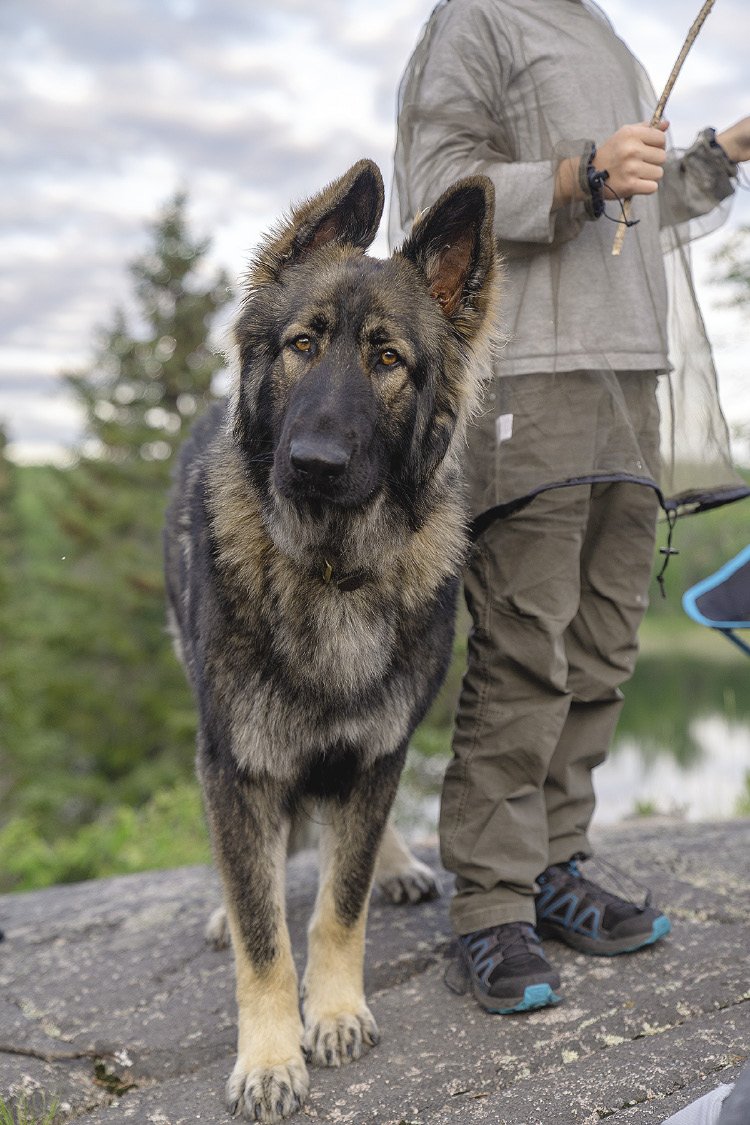 Bosley: Voyageur Canoe Outfitters
Meet Bosley of Voyageur Canoe Outfitters. This rambunctious 1-and-a-half-year-old Australian shepherd only knows one way of life—the resort dog way. Bosley takes his career very seriously. He begins each day with his morning rounds, which consists of a routine bunk house check to make sure guests are happy, followed by a pancake scrap cleanup in the main lodge. He often pencils in a few tow-boat rides with his dad after breakfast to pick up guests and, after his mandatory mid-day nap, Bosley greets the next round of guests with a smile and his signature butt wiggle. While he loves everything about his occupation, he finds fulfillment in his morning routine of roaming the property to make sure everything and everyone is in order. When he's not on the job, you can find Bosley swimming with the staff or chasing the local wildlife. In the winter, when work slows down, you'll find him sneaking off to visit his girlfriend, Arlo, at the nearby summer camp.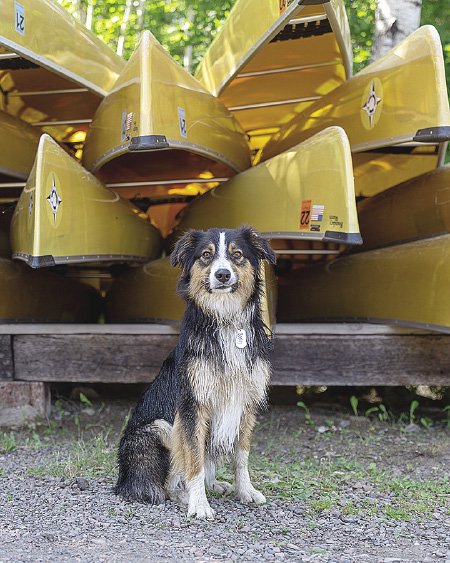 Ladie Bird: Poplar Haus
It's no easy task being the resident pup at a top notch eating establishment and resort on the Gunflint Trail, but Ladie Bird of Poplar Haus makes it look effortless. At 7 (and a half) years old, this yellow Labrador retriever has been passionately growing her responsibilities in the lodge for almost four years. Aside from her basic duties of greeting guests, she has also taken on the tasks of menu quality control, late night cuddler, babysitter and property security. Her favorite part of the job comes down to a tie between all the wonderful people she gets to meet and the chef's (her dad's) cooking. Although her days on the clock are jam-packed, Ladie Bird still finds time for rock diving, chipmunk watching, swimming and sunbathing.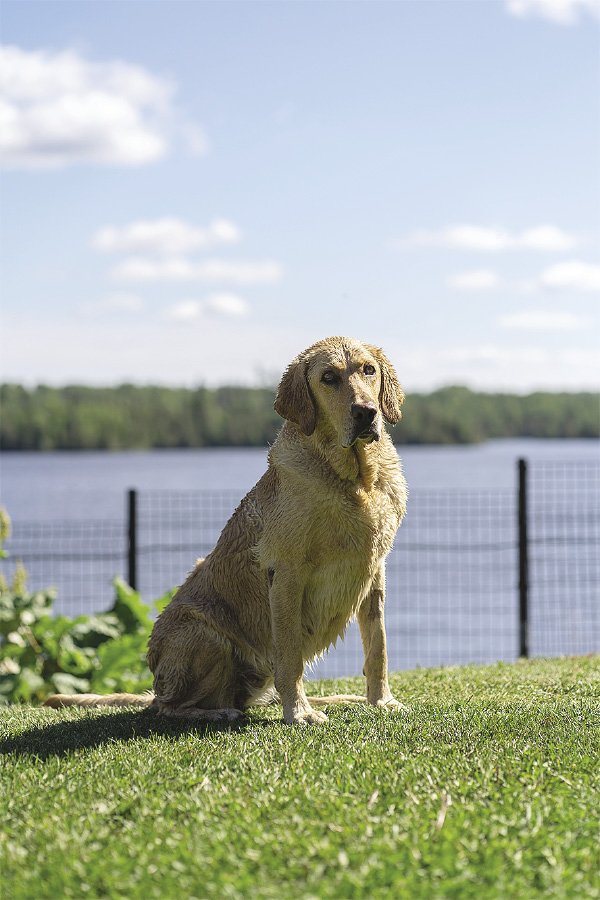 Buddy: Hungry Jack Lodge
His friends call him Buddy but his business card reads "Sir Buddy of Hungry Jack Lodge." Born and raised at the mid-Gunflint Trail lodge, this 12-year-old springer spaniel is highly skilled at his work as Entertainment Director. Buddy's work requires him to put in many miles on hiking trails with campers and many hours on the beach, which is arguably his favorite part of the job. This seasoned resort dog takes his work very seriously, only clocking out for the occasional snow day in the off season. Otherwise, if there's a customer in need of entertainment, he's on the job!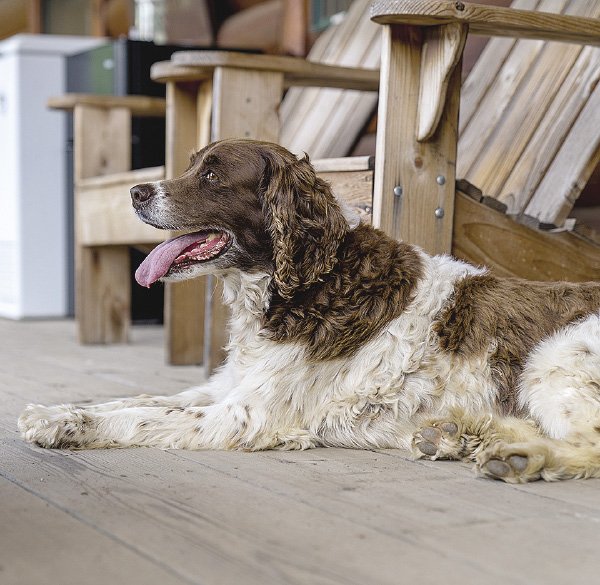 Scout: Gunflint Lodge
A cuddle bug at heart, 7-year-old Scout is the king of the docks at Gunflint Lodge. With four years of resort experience in the bag, this whip smart border collie has perfected the art of greeting guests with his charming blue and brown eyes. When Scout isn't being loved up by guests and staff (his favorite part of the job), you can find him fetching the frisbee—this little guy has some serious spring in his step!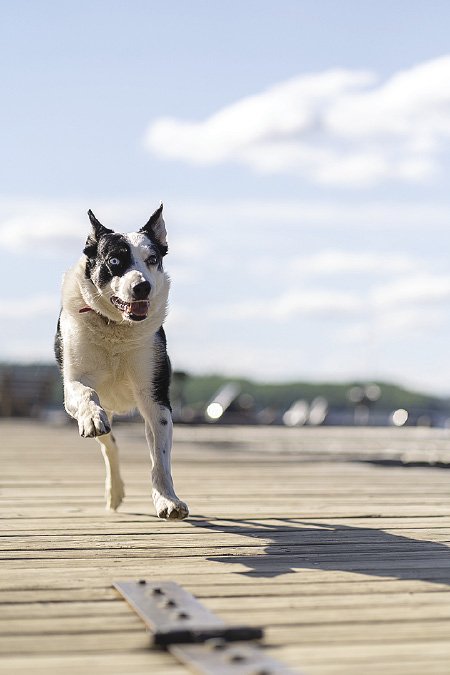 Maisy Mae: Big Bear Lodge
Big Bear Lodge is home to miss Maisy Mae, the 10-year-old Newfoundland. With six years of resort experience under her fluffy belt, Maisy's daily tasks include greeting guests and giving the "resort report." However, her passion lies in meeting and greeting with her gentle energy and cuddly floof. When she's not on the clock, Maisy Mae loves to go for a dip in the lake and catch up on sleep.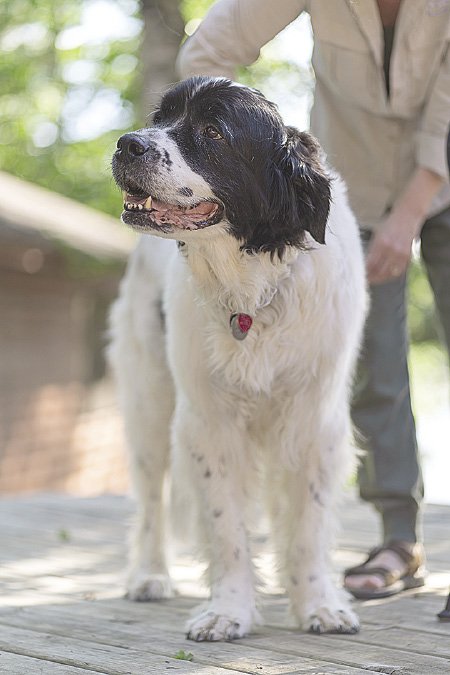 Story and Photos by Ashley Bredemus (and Arlo the Shiloh Shepherd)