Tettegouche State Park—We all know northeastern Minnesota is a special place for myriad reasons. For some, it's the wilderness; the quiet and solitude experienced from the bow of a canoe. For others, it's the opportunity to hunt, fish, or trap, exercising age-old traditions. It could also be skiing and snowshoeing in the winter. The list is long.
There are many dragonflies to be found statewide, but our mixed boreal forest is home to species not found elsewhere in Minnesota, species at the edges of their ranges. The same is true for mammals (think moose), plants, etc.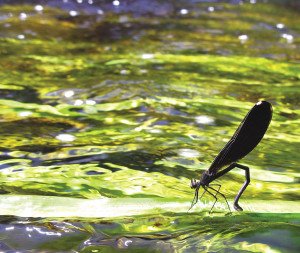 Dragonflies, and their close kin, damselflies, are grouped together in the scientific order known as the Odonata (a word, which translated from ancient Greek means, "the toothed ones"). This is a very diverse group of insects, but there are some commonalities among them. Eggs hatch in the water and the young live in an aquatic state, rarely if ever, leaving the water before adulthood. The adults, like the waterborne nymphs, are voracious predators, eating live prey ranging in size from miniscule up to larger than themselves. These predators do not eat plants, nor do they scavenge. They eat meat, mostly in the form of insects. The nymphs will also take small fish and tadpoles.
"Adult dragonflies eat X-times their weight in mosquitoes, every day."
I have heard various versions of this statement many times. We all want to believe it, but I am not sure that it's true. I'll tell you why: Mosquitoes are most active and voracious in the dawn and dusk and during cloudy, cooler weather when they are in less danger of drying out. These are not conditions in which dragonflies excel. Dragonflies do best in warm, sunny conditions. They eat a lot of bugs when the sun is shining, but not so much in the shade. Although there are a few dragonfly species that have evolved to take advantage of the food-filled, no-competition twilight hours, most species have packed it in for the night before sunset.
But the nymph dragonfly, if growing and developing in mosquito breeding waters, may gorge on baby mosquitoes and make a huge impact on our evening comfort in the summer. The protection and conservation of lakeshores, ponds, and other surface waters mean higher quality dragonfly breeding waters, which may mean fewer mosquitoes.
There are times, though, when the sheer volume of mosquitoes can outstrip the ability of our friendly nymphs in reducing the buzzing of our evening blood-feeders. This is often the case in the water-rich forests of northeastern Minnesota, as we all know. Other insects, biting and otherwise, thrive in the warm, humid summers of the north woods. In other words, it's a good place to be a dragonfly.
However, not just any dragonfly can make a go of it here. There are species of dragonflies that are very common in the Twin Cities that cannot survive in the boreal forests. Perhaps the winters are too cold or too long. The nymphs of some species will freeze in shallow lakes and still emerge as adults in the spring, but others just can't hack it. The common pondhawk, for example, ranges from the tip of Florida up to southern St. Louis County, but no further north.
On the other hand, we have species occurring here that have never been found south of Duluth, like the zigzag darner. Also found in higher elevations of the Rocky Mountains, this species lives as far north as northern Nunavut (aka Northwest Territories) and as far south as here. This edge of range phenomenon is also true for east and west in Minnesota, but northern Minnesota seems to be a latitudinal boundary for many dragonfly species.
The counties along Minnesota's North Shore have the greatest diversity of dragonflies and damselflies. In combining what is known from St. Louis, Lake and Cook counties, we find that this region has 110 of Minnesota's 149 known species. We have several rare species, not found elsewhere in the state.
As the climate changes, edges are moving. Not always in a north/south way, but that's a typical way to think about this. Likely, some dragonflies are feeling climate change pressures. Boreal species may be unable to compete at their southern edges as southern species expand into this new frontier. Some species may benefit while others won't. Without armies of researchers surveying edges for long term population trends, it'll be hard to anticipate what, if any, effects a changing climate will have on dragonflies in the north country.
In the meantime, we can sit on the end of the dock, pondering edges and changes and enjoying the aerial acrobatics of dragonflies. They benefit us by eating pesky insects, but they also make the north country a richer, more beautiful place; as if we needed another reason to love being north.—Kurt Mead