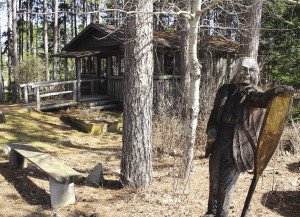 Ely—As tender-hearted as she was tough, Dorothy Molter was a dynamo of spirit. For over 56 years, she paddled, hiked, fished, skied and snowshoed across the pristine land she called home in what is now the Boundary Waters Canoe Area Wilderness (BWCAW). She lived year-round on the Isle of Pines on Knife Lake, northeast of Ely, and received as many as 7,000 visitors per year. The Dorothy Molter Museum in Ely offers the story of her fascinating life, and how it paralleled major environmental management and legislative changes, including the establishment of the BWCAW.
Dorothy was known to many as the "Root Beer Lady" for the homemade root beer she served to wilderness paddlers who stopped by. Others knew her as the "Nightingale of the Wilderness." She became a nurse after graduating from high school in Chicago. Her medical background helped her treat visitors to Knife Lake who occasionally needed first aid. Sometimes her patients included wildlife.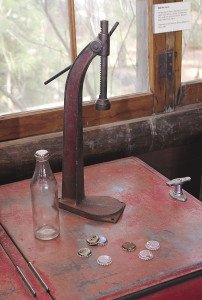 Dorothy visited Knife Lake for the first time when she was 23 and eventually struck up a friendship with Bill Berglund, the owner of the Isle of Pines Resort. When Bill died in 1948, she became owner and operator. But as a result of the Wilderness Act in 1964, the U.S. government issued an order requiring Dorothy to leave the wilderness; she was no longer allowed to run the resort or reside on the Isle of Pines. However, she had touched the lives of so many people that area residents petitioned the government to let her remain and the story garnered national media attention. After a long legal battle, she was granted lifetime tenancy in 1972 and stayed until she passed away in 1986.
Dorothy was the final, non-indigenous resident of the BWCAW. With her soul so rich and personality so vibrant, volunteers determined to keep her spirit alive. They dismantled her homestead in 1987, moved it to Ely by dogsled and snowmobile, and restored two of her cabins. The Dorothy Molter Museum was founded and her legacy lovingly preserved.
The museum is recognized for its historical and educational value, due in part to the quality of its displays and exhibits. Several renovations have recently taken place, which foster Dorothy's legacy of north woods stewardship. Through grants and private donations, the museum unveiled a new collection of artifacts and photos in Dorothy's "Point Cabin." It also offers a 15-minute version of the popular documentary Dorothy Molter: Living in the Boundary Waters. The original hour-long documentary is available for purchase.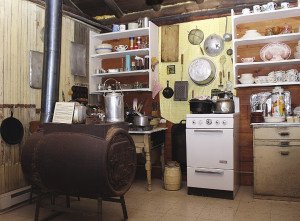 Beyond her flair for root beer, Dorothy had a special place in her heart for birds. The museum has developed a bird feeding hub featuring an assortment of feeder styles that attract a large variety of birds year-round. This year, the museum will begin Phase I of the "Bird's Landing." It's a landscaping project designed to enhance natural flora and human accessibility, and incorporates nesting boxes, feeding trays and watering stations. A selection of field guides from the gift shop encourage bird identification, plus free take-home brochures include bird food recipes. Phases II and III will advance the project but require additional funding.
The displays in Dorothy's "Winter Cabin" have been fine-tuned to fully depict how she used her living space. Her original root beer-making equipment is on hand to give tour guests insight into the work behind brewing thousands of bottles for thirsty travelers each summer. The kitchen and dining areas conjure images of Dorothy building up the fire in her wood stove, serving guests hot coffee and creating her holiday ornaments beneath lamplight.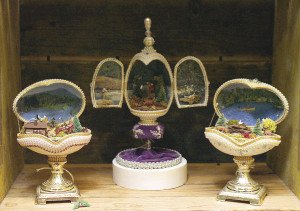 The gift shop has also been renovated, not just for root beer, new merchandise and admissions, but to rotate some of the museum's smaller displays, like scrapbooks of her days in nursing school. A collage of her fishing adventures is complete with old gear and photos of behemoth lake trout. One exhibit in particular shows Dorothy's remarkable artistic and delicate side that she enjoyed during her quiet time in winter. She handcrafted exquisite Fabergé eggs of eye-popping detail.
Such was her colorful personality, that Dorothy continues to inspire new merchandise for the museum gift shop. When she was once asked if she'd ever marry she replied, "When I find a man who can chop more wood, portage heavier loads or catch more fish, I'll marry him." The museum directors liked it so much they turned it into a T-shirt for 2016.
For deeper appreciation of Dorothy's lifestyle, the museum sponsors a fully-outfitted, guided canoe trip for women to Knife Lake. In addition, the Dorothy Molter Memorial Foundation has developed the Wilderness First Responders Fund, an annual scholarship for people seeking to enhance their medical education in nursing and other medical services.
Events and activities are available at the museum, like Camp KWITCHURBELIAKIN for kids in the summer, nature trail walks, group and bus tour accommodations, and speaker services. For further info, visit www.rootbeerlady.com.—Scott Stowell