Carving down the side of a mountain with a view of Lake Superior is a highlight of winter for many North Shore residents. Both Spirit Mountain in Duluth and Lutsen Mountains in Lutsen offer opportunities for adrenaline seekers to scratch that itch as they take turns on the runs.
Spirit Mountain boasts the second highest vertical in the region and a variety of terrain for customers. Created in 1974 by the Minnesota State Legislature to encourage winter tourism in Duluth, the mountain currently features 22 runs, a terrain park, progression park, freestyle features, and 175 skiable acres.
Summer and winter events at the mountain also enhance the recreation opportunities in the Arrowhead. In addition to the summer mountain biking and running races, the mountain's schedule stays full in the winter with a myriad of celebrations of winter sports.
"In winter months we host the largest SWAP sale in the Northland with Team Duluth, and the 28th annual Snocross happens over Thanksgiving Weekend," explains executive director Brandy Ream. Ream, in her sixth winter at Spirit Mountain, continues. "We also have the Atmore Memorial Ski Race, Frosted Fatty Fat Bike Festival, Nordic X, Vintage Snowmobile Show, and the End of Season Snowmobile Show as a fundraiser for our Ski Patrol."
The youth alpine and freestyle competitions cap off the event calendar. Though Ream is one of the 35 full-time employees the resort employs during the winter, executing these events requires the support of more than 350 winter seasonal staff and 200 summer seasonal staff.
The Duluth recreation area is also part of the Indy Pass, a conglomeration of 44 independent ski resorts across the United States and Canada. In its first year, the Indy Pass initiative offers an alternative to other larger multi-resort passes. Pass holders get two free days of riding at each of the participating resorts, totaling 88 days of lift tickets.
Sunday Fat Biking (winter mountain biking) in January, live music five nights a week, snow tubing and glow tubing are just a few of the additional activities that make Spirit Mountain unique.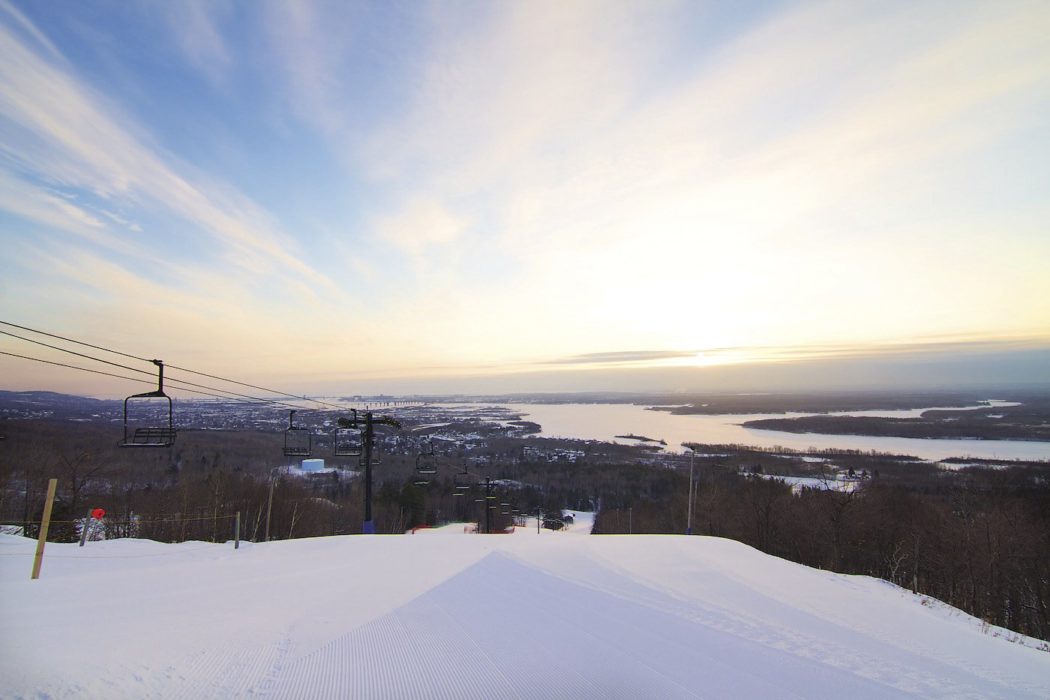 "Our guest service, snowmaking and grooming provide for an incredible experience at Spirit Mountain," says Ream. "Slopeside lodging at the Mountain Villas and two chalets, ticket discounts and more make us your winter destination. Spirit Mountain is the place to be."
For more information on Spirit Mountain, visit: spiritmt.com.
A voyage two hours northeast on Highway 61 brings skiers and snowboarders to Cook County's Lutsen Mountains. Mid-America's largest ski resort boasts 825 feet of vertical across four mountains and receives 10 feet of average annual snowfall. Recent upgrades to its gondola, high speed chairlift, and snowmaking operations are but a few of the notable aspects of this Midwest mountain ski resort.
This year's exciting enhancement is their transition to an RFID ticketing system. Reloadable media cards have a radio frequency antenna and are integrated with online sales to allow customers to easily add and redeem lift passes.
"It allows flexibility in how we can offer and sell tickets," says marketing manager Jim Vick. "Customers have to go to the ticket office to get their first one, but after that they can go directly to the lift and it'll tick off that day. It is activated by skiing."
Vick, who has been in his marketing role at Lutsen Mountains for over 30 years, also helps coordinate and execute the many concerts and events that the mountain hosts throughout the winter.
"On December 14th we are having the grand opening of the terrain park for the season," notes Vick. "We hired a professional team that build parks all around. Once they do a park build, they do a cook out; they will have the grill going and music playing. They film everyone riding and put together video clips that people can share online."
Live music seven nights a week and music festivals at Papa Charlie's give skiers entertainment options for when they are off the slopes. Seven bands are descending on Lutsen for Snowball Dec. 6-7, Minneapolis-based Yam Haus takes the stage on Jan. 4, and acts such as the Black Eyed Snakes, Charlie Parr, and Dead Man Winter plan to entertain during the Ski Party on Jan. 10-11. Selling out the past four years, Cloud Cult also returns on Feb. 8.
An impressive concert schedule aside, Vick believes there are many other reasons a trip north is worth the drive. He highlights the amenities, views, and overall vibe of Lutsen Mountains that make it distinct.
"Looking out over the lake from all runs isn't found anywhere else quite like it is here. The big body of water is really an amazing thing," says Vick. "We ski like a mountain resort. The whole atmosphere and culture of a mountain resort and yet it's a close, easy drive for most of our market area. There's an authenticity about being here."
For more information, visit: lutsen.com.