MaryAnn Brower never intended to be an artist. A medical researcher who spent 31 years working in the Twin Cities, she did not anticipate starting a creative business upon retirement. Now, though, Brower is the maker of Saami bracelets, a craft she does while traveling along the North Shore.
Brower's connection to the North Shore began as a child when she was part of an active Girl Scout troop that went on camping adventures to northern Minnesota. As many do, Brower fell in love with the beauty of the area, a love that she has carried with her ever since those first camping trips. Her ties to the area continued to grow as she came to the Arrowhead region to camp whenever she could. She became known as "The Star Lady" at the Angry Trout Cafe in Grand Marais, a title given for her propensity to weave her tip money into origami stars. Upon retiring from the medical field, Brower and her husband bought property near Silver Bay. They hope to build a cabin on the land, and in the meantime they travel the shore in their 1985 VW camper.
Not only has Brower found the North Shore to be a relaxing and healing place, it is also the place that inspired her to learn more about the art of Saami bracelets.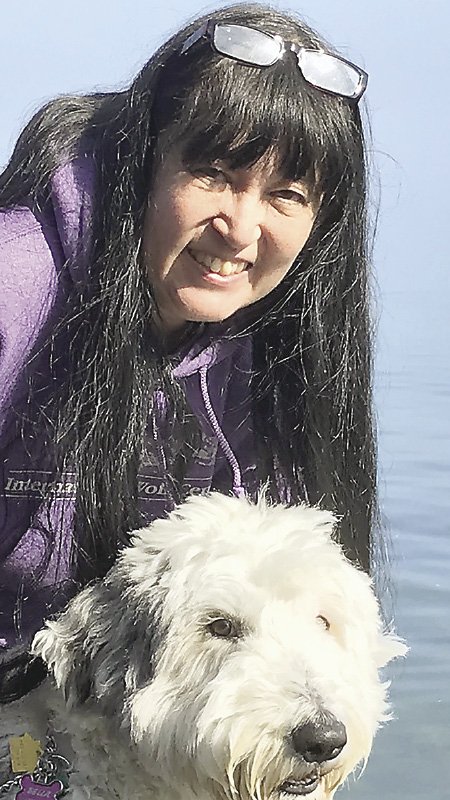 The Saami people are reindeer herders who live in the northern regions of Norway, Sweden, Finland and Russia. The bracelets that captured Brower's attention are the traditional tenntrad (tin thread) design, with intricate embroidery woven onto leather. Traditionally, the Saami people harvest the reindeer leather and then work on the embroidery throughout the winter. The tin thread was made by pulling tin through holes drilled into reindeer bones and wrapped around a cotton cord, with the finished thread resembling a thin guitar string.
"When we would visit Grand Marais my husband would buy Saami bracelets from Sivertson Gallery," said Brower. "The bracelets are warm, and they're designed to fit close to the skin so they were great for work. I absolutely fell in love with the design."
After years of wearing and appreciating the design of Saami bracelets, she heard about a class that taught students to make tenntrad of their own. (The class was taught by Liz Bucheit, who teaches the craft at the North House Folk School.) Brower signed up and has been making her own bracelets ever since.
"Tenntrad is an absolutely beautiful craft," Brower said. "When my friends and family saw my bracelets, they kept telling me that I should sell them. I started up a little business that I had never planned on."
To make her bracelets, Brower uses responsibly-sourced leather from Sweden, and buys as many of her materials as she can from the Saami people so their tribes can be supported through her work. She also uses some lambskin and deerskin since they take up dyes well. The bracelets require a lot of handiwork: a single piece takes three to four hours to sew. Brower said her focus on her work can be so intense that she'll dream about braids in her sleep.
"Last summer I met Steve at Jeweler of the North Shore in Lutsen, and we got talking about the phenomenon of coming up with designs in dreams," said Brower. Jeweler of the North Shore is now the main location where Brower's bracelets can be found. She also participates in craft shows, and may consider building an online presence for her work as well.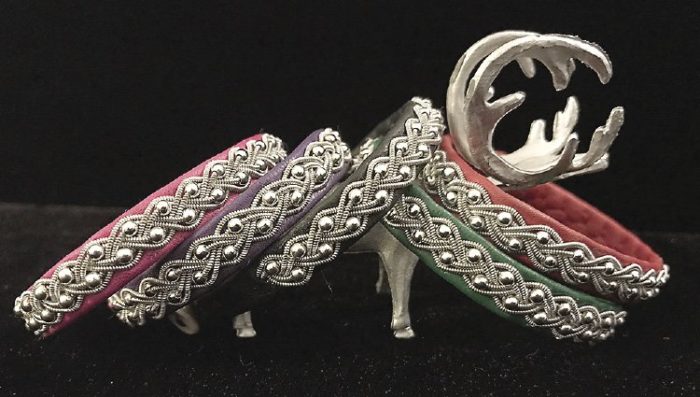 Brower brings her "mobile factory" with all her bracelet-making materials in her camper and works on her craft wherever she goes. One of her favorite places to work is outside near a campfire in the morning. She lets the beauty of the North Shore inspire her work and incorporates themes from her surroundings whenever she can.
For those who are interested in learning more about the craft of tenntrad, the North House Folk School offers classes for those who want to learn to make their own Saami bracelets.
Brower's work can be found at Jeweler of the North Shore in Lutsen. For more information, visit: jewelerofthenorthshore.com.