Sometimes, new beginnings happen in unexpected ways. For Dee Closson of Hovland, her journey as a leather crafter began with her other passion: horses. Now the owner of Up North Leather Craft, Closson creates beautiful leather products from purses to moose ornaments, a passion that works in synergy with her love for horses.
Although Dee Closson never planned to be an artist, she's no stranger to leatherworking. In fact, she grew up in a family of leatherworkers: her mother did leather tooling while her father made horse saddles. For years, leather crafting was something she dabbled in, while horses were her primary passion. However, that all changed in 2021 when she got serious about leatherworking; a passion for the craft started to blossom, and shortly after that Up North Leather Craft was born.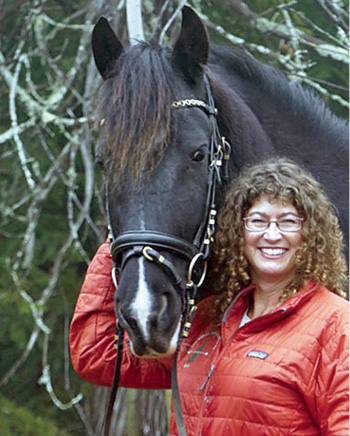 "My goal in starting the business was that I wanted to have something to help pay for my entry fees because I'm a competitive dressage rider," Closson said.
It was then that Closson turned to the craft that had long been part of her family's life. She spent a whole winter making handcrafted journals with leather covers, and brought them to Joy & Company in Grand Marais to see if they might be interested in selling them.
"They were interested, and that started it all," she said. "I had no intention of becoming a business, but here I am. I love that I can do a craft that I love and that supports my other addiction, which is my horses."
Closson's creative process starts with the raw materials. She sources whole cow hides and cuts the hides down to the size needed for her current project. She then stamps, carves, and paints the leather, taking inspiration from nature and her surroundings deep in the woods.
"I do all my sewing by hand, and use absolutely no machines," Closson said. "We live remotely and off the grid, so I didn't want any more machines that would be another load on our solar."
Given that, Closson works in small batches and focuses on quality over quantity, using the quieter winter months to build up inventory for the busy summer season. (She estimates that one journal takes 36-40 hours to create.) In addition to journals, she also makes other products such as purses, bracelets, dog leashes, and her bestselling product: moose ornaments made out of scrap pieces of leather. As a completely self-taught artist, Closson likes to experiment with creating her own designs and letting her inspiration be her guide.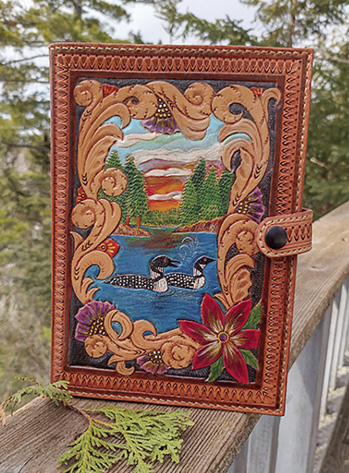 "I sometimes use templates for my designs, but I always end up modifying them for the next product, so I have yet to create anything that's the same thing as last time. Everything is unique, and I like to keep everything fresh," she said.
Although Closson had long dabbled in leather crafting, the process of starting her business happened relatively quickly. And as anyone who has started a business knows, it takes courage to make that first leap.
"When I first went to Joy & Company I was terrified," she said. "But they were so supportive and they were willing to see what I had and then decided to sell my stuff. Realizing that people actually wanted to buy my stuff was really cool. I'm really grateful and get a lot of joy out of this."
In addition to Joy & Company, Dee Closson also has some of her products at the Blue Moose, Johnson Heritage Post, and at the seasonal Cook County Market. She also has an Etsy shop, UpNorthLeatherCraft.
"My favorite thing is the fact that people are interested and like my products—I'm still in shock about that and it makes me feel so good," Closson said. "Hearing from people and making things that make people happy is a really neat feeling."