RED ROCK—The Cuesta Cafe is located within the Red Rock Township Community Recreation Centre. Run by Jim and Yvonne McGrath, it offers tasty meals made from scratch. Every day a fresh soup is created and bread is baked on site. In the evenings there are specials, like steak sandwiches and ribs. Breakfast is served all day. A variety of pizzas and sandwiches are also available. And for those children who aren't sure what they want to eat, they have three humorous choices—the I Don't Know, which is a basket of mini-corndogs and fries; the I Don't Want That, a basket of chicken fingers and fries; and I Don't Care, grilled cheese and fries.
Jim and Yvonne are originally from Schreiber, Ontario. They have four children, four grandchildren and another one on the way. Their decision to open up a café came as a result of Jim hearing on the radio, that the Community Recreation Centre was looking for someone to run their restaurant from September to March. He talked it over with Yvonne and nine days later, they were setting up the Cuesta Cafe. They'd been to Red Rock for the Folk Festival and always enjoyed the people and coziness of the township.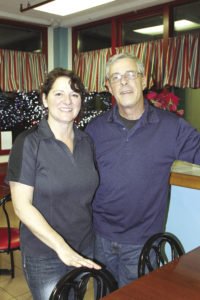 "Even the children are friendly and polite," Jim added.
Awed by the community's reception to their arrival, Yvonne stated that they brought flowers and baking.
Yvonne has worked in the food industry all of her adult life. She's done everything from waitressing, cooking and managing a restaurant and a golf club. She said that she first got into this line of work to make additional money, so their children could participate in activities like hockey. Jim retired a couple of years ago from the railway and was eager to try his hand at working in a restaurant. He said that he had found last winter a bit slow, and thought this was a great way to pass away the colder months. The café opened in September and it has been busy right from the start. So much so, that they had to hire four people to keep up with the demand. They also offer catering and recently did the local Fire Department's Christmas dinner.
Jim and Yvonne are fond of traveling. Last year, they drove to the East Coast. It took them two months because they wanted to enjoy all the sights. They have also spent a lot of time in their 24-foot boat. They know the northern shore of Lake Superior so well that they can list off the islands and all the treasures they offer.
So when it comes to running the Cuesta cafe, they see it, as Yvonne jokingly shared, "another adventure."