Grand Portage—For the 14th year, the Grand Portage community is hosting Snowarama for Easter Seals. All are welcome to join the fun—by hitting the scenic Grand Portage trails, by gathering around a cheerful winter bonfire or by heading to the Grand Portage Lodge and Casino to enjoy the after party on Saturday, Feb. 11.
Snowmobilers who sign up for the event have two options for riding, both starting at the Grand Portage Lodge and Casino. There is a long ride of approximately 120 miles, taking riders to stops along the Gunflint Trail. There is also a shorter ride of approximately 35 miles that takes riders to Ryden's Border Store. Both routes meander through snow-covered trees and offer stunning views of Lake Superior.
Both routes also pass by the Grand Portage Trail Center on Mineral Center Road (County Road 17). One of the Snowarama organizers, Mary Ann Gagnon of the Trail Riders, said members of the snowmobile club will once again be there with a welcoming bonfire. There will be hot chocolate, hot dogs and chili to warm everyone up. The historic Trail Center is accessible by car as well, so folks not up to snowmobiling can also enjoy some winter fun.
And Gagnon said the trails should be perfect by February 11. Trail administrator Bob Vogel reported on the Trail Riders Facebook page that, as of New Year's Eve, much of the Grand Portage system had been dragged and is ready for riding.
But Snowarama for Easter Seals Kids is more than just a snowmobile ride. Before hitting the trails, participants put in a lot of work to collect pledges that benefit Easter Seals of Ontario.
Rhonda Harrison, senior development officer for Easter Seals, explains that over the past 13 years, the Grand Portage Lodge and Casino Snowarama has raised over $333,000 for children and youth with physical disabilities.
"Funds raised at the event help provide financial assistance for essential mobility and communication equipment and fully accessible summer camping opportunities," said Harrison.
It's easy to want to participate in Snowarama when attendees meet Easter Seals ambassadors like 13-year-old Zachary Pylychuk, of Thunder Bay. Zachary's condition—spinal muscular atrophy (SMA), sometimes referred to as children's Lou Gehrig's disease—confines him to a wheelchair. Zach has been serving as the Snowarama Easter Seals ambassador for nine years and the Grand Portage community—and Snowarama riders—have enjoyed getting to know him.
This determined young man and his mother, Jacqueline Pylychuk, matter-of-factly talk about motorized wheelchairs, lifting devices and the custom van needed to get around—things families without a child with physical disabilities don't have to worry about.
Easter Seals notes that a power wheelchair for a child with a severe disability can cost as much as $32,000—the price of a small car. And as children grow, new chairs are needed. Families also need to find ways to cover the cost of other necessities, such as lifts, ramps, bathing equipment and basic living expenses. The financial burden on families to care for their child at home can be overwhelming.
Jacqueline's family is grateful for the assistance from Easter Seals. At last year's Snowarama, she said, "One of the best things about support from Easter Seals is that it helps kids like Zack achieve a level of independence they couldn't otherwise."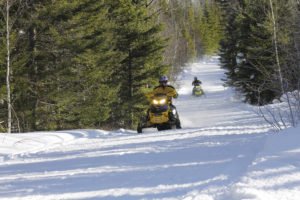 And while the fundraising is rewarding itself, there are added incentives. Riders enjoy a complementary dinner at the Grand Portage Community Center, a poker run and a Saturday night dance at Grand Portage Lodge and Casino. Anyone can join the fun, but the events are free to those who collect pledges.
And, to celebrate the 14th year at Grand Portage Lodge and Casino, with every $100 in pledges earned, riders have a chance to win one of 14 fabulous prizes—including two trips to Las Vegas.
But the bottom line, said Harrison, is the benefit to the Easter Seal children and their families. She expressed appreciation to the Grand Portage Lodge and Casino, the Grand Portage Trail Riders, the Grand Portage Band of Lake Superior Chippewa and to all the riders who participate.
"Snowarama would not be a success without the snowmobiling community," said Harrison, adding, "Together we are helping kids be kids."
For more information visit snowarama.org.