It does not take much to affirm that my decision to move back to Grand Marais was a good one. The evidence is all around me, whether it is my breakfasts overlooking the Big Lake, my excursions to area trails, lakes, and streams, or dinner at any of our fine restaurants. Despite all the area has to offer, I sometimes find myself craving the ethnic foods that were abundant in the big city. On my infrequent trips to the Twin Cities, I seek them out: Sushi, Chinese, Thai, Pho, Indian. The list is long.
Fortunately, I'm learning that all I really need do is cast my eyes north. Thunder Bay has a thriving restaurant scene, including many terrific Asian restaurants. To satisfy my curiosity and my cravings, I spent a day exploring and tasting. While neither my appetite nor my wallet could bear a visit to them all, I found a wide variety of cuisines and a lot of quality food.
While many Asian restaurants adhere to one specific ethnicity or cuisine, some modern restaurants fuse cuisines in innovative and tasty ways. One of the city's newest Asian restaurants, King Ghidrah, takes this concept to extremes, with amazing results. Longtime area chef Jen Suave named the restaurant after Godzilla's chief adversary and transformed the old Dragon Room above The Sovereign into a casual lounge featuring small-plate Pan-Asian cuisine and innovative hand-crafted cocktails. After traveling through Asia to research recipes, she assembled a talented staff that includes Riley Marsh as sous chef and Cody Ross as head bartender. They have created an environment that is great for small groups and the sharing of the small-plate dishes. Featured are their Yakitori grilled skewers. Each is unique with its own marinade and some with house-made dipping sauces. They can be ordered individually, or one can choose the Omakase plate, which offers a selection of five skewers, white rice, roasted shishito peppers, and pickled vegetables (the pickles are amazing). Other popular dishes are their Lobster Rangoon, Biang Biang Noodles, and Bao buns. Their cocktails are equally innovative and feature house-made syrups and mixes. They are designed to complement the food.
Without a doubt, one of my biggest urban food cravings is sushi. It turns out that Wasabi Japanese Restaurant, at 538 Arthur St. West, has got me covered. Wasabi has been a fixture of the Asian food scene in Thunder Bay for 16 years. They carry a full range of Japanese classics. In addition to their Nigiri sushi, they have a wide selection of sushi rolls and sashimi dishes. They offer an all-you-can-eat sushi menu for $26.95, as well as combination platters. Other popular dishes include their noodle bowls and noodle soups. Their extensive appetizer list contains some of my favorites: edamame, gyoza and tempura. They also have a full selection of other Japanese specialty dishes including Shuga Beef and chicken or beef teriyaki. Owner Ken Law says their restaurant regularly brings in customers from other Canadian urban centers such as Toronto and Winnipeg. I'll be back.
Count Thai food among my frequent cravings. Thai Kitchen, at 11 Cumberland Street South, fills that void admirably. In business for 11 years, they have an extensive Thai menu, including spring rolls, noodle soups, stir-fry dishes, curry dishes, and of course, pad Thai. According to kitchen manager Henry Venema, their most popular dishes are their spring rolls, pad Thai, and his mother Pia's own house-made red curry. They pride themselves on sourcing their foods from Thailand, though Venema says that job has become easier with the emergence of the Golden Flour Oriental Foods Asian Grocery Store. Venema says they have "some things that tickles every taste bud." And if you like your Thai food spicy, they are more than happy to oblige.
One of my go-to cuisines when I hit the big city is Vietnamese Pho. I was therefore excited to find Pho Umami at 845 May St. North. After Hanju Barbecue closed, property owner Truong-Kha Le decided to open a Pho shop. I'm glad he did. Pho is a thin rice noodle, served in a soup broth along with a variety of meats and vegetables such as bean sprouts. It is not inherently spicy, but jalapeño peppers and spicy sauces can be added. Troung-Kha makes a delicious chili oil that can be added upon request. If you are not in the mood for Pho, Pho Umami offers Bun Thit, noodle bowls, and Com Tam, a traditional broken rice dish that Truong-Kha says has an umami flavor. Umami means savory in Vietnamese. In addition to the chili oil, they also make their own fish sauce for their noodle bowls.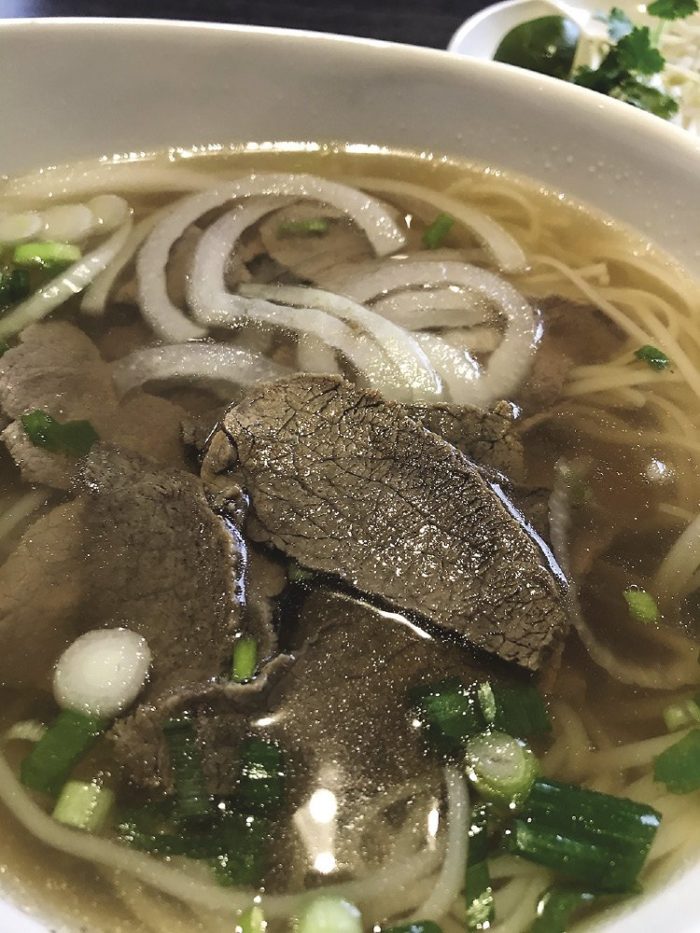 Asian Oriental Fusion Cuisine, at 310 Mountdale Avenue, is another restaurant that takes care in where they source their ingredients. This is made more difficult because they offer Vietnamese, Chinese and Thai options. So owner Johnny Tran imports ingredients from all these countries. He strives for authenticity in all his dishes. His best-selling items are Vietnamese noodles, followed by pad Thai. They also have Sichuan dishes. Their Asian special shrimp is a very popular and unique dish that utilizes rice flakes—which they also must import. Bon Bons, deep-fried ribs, are a Thunder Bay specialty. The Asian seasons them with their special dry rub.
These are but a sampling of the Asian restaurants in Thunder Bay. They have received high ratings according to customer reviews, and all exhibit a commitment to excellence. Clearly though, it will take a long time for me to explore the many flavors Thunder Bay has to offer. Bring it on.