Breathe. Stretch. Relax. Repeat.
In many ways, practicing yoga on the North Shore just makes sense. Maintaining a mindfulness and consciousness of place is prevalent in the culture and attitudes in our northern home. The natural setting mimics the desired balance that yogis strive to achieve and gently encourages the calming of the mind and heart. Visitors and locals alike have the opportunity along the Shore to deepen both their pose and understanding of what it means to connect body and mind.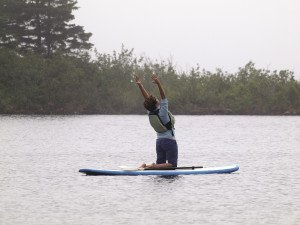 Our plentiful bodies of water, paired with an adventurous populace, leads to almost all land sports having some iteration on a lake. Stand up paddleboard (SUP) yoga offers a new challenge to practitioners who are looking to literally add a different element to their sun salutations. Touted as providing a slightly better workout because of the unstable surface, some claim it has the ability to help better refine and concentrate on technique. The constant possibility of falling in the water also works to keep practitioners fully invested in the moment.
"There is something about being in downward dog on a stand-up paddleboard on Lake Superior," said instructor Amanda Weberg. "Down dog is easily the most ubiquitous yoga pose and has several benefits on land. However, those benefits multiply on a paddleboard. The sensations of moving with the gentle waves cannot be put into words, feeling grounded through the hands and feet while floating on water, being inverted and looking out at the horizon of the lake from upside down offers a new perspective on the world beyond yourself."
Weberg will be an instructor for some of the SUP yoga classes that are being offered as part of the North Shore Water Festival in the Grand Marais harbor July 16-17. Sessions are limited to four participants, are an hour long, and offer online registration. Stone Harbor Wilderness Supply runs the two-day festival.
"It is so much fun. We have people who have never been on a paddlboard in their life and they get up there and look like they are going to fall off. An hour later, I see them coming back and they are just relaxed as can be," said Stone Harbor owner Jack Stone. "Last year, every single one of our classes was filled. Yoga is for meditation and relaxation; what better way to do it than on the water."
The southwestern edge of the big lake also sees yoga action on the water at North Shore SUP in Duluth. Their course, which was "developed with the beginner to advanced yogi/yogini in mind," lasts approximately an hour and includes about 15 minutes of paddling and 45 minutes of yoga.
"It offers a whole new outlook on balance and strength, connecting your breathing with the movements of your body and the water you and your board are floating on," explained Heather of North Shore SUP.
Just around the corner from North Shore SUP is Evolve Duluth, which offers hot flow, hot fusion, hot yoga, and yoga sculpt classes in their studio on Superior Street. Hot flow focuses on alignment of movement and breath, with the pose progression getting gradually faster throughout the class. Their hot yoga variety focuses on holding 26 poses in a hot room, and yoga sculpt provides a full-body toning workout with light weights to build lean muscle mass.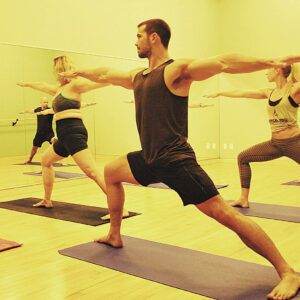 Debbie Zweep and Myles Ball, of Moksha Yoga Thunder Bay, also keep the yoga studio temperature turned all the way up are. Opening their doors in April 2015, Moksha Yoga studios are guided by seven philosophical pillars, two of which are environmentalism and community.
"We support students who ride their bikes to the studio by providing free yoga mat rentals because we want students to enjoy the amazing outdoors," said 10-year teacher Zweep. "One of our seven pillars in Moksha yoga is 'Live Green'!"
Moksha (hot) yoga has a specific sequence of 40 postures that was developed by two Canadians, Jess Robertson and Ted Grand. Studios are located across Canada, the United States, and Australia. The Moksha yoga studios emphasize meeting environmental standards in with their physical locations as well. These guidelines influence how the studio floors are cleaned, how the air is heated, and how studio waste is recycled and ideally reduced.
Exercise enthusiasts wishing to continue their relaxation after class with a refreshing beverage will likely be enticed by the Pints and Poses sessions at the Red Lion Smokehouse in Thunder Bay. Participants of all ability levels flow through poses for an hour and subsequently sample beer.
"We run Pints and Poses every six weeks. It's a relaxing flow class, so it's just right for a Sunday morning," explained Alexandra Bono of the Red Lion Smokehouse. "We try to have a unifying theme with the beers to give the tasting some structure. In the past, we have done a dark beer tasting with a Brown Ale, Porter, and Stout, and a fruit beer tasting with a ginger beer, banana beer, apricot beer, raspberry beer and mango beer."
The next Pints and Poses class will be part of the BrewHa event on Saturday, August 13 in Thunder Bay. Participants can buy a ticket for Pints and Poses that includes entrance and beer tokens for the festival. As the event is plastic free, individuals should bring their own mat as well as a refillable water bottle.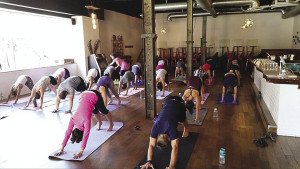 Certified yoga/global dance instructor, dog musher, and student of yoga therapy Sherri Moe has been teaching yoga for 17 years, seven of which have been on the North Shore. Offering both weekly classes, private classes, and workshops around Grand Marais has drawn her closer to the community and connected her more deeply with her surroundings.
"Yoga is about community, connecting, and being of service. To me, being of service means helping others to find comfort in their own bodies through yoga," writes Moe. "The name of my studio is Soulstice Yoga of Grand Marais. We live here because of the sense of place, the beauty of wild places that connects to our mind, body and spirit. Yoga is a way to identify how to create a pace of life that mimics the sense of tranquility that so many of its residents fell in love with when we moved here."
Laurie Senty of Grand Marais offers an active variety of massage as part of her practice by stretching clients with certain assisted yoga poses. During the individual's time in the stretch, Senty presses her knuckles, fingers, thumbs, elbows, feet and hands into specific points to relieve muscle tension and stress.
"Thai Massage emphasizes the mind/body connection. I use massage and stretching to help the mind and body to relax and recover from injury," explained Senty. "Thai yoga restores the proper flow and balance of Qi in the body."
Brigette Nies helps participants awaken their kundalini energy and power to excel during weekly classes in Kundalini Yoga, as well as Vinyassa Flow at the Community Center Log Building in Grand Marais. The ancient practice of Kundalini Yoga incorporates physical, mental and spiritual aspects of yoga into one cohesive system. An orchestrated pattern of movements and concentration lead the mind and body to a specific result or change of consciousness.
According to the Kundalini Research Institute, "The primary objective of Kundalini is to awaken the full potential of human awareness in each individual; that is, recognize our awareness, refine that awareness, and expand that awareness to out unlimited self."
Another upcoming yoga event along the Shore is north Ontario's largest yoga class at the 7th Annual Festival of India at Marina Park in Thunder Bay, July 23-24. Kathy Horak, a certified Intermediate Jr. 1 Iyengar Yoga instructor, also teaches multiple classes per week at Cobblestone Cabins in Tofte.