Saganaga Lake—Visitors to the Gunflint Trail's Chik-Wauk Museum will discover a new Nature Center.
"It will be the first building on the left as people drive in," says director Bonnie Schutt.
The kid-friendly facility will have six stations where children learn about the natural history of the Gunflint Trail. Topics at the stations are: water, weather, birds, mammals, insects and plants. Each station will have an activity for children to complete. Upon doing so, they will receive a special badge. Kids will also have an opportunity to try out north woods clothing, dressing up as a lumberjack, a voyageur or a wildland fire fighter.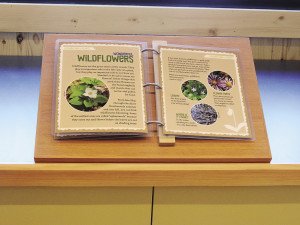 While the museum is focused on the history and the people of the Gunflint Trail, the focus of the Nature Center is to encourage people to get outside. To facilitate doing so, the center will have bins where visitors can borrow binoculars and birding books to use while walking Chik-Wauk's nature trails.
"We want our visitors to be comfortable with exploring nature, getting dirty and having fun," Schutt said.
The centerpiece of the Nature Center is a sculpture of a mother loon diving beneath the surface while her babies are swimming, created by Keith Morris of Grand Marais. The Grand Opening for the Nature Center is July 3 from 11 a.m.-4 p.m. with free admission for the day.
A variety of presentations and special activities are planned through the summer. At the Nature Center, Tuesdays from June 21-Aug. 16 are Kid's Day with hands-on activities, as well as stories, hikes, journal-making and craft projects. A parent or guardian must accompany children. From 2-3 p.m. on Tuesdays from June 28-Aug. 16, U.S. Forest Service naturalists will present north woods topics. Gunflint nature presentations will occur Fridays, July 1-Aug. 5 from 2-3 p.m. Special presentations will occur on Sundays at 2 p.m.
The Gunflint Trail Historical Society will host a shrimp boil and bake at the Seagull Lake Community Center on Sunday, June 12 at 4 p.m. Also on the menu are boiled rusty crayfish prepared by Cook County invasive species coordinator Amanda Weberg. On Monday, June 13, at 1 p.m., Steve Elliot, director of the Minnesota Historical Society will speak at the Seagull Lake Community Center about the underwater exploration of the Granite River in the 1960s during the GTHS membership meeting that begins at 1 p.m.
Beginning May 28, the museum is open daily from 10 a.m.-5 p.m., with the Nature Center open daily from 11 a.m.-4 p.m. The admission is $4 for adults, $2 for children 5-18 and children 4 and under free.—Shawn Perich