Two Harbors—With more than 150,000 visitors a year, Split Rock Lighthouse is in need of a plan for future growth that doesn't compromise the historic integrity of the site.
Senators Amy Klobuchar and Al Franken, along with Representative Rick Nolan, recently announced a $68,000 Maritime Heritage Program grant that will allow for the creation of a cultural landscape report (CLR) to address this preservation issue. The Minnesota Historical Society, which operates the lighthouse, will match the grant.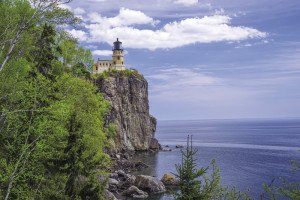 Constructed between 1909 and 1910, Split Rock light station is exceptional among Great Lakes light stations for being designed as a single, cohesive complex, which remains largely intact today. Because of its national significance to the development of American commerce and transportation on the Great Lakes, Split Rock light station earned National Historic Landmark status in 2011.
Over the years, the Coast Guard, the Minnesota DNR, and the Minnesota Historical Society, have made moderate improvements to accommodate larger crowds, including new sidewalks, signs and barriers, and the construction of a visitor center.
 Moving forward, the CLR will provide a long-term management strategy for the historic site as well as guide immediate plans for ADA accessibility upgrades.
 The National Park Service, in partnership with the Maritime Administration, provides Maritime Heritage grants to preserve sites and objects related to our nation's maritime history.
Visit www.mnhs.org for more info.