My husband Russ and I bought a cabin last year on a lake in the Northern Wilds of Minnesota. Our escapes to the cabin provide serene sanity during these crazy times. I don't know how we would have fared this summer without the cabin and our camper.
Although I feel a bit privileged to have these opportunities, living by the water feeds my soul so deeply, it outweighs my guilt. After furnishing the cabin, we only had a short time to share it with others before COVID-19 hit and it became our exclusive domain. We are now looking forward to sharing it with more of our friends and family.
One of the "toys" we acquired for our waterfront is a blue Old Town Discovery canoe. Bought used from a guy in northern Wisconsin who needed the money, the canoe's rough polyethylene skin tells the story of many trips. Old Town ads say this ultra-tough stable workhorse of the line is supposed to stay agile, even when loaded with camping equipment, and it's designed to take a beating.
We glided around our small lake many times in Old Blue this summer with no problems. Over Labor Day weekend, we decided to ratchet up a level with an adventure on the Whiteface River. Every time I drove past, the river called to me with its siren song of smooth water and shady banks. From the roadway overpasses, it seemed mellow. I wanted to get better acquainted.
The Whiteface flows south and west of the Whiteface Reservoir, which is near Makinen, Minnesota, and into the St. Louis River. Russ and I entered off the intersection of Comstock Lake Road and Munger Shaw Road.
I found the entry point by accident, just from being observant during a previous drive. It's not the type of water access that offers signs or smooth paved roads—just a rutted gravel ATV trail with several primitive campsites along the riverbank.
Our guide for this adventure was a book Russ happened to own called Paddling Northern Minnesota by Lynne Smith Diebel. We were also informed by my Duluthian friend Eric Chandler's account of paddling a section of the river closer to the reservoir in a story he wrote for Northern Wilds a few years back.
The Diebel book said spring was the best time to canoe the river, when water levels are high and discharge from the reservoir is 100 cubic-feet-per-second (CFS). Well, it was fall now, and the discharge was only 34 CFS. From the road, it looked like the river had plenty of water, so we packed some snacks, donned our water shoes, and decided to give it a go.
The high temp that day was predicted in the mid-70s. Highs were going to dip into the 50s for the foreseeable future, which added urgency to our quest: it might be the last warm day of the season. Our goal was Jenkins Road, a little over six-and-a-half river miles away, with two stretches of Class I rapids.
Casting off, we soon met our first submerged rock, camouflaged by the brown tannin water. We stopped with a jolt—a rather portentous beginning. We soon learned that my roadway impression of the river was faulty. Many shallow spots necessitated getting out of the canoe and dragging it along.
I winced the whole time. In my youth, I was taught to treat the bottom of a canoe with utmost care and reverence. I was so glad Old Blue was not made from fragile and expensive Kevlar.
The low water levels also uncovered more rapids than depicted on the map—nothing too major, just lots of twists and turns, and last-minute frantic paddling.
Despite the rough water, or perhaps because of it, the scenery along the slow parts of the river was stunning. Dark pointy spruces lined the banks, softened by fresh green willows. The blue sky and idyllic white clouds reflected perfectly on the surface, making us feel more like we were flying than canoeing. I've canoed a lot of rivers in my day, near and far, and I cannot recall prettier scenery than the Whiteface's treelined pools.
Two kamikaze kingfishers zoomed ahead of us the whole route, rattling off their machine-gun-burst calls. A bald eagle shifted nervously in its high tree perch, watching us pass. A flock of ducks kept erupting from the water in front of us, only to meet us downriver and repeat their performance half a dozen times. A few finally got smart and flew up and behind us, but a few we followed until the end.
We did not see any other water adventurers, but we did pass a couple of fellows angling from shore. One chided us for not having a lure out as we paddled. We floated by only two or three cabins during our three-hour sojourn.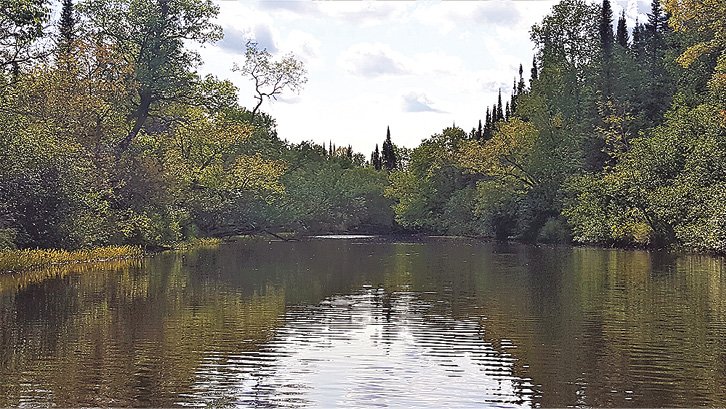 After one lusty canoe scraping session, Russ mentioned he was surprised not to see any aluminum scrapes on the rocks from other canoes as is common in the Boundary Waters. I replied that I didn't think many canoes travel down this river.
Although the place felt remote, we could hear the distant whistles of trains and the whisper of cars on Comstock Lake Road when the river meandered nearby. It was comforting to know help was not far away, if necessary.
Pale denuded beaver sticks floated against the shore. Huge white pines enlarged our hearts with awe. One old monarch of the forest looked recently blasted by lightning—a splintered branch formed a large white scar on the trunk, with the remainder laying shipwrecked in the river below.
Rounding a bend before the last set of mapped rapids, we met an ethereal flock of white water birds. Were they swans, perhaps? As we neared, we could make out a woman in a swimsuit, lounging on a rock like a mermaid in the river with the birds. A man sat stationed on a chair onshore. They explained the birds were their barnyard geese, led to the river for a frolic. A turkey lurked nearby, which I assumed was also theirs.
The mermaid warned us about the approaching rapids. The man countered that we had already survived three sets of rapids and should have no problem with this one. He was right. The rapids were long, but nowhere near as complicated as some we had already paddled through.
As we neared Jenkins Road, our arms started to ache. I was glad the Whiteface was calmer in this stretch and found myself hoping for a glimpse of the overpass around every bend. Soon, the roadway appeared. We hauled Old Blue out on the left side just before the bridge.
Mounting the steep bank, we discovered that if we had paddled under the bridge, a much gentler slope on the left would have offered a less-strenuous place to disembark. Live and learn!
As we loaded Old Blue onto our truck, we noted innumerable new scrapes and gouges decorating its bottom—badges of our new acquaintance with the Whiteface.
On our drive back to the cabin, I marveled that a trip that takes about five minutes by car could take three hours by canoe. But in a car, we would not have had the wonder of the white birds, a mermaid, and a lightning-blasted pine. Now, we have a mental map of the liquid emerald that flows beyond the screen of trees bordering the road.
We hope to explore more of the Whiteface in the future and abuse Old Blue again, adding a few more gouge badges.
If you paddle the river and see any blue scrapes on the rocks, you'll know it was us.
Story and photos by Marie Zhuikov