By Maren Webb
This time of year brings fish and fishing to mind. Between the mid-May fishing opener and the re-opening of local restaurants serving fish, we're either looking to catch fish or eat them (or both!). This isn't surprising with our fishing heritage. From being an important food source for the indigenous people native to the region, to the commercial fishing industry that supported many that emigrated here, fish have been part of our culture, history and connection to this land and water. Today, there are fewer commercial fisherman, but they continue to provide our local restaurants and stores with fresh, local fish.
While we are fortunate to have restaurants that have been around for many years on the North Shore, it is also always great news when a new restaurant enters the scene, especially one with local roots. This year, Northern Waters Restaurant opened in Duluth on Woodland Avenue in the Mount Royal complex. It's a new spot to check out, but this restaurant grew from the well-known Northern Waters Smokehaus located in Canal Park, Duluth, owned by Eric and Lynn Goerdt. Building on the great local and regional ingredients used at the Smokehaus and items they cure and smoke themselves, Northern Waters Restaurant is working to use the best of land, lake and sea from our region and beyond to create an excellent dining experience.
Northern Waters' smoked Pork Shoulder Tacos and The Iowa, a pork tenderloin sandwich, may already be some of the customer favorites, but you will definitely find fish making its place on their menu. Well-established relationships with local fishermen help ensure that Northern Waters Restaurant, like the Smokehaus, will have the best of the best when it's available from local waters. And think beyond the north woods fish classics: from Hokey Pokey, a Hawaiian dish re-imagined with Sockeye salmon, to Lake Trout Vera Cruz, a bright, spicy, and flavorful dish drawing on Mexican and European roots using Lake Superior lake trout. They are even offering Salmon Ceviche Tacos with house-made corn tortillas for another taste from down south. If you are looking for something with ties to our regional Scandinavian roots, try the NorthShoreBrod, a take on Snorrebrod with their house-made gravlax (cured raw salmon). They will also be highlighting fresh seasonal fish through their daily specials, including less common features like smelt and whitefish livers.
If whitefish livers are a little out of your comfort zone, be assured that their Lake Superior fish chowder and their Old Bay Burger (their take on a fish burger), with Lake Superior whitefish, are more familiar but still delicious fare. They also have a nice drink menu with some local beer options, including Bent Paddle and Blacklist, as well as specific wine pairings that compliment certain dishes. Happy hour is 4 to 6 p.m., with $1 off tap beers and glasses of wine.
General manager Greg Conley says they strive to be "a stylish yet inviting and comfortable place where everyone feels welcome." With an exciting menu that draws on the best ingredients from our region, I expect they will achieve this goal. Another novel feature of Northern Waters is their no-tipping model, where the prices on the menu include tax and tip. In addition to making it easier to figure out your bill, this model helps ensure that employees are paid a good wage that they can live on and count upon. Although this model is catching on elsewhere in state, I'm happy to hear about this gaining traction in Duluth.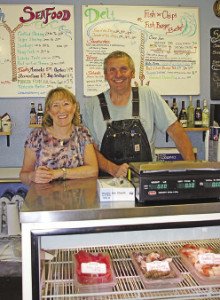 In Grand Marais, one restaurant has made commercial fishing and the serving of fresh fish its business. Dockside Fish Market, owned by Harley and Shele Toftey, has been catching and cooking up tasty meals for nearly two decades. Known for its fish chowders, smoked fish, and fish and chips, Dockside has become a regular stop for locals and visitors alike. It even made an appearance on the Food Network for the show, Bizarre Foods with Andrew Zimmerman in 2008.
Each spring, Dockside reopens for the season, bringing back its menu of fresh and smoked fish and other goodies. In addition to some of the better known fish options of herring (cisco), lake trout and whitefish, this year they will also be offering menominee, or round whitefish, a lesser known but delicious Lake Superior fish. But don't wait too long to try menominee, as it is an early season fish only available for May and likely June. It also happens to be one of owner Shele's favorite menu items, when it's available.
Shele and Harley both have histories with commercial fishing, his being from the North Shore and hers growing up on the West Coast. As Shele said, "I spent my whole life on the ocean." They met in Alaska through commercial fishing and have continued the family history through Dockside Fish Market on the inland ocean of Lake Superior. One of their daughters works at the shop during the summers, keeping with the family tradition.
One of my favorite items at Dockside is their Lingonberry Pickled Herring. In addition to being a festive pink, it is a unique treat for any pickled herring lover.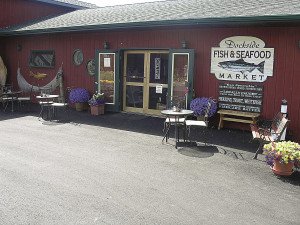 Dockside recognizes that its customers love their usual menu items, from their specialty chowders to the fish cake batter for take-out. But, that doesn't mean that you won't find anything new this season. Some new soups may make an appearance, as well as their version of fish tacos. Inspired by a restaurant in her native Oregon, Shele is on a mission to recreate a garlic aioli sauce for fish tacos. I, for one, can't wait to try them and hope they will become a mainstay on the menu.
Dockside Fish Market offers a wide variety of fresh and frozen fish for sale, made to order party platters, and clothing and gifts. Whether you are looking for a quick bite or to purchase fish to bring home to prepare, be sure to stop in this season (open daily at 9 a.m., May through December).
These are two restaurants to check out this season, but don't forget that we've got a wealth of wonderful dining establishments featuring local fish along the North Shore.