Over the many thousands of years that humans have been making bread, techniques have been refined, as have the grains used to make bread. None-the-less, bread still consists primarily of flour, water, yeast and salt. And once we overcame our infatuation with Wonder Bread, the popularity of artisan breads grew more rapidly than bread dough on a hot summer day.
Those who make these crusty, chewy loaves for a living share a passion for bread and a keen attention to detail. I spoke with three bakeries to learn of their approaches to baking bread. They were Duluth's Best Bread, Sapling Bakery in Thunder Bay, and Crosby Bakery in Grand Marais.
While in graduate school working on his master's degree in Mathematics, Michael Lillegard and his father built a brick pizza oven in his back yard. The high temperatures produced by the oven got him interested in baking bread. Using the mindset of a mathematician and the discipline of a martial artist, he set about learning to make the perfect loaf. He purchased the book Artisan Breads Every Day, by Peter Reinhart, and proceeded to bake every recipe in it. Approximately one year and 2,000 loaves later, he felt he had hit on a near-perfect recipe. He reached out to his brother Robert to handle sales, marketing, and "the details," and Duluth's Best Bread, located at 2632 W. 3rd St., was formed.
Their crusty, moist, and flavorful loaves are time-consuming to make. The process involves the use of a wild yeast they purchased overseas and have preserved for six years; they threw a birthday party for it this year. Their basic dough consists only of flour, water, salt and their wild yeast. The dough cool ferments overnight, a process that deepens the flavor of the bread and is more predictable and consistent. The moist dough is then baked at a high heat to create that artisan crust and to lock in the moisture. According to Robert, "quality is the number one driver for our products."
Their hand-made loaves are based on their Country Loaf. Ingredients are added to create their varieties. Their cheese curd bread has a devoted following. Their cranberry wild rice has all the right touches. The rich flavor from the wild yeast is complemented by nuttiness of the wild rice and the tang of the cranberries. They also produce rosemary onion and a sunflower flax bread. Their breads are available at their walk-up location on W. 3rd St., at both Whole Foods Co-op locations in Duluth, and at the Mount Royal Market.
In addition to bread, they sell items for those with a sweet tooth. These include croissants, sweet rolls, and macaroons. As with their breads, Michael has worked assiduously to perfect his recipes and has chosen treats that are difficult to produce. Their interest in German culture also led them to create the big fat German pretzel, a one pound "uberpretzel." These pretzels can be found at local bars. As with the artisan breads, croissants and macaroons, the Lillegard brothers have chosen to create delicious products that are difficult to perfect. According to Robert they "decided to make really, really hard things because we could do them the best."
The Sapling bakery in Thunder Bay began selling their traditional stone oven breads with a booth at the Thunder Bay Country Market in 2015. According to company president Nikos Mantis, lead baker Bailey Symington has had a lifelong passion for bread making. "Her approach is rooted in tradition with living bread starters which have been kept alive since our inception."
The Sapling Bakery is part of a larger organization under the auspices of Pinetree Catering. In addition to the bakery, it includes the Local Motion Food Truck and the NOMAD Bakeshop and Sandwich Bar, which also rely on their breads.
The Sapling Bakery produces 10 varieties of breads in addition to pastries. Among their most popular breads is the farmer's rye. This traditional farmhouse dark rye, which uses Brule Creek dark rye flour, is a loaf with a crisp crust and a soft center. Their power loaf is a crisp stone oven baked loaf that incorporates mixed grains such as wild rice, barley, and quinoa with walnuts, cranberries, carrots, parsley, and Brule Creek whole wheat flour. Their cheese loaf is a stone oven baked French loaf combined with Thunder Oak Gouda and sharp cheddar.
Sapling Bakery Breads are also available at the Dawson General Store, Breakaway, The Cheese Encounter, Rebel Salad, and NOMAD in both its location at the Thunder Bay International Airport and at 307 Bay Street.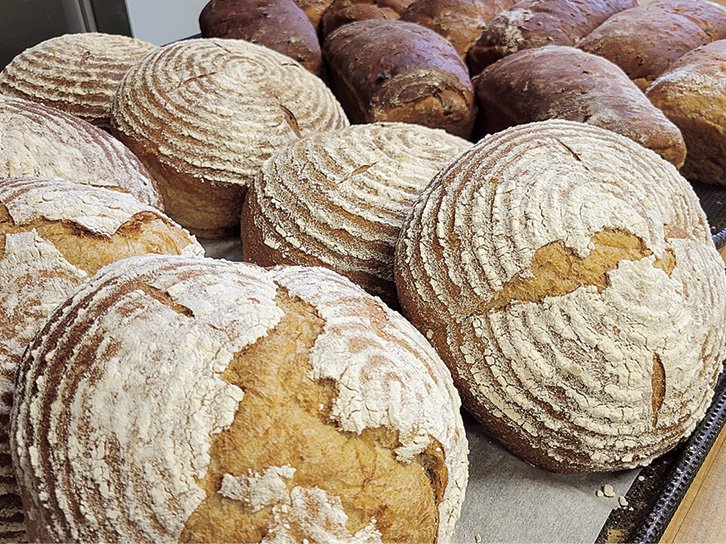 I asked Mantis if he had any tips for the home baker. He said, "Always check your yeast! In a bowl combine ¼ cup warm water, 1 tsp yeast, and ¼ tsp sugar. Your yeast should bubble up within 10 minutes."
It has been a busy two years for Hana Crosby at Crosby Bakery in Grand Marais. During her second year, COVID hit, all while she was pregnant. Now, customers coming to pick up orders will often see her adorable daughter swinging in the doorway.
Crosby purchased the bakery as a primarily wholesale business but has added a rotating online menu, primarily for cakes and other sweet treats. Crosby says that when she purchased the bakery, she wasn't intending to bake much bread, but she is glad that she has. "Who doesn't love the smell of fresh bread in the oven?" she quips. In the early days she got many requests for her bread, and the community has been very supportive of her efforts.
Crosby says her most popular breads are her two sourdough breads, one with whole wheat, and her French-style baguettes. She also carries a delicious, chewy rye bread and a robust and tasty cranberry wild rice loaf. In addition, she makes bread for Voyageur Brewing using their spent grains. Most of her breads can be found at the Cook County Whole Foods Co-op.
Crosby's pro tips are to weigh the ingredients rather than measure them. She also said it is important to pay attention to the proofing time, which can vary according to the seasons. Crosby said she is amazed by how many variations of bread come from flour, salt, yeast and water. The biggest difference in breads, she says, is the yeast. It takes eight hours to proof her sourdough breads while quick rising breads can be proofed and baked in a few hours.
It is quite intriguing. Humans have been making bread for thousands of years. After all that time, making good bread seems to come down to some basic knowledge and a strict attention to detail.