I first heard of a ship built of ice from the book, Code Name Habbakuk: A Secret Ship Made of Ice by Ottawa author L. D. Cross. I thought it was surely a 'fantasy' tale. But surprisingly, it was a true story.
The idea of building an ice ship evolved during World War II when the British government was looking for better ways to protect the North Atlantic convoys from German U-boats. One of their scientists Geoffrey N. Pyke came up with the idea in 1942 to construct a gigantic aircraft carrier constructed of ice as ice was unsinkable, hard to destruct and cheaper than steel. He named his floating ice island after the Old Testament prophet Habakkuk, but misspelled it as "Habbakuk."
Sir Winston Churchill, the British Prime Minister, liked the concept, commenting "I attach the greatest importance to the examination of these ideas. The advantages of a floating island or islands, if only used as refueling depots for aircrafts, are so dazzling." Less enthusiastic initially was Mackenzie King, the Canadian Prime Minister, who wrote in his diary, "…another of those mad, wild schemes [that started] with a couple of crazy men in England."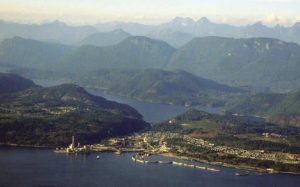 The British Admiralty approved the Habbakuk project and in January 1943, Canadian government officially agreed to do research and construction of the ice vessel, with scientists in the U.S., Canada and England also working on the project. One task was to find the right 'recipe' for reinforcing the ice. A combination of ice and wood pulp was developed and named Pykrete by America's Dr. Herman Mark of Brooklyn Polytechnical Institute.
A 60-foot-long ice model of the Habbakuk with a system of internal refrigerating ducts and external insulating was constructed in Canada in early 1943 at Patricia Lake in Alberta's Jasper National Park. It was found to be stable and in April 1943, the Canadian War Committee approved construction of a full-scale ice vessel. However, a month later, for a number of factors, the ice ship was no longer needed and the project was discontinued.
But would a huge ice-ship carrier actually have worked? "The Habbukuk project succeeded in reaching its professed goals in that it demonstrated the possibility of building a vessel of reinforced ice which would be theoretically unsinkable. The fact that the operation never reached fruition does not detract from this," wrote Dr. Susan Langley in her study of the project.
A ship made of ice is hard to imagine, as is one made of reinforced concrete. Yet, concrete watercraft have been around since 1848. That's when Joseph-Louis Lamont, co-inventor of ferrocement—origin of reinforced concrete—built a concrete dinghy that was featured in the 1855 World Exposition in Paris. Soon concrete barges and small ships were being built in Europe and in 1917, a Norwegian launched the first concrete ocean-going ship, the 84-foot Namsenfjord.
On March 14, 1918, America's first concrete ship, the 336-foot steamer SS Faith, was launched to carry bulk cargo. About a month later, the U.S. government ordered construction of 24 concrete warships for World War I; however, the war ended before the first 12 were completed so those ships were later sold to private companies.
When World War II broke out, the U.S. government contracted for another 24 self-propelled concrete ships. Of all the concrete ships built by U.S. during the two wars, only 10 are still known to be afloat—including the 120-foot SS Peralta from U.S.'s World War I fleet—and those 10 are used for a floating breakwater in the Canadian city of Powell River in southeastern B.C. Some have become 'tourist' shipwrecks, like the Atlantus off Sunset Beach, Cape May, New Jersey.
And what about the racing canoes built of concrete? It was in the U.S. back in the 1960s that concrete canoe competitions began, sponsored by the American Society of Civil Engineers (ASCE), now happening around the world. The competition is designed to provide opportunities for civil engineering students to work with concrete mix designs and project management. There's even a dedicated concrete canoe website (concretecanoe.org) and a Concrete Canoe magazine.
The next U.S. National Concrete Canoe Competition (the 31st) will be held June 23-25 in San Diego, California; the Canadian National Concrete Canoe Competition (22nd) will be May 13-15 in Montreal.
So, why does a ship/canoe of concrete not sink? Apparently, it is a matter of density, with air being less dense than water. As long as the weight of the water it displaces is more than its own weight (which includes empty air), the concrete ship will float.