SUPERIOR—Marissa Anderson and her daughter, Carmen had a special night planned last Valentine's Day. Their mother-daughter date took place at the Douglas County Humane Society doing cat yoga.
Marissa learned about the class on Facebook and, though she hadn't done much yoga in the past, the cats were what drew her in.
"You throw cats into anything and I'm gonna probably jump on board with it to be honest with you," she laughed.
Carmen, who's nine, agreed and said she thought it would be a good thing for her health and that it would help her with karate. By the end of class, she wanted to take a kitty home with her.
"It seems like a good way for the cats to find a home," Carmen said.
The cat yoga class costs $15 and five dollars of that fee goes directly into the shelter's general fund for animal care.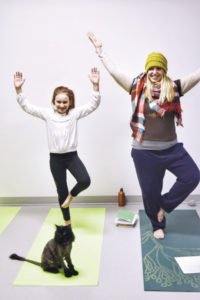 "Every animal that leaves the shelter is spayed or neutered, vaccinated, microchipped, dewormed, vet-checked, the whole she-bang. We do everything we can to make sure that everybody leaving this building is very healthy," said shelter director, Sheila Keup.
Connecting with the community and finding cats forever homes are the goals of the class and, so far, they are reaching them. Keup says that they feel very fortunate that the cat adoption rate is now fairly high, to the point that she is able to transfer in cats from smaller, over-populated shelters in Wisconsin.
"When the cats join the class, people fall in love with a certain kitty. And even if they don't get adopted, it's so good for them to be around people as much as they can be," Keup said.
The idea of combining yoga with cats was brought up after shelter staff read about it happening already in California. After a little thought, they contacted yoga instructor, Holly Bounting to get the ball rolling. When Bounting received the call, she knew she had to say yes.
"It's blending two of my favorite things together, yoga and cats. It's really good for the cats, it's good for the people that come. The human and animal interaction is really great, so I'm loving it," she said.
Cats being at the class is what made Jodie Makovec and her aunt want to try it out. Both had never done yoga before, and both women enjoyed it.
"Having cats in the class made it feel like the environment would be friendly and more casual since we are beginners," Makovec said.
The class, which is open to just 10 people per week, is definitely beginner-friendly, but more experienced yogis were also present. Kelsey Hatfield is a yoga instructor who has been practicing for about five years. When Bounting told her she was teaching a cat yoga class, she was excited.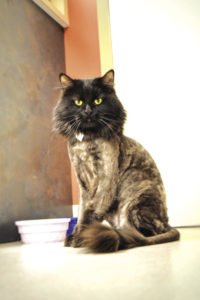 "I told her, I'll be there, sign me up for any day you're doing it," she said.
Bounting, who has been practicing yoga for 20 years and teaching for five, typically has a theme for her classes. On Valentine's Day, many of her classes revolved around love.
"We are radiant beings full of love, and sometimes we kind of lose it. So yoga helps you to find it again and to return to it. Because it's within every single one of us, and so we just kind of have to learn how to tap into it," she explained.
Overall, everyone who participated enjoyed it, especially the cats. In the beginning, the cats stayed back, just watching. As the room began to relax, the cats flourished providing subtle comic relief, slowly approaching each person with a timid curiosity. By the end, most kitties and humans were no longer shy at all. In general, yoga is about truly being where you are in the moment and, as a cat lover if where you are is with cats, it's an amazing combination.
Those interested in cat yoga classes can find the schedule and sign-up information on the Humane Society of Douglas County, Wisconsin, Facebook page.