Adam Swanson—best known for his colorful, expressive paintings that explore tensions between humanity, technology, and the natural world—is an artist with a passion for science and a love of science fiction.
"I have been into science fiction as long as I have been excited about art," recalls Swanson, who grew up steeped in Star Wars and Star Trek, as well as the written works of major authors and scientists such as Isaac Asimov, Carl Sagan, Kurt Vonnegut, Margaret Atwood and Michael Crichton, to name a few.
"Thinking about outer space, technology and humanity's quest for a deeper understanding of our universe has always been a source of inspiration for me," says Swanson. "It's always amazed me to see how our dreams and philosophies of the past change according to current circumstances."
Swanson grew up near the Twin Cities in Maplewood, Minn., before moving to Duluth in 1997 to obtain his BFA from the University of Minnesota, Duluth. When asked why he chose Duluth as a place to study art, Swanson credits Lake Superior and the surrounding wilderness.
"I'm passionate about the outdoors," says Swanson, who has done a number of extended canoe trips in the Arctic and Quetico Provincial Park, as well as a "yearly trip or two to the Boundary Waters" with his wife and two children.
After receiving his BFA from UMD in 2001, Swanson spent a good part of the early 2000s working odd jobs for teams of scientific researchers in Antarctica while taking the opportunity to travel and explore the world.
"Working in Antarctica remains one of the most formative experiences of my life," says Swanson. "It allowed me lots of time to travel and explore every continent, and offered some of the most amazing sights and sounds that I will probably ever experience."
Initially, Swanson worked 13 months as a carpenter at the South Pole Station, with a few months spent working at McMurdo on the southern tip of Ross Island. From there he went on to work as a Boating Coordinator at Palmer Station, followed by a stint as a Marine Technician aboard the R/V Laurence M. Gould in the Antarctic Ocean.
"My jobs on the ice were somewhat all consuming," says Swanson, "but I did manage to make a handful of paintings and a number of drawings during that time."
"That being said," continues Swanson, "when I finished up my most recent contract and travels in 2008, I started to regret not focusing on my art more seriously. This led me to find an inexpensive place to rent in Duluth where I could start focusing on my painting full time."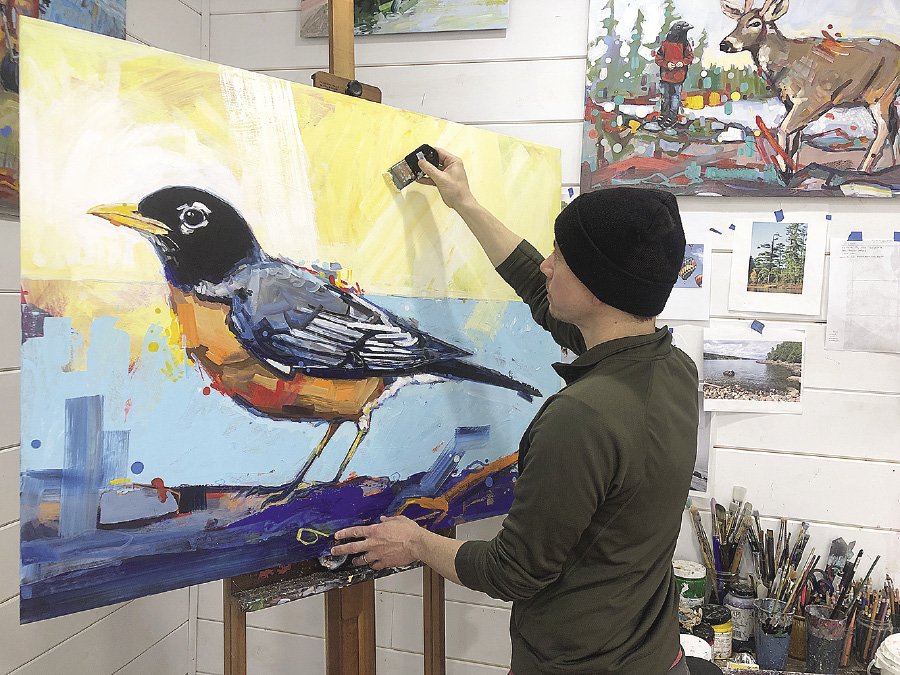 While working out of someone's basement that he was renting, Swanson took the opportunity to dive deep into his work as an artist and began spending 10-14 hours of each day painting.
"When the money ran out," says Swanson, "I got a job bartending, but was able to ween myself off of that job over the course of a few years."
Today, Swanson makes his living as a full-time artist with a combination of commissioned paintings, gallery sales and grants for personal projects.
Swanson describes his style of painting as loose representational, meaning that he paints recognizable shapes while incorporating some amount of abstraction.
"I like my paintings to appear fast and expressive," says Swanson.
In addition to his passion for painting, Swanson has always had a strong interest in photography and film, something that he puts to good use in his paintings behind the scenes.
"My studio is always filled with my snapshots of landscapes, machinery and animals," says Swanson. "I select, recompose, and paint the most interesting details, so my paintings are often comprised of more than a dozen study images."
One of the most recognizable aspects of Swanson's work are the colorful dots and other geometrical shapes that, rather unpredictably, appear throughout his paintings. The practice of adding colorful dots to his paintings is, according to Swanson, something that he started doing in order to "loosen up" his work.
"When I begin a painting," says Swanson, "it is easy to be loose and expressive, but as the painting progresses it tends to get more detailed and I take less risks."
"In order to loosen back up," continues Swanson, "I lay my paintings on the ground and splatter watery paint on them to retrieve some of the uncultivated energy. Caring too much for any particular piece of a painting is dangerous and can leave me feeling frustrated, so this act of play has become a ritual for me and I usually take a few moments to splatter paint on my work."
Swanson continues to incorporate his passion for science into his many projects, something that is clearly on display in his most recent project featuring the federally endangered animals of Minnesota. In this project, Swanson gathered information on these endangered species from local researchers, and then turned that information into a series of 15 paintings that feature these creatures in unconventional ways.
"This was a great opportunity for me to blend my personal thoughts and feelings into some of the hard science of our region," says Swanson.
For more information on Adam Swanson, his work, and his many past, present and future projects, visit his Facebook, Instagram (@adamswansong), or website at: adamswanson.com.