TWO HARBORS—A new sound is coming across the airwaves in Two Harbors. The community radio station KTWH 99.5 FM launched Sept. 13. The 100-watt station airs from 7 a.m.-9 p.m. weekdays and 8:30 a.m.-9 p.m. weekends. In good conditions, broadcasts can be heard along the North Shore from about Knife River almost to Gooseberry. The station can be streamed at ktwh.org.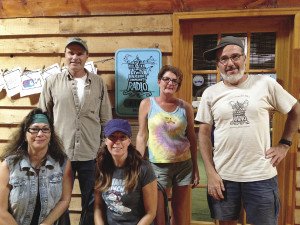 Two Harbors Community Radio board chair Fran Kaliher says it has taken about four years of planning and development to get the station on the air. She and another volunteer, Leo Babeu, began discussing the idea in 2011 after they learned Congress passed legislation making the remaining air waves available to communities. Since then, the entirely volunteer effort has consumed "thousands of volunteer hours" to make the station come to fruition.
The station's studio is located in the Harbor Landing Building along Hwy 61. The antenna is sited at the County Highway Dept. shop about one mile north of Hwy 61 on County Hwy 2. Kaliher says the station serves an important role in the community.
"We needed to differentiate ourselves from Duluth," she says. "We're able to get out information for community events and get more exposure for local music."
About half of the programming is locally produced. A live morning show airs from 7-9 a.m. on week days. In the evening, there are different locally produced music programs. On Friday nights, Dave Anderson has a live program with a local musician performing in the studio. Mondays from 9-10 a.m. is Nordic Roots, a show of Scandinavian music from then and now with Arna Rennan. The local programming also includes reports from the county veteran services officer and the Lake County Sex Trafficking Task Force, updates on local arts and youth radio, which includes a sports wrap up and a show about happenings at the Two Harbors High School.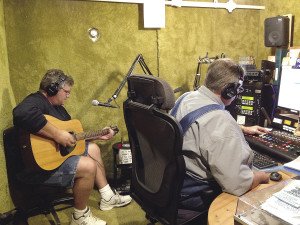 "We are doing more outreach to kids so we can expand our youth programming," Kaliher says.
Learning how to run a radio station with volunteers is, to some extent, a matter of by guess and by gosh. The volunteers include a mix of folks with some commercial or college radio experience—all 10 or more years ago. Some have no previous radio experience. They are learning from one another and figuring out how to use new software.
"It's a challenge on many fronts, but it's a great learning and growing experience for everyone," Kaliher says.
The station hopes to hire a part time station manager over the winter. There are plans to have more local programming. Eventually, the station may move to a downtown location and, by boosting its signal to 250 watts, expand its broadcast area. Right now, though, a dedicated group of volunteers is having fun creating a new radio station.
"We have an interesting mix of people who otherwise would not have crossed paths," Kaliher says.