COOK COUNTY—Cook County Local Energy Project (CCLEP)'s Residential Energy Efficiency Program (REEP) is gearing up to work with a new energy auditor in Cook County. Although not new to the county or building, Mike Senty of Senty Construction and Senty Inspection, will become the new REEP energy auditor. He will also offer blower door testing for new construction in Cook County.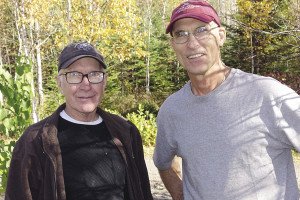 Senty has worked in Cook County for 39 years as a log builder and general builder and is a licensed general contractor. Two years ago he incorporated home inspections into his work using his construction background in addition to course work at Kaplan University in Minneapolis. He is looking forward to including his new skills into this work.
Chris Norman, who has worked with CCLEP's REEP over the past four years, is working seasonally in Florida and is no longer available to do audits in Cook County. With Senty available to do audits, REEP will continue to offer energy audits and promote energy efficiency in Cook County.
REEP is designed to increase the energy efficiency of homes by using home performance energy audits before and after improvement work. The program is open to all income levels. Homeowners pay for the audit ($400) and improvements, but an audit rebate ($300) is available with completion of selected improvements within 18 months of the initial audit.
REEP audits consist of a blower door test that measures precisely how much air infiltrates a home. Infrared camera imaging measures surface temperatures and is used in conjunction with the blower door to detect where major infiltration occurs, by locating temperature differences. These two tools, along with other devices, allow an auditor to gather more information about a home that may not be obvious visually.
The home performance energy audit also involves a visual inspection of the home to help determine what improvements can be recommended to increase energy efficiency. This also increases building durability, comfort, and saves homeowners money. Audit reports help homeowners decide what improvements make the most sense for their budget and what is best for their home.
CCLEP has a partnership with the Cook County and Grand Marais Economic Development Authority to bring this service to county residents and promote local economic development.
REEP will be able to do pre and post improvement audits beginning the end of November. For more information about REEP see the CCLEP website under programs at cookcountylocalenergy.org. To find out more about REEP and make an appointment, call CCLEP Coordinator Virginia Danfelt at 218-370-9690.