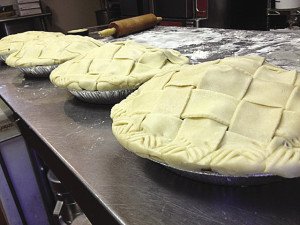 On the North Shore, pie is a year-round affair. During certain seasons it makes a special appearance, often as we gather with family and friends to celebrate Thanksgiving. A slice of pie may bring to mind memories of our grandmothers or a hole-in-the wall restaurant that served the best slice à la mode. While I do try my hand at baking pies by channeling my distant past as a Betty's Pies baker and my grandmother's skills, I have come to also appreciate the local talent of our North Shore pie bakers. What other area would have such an impressive list of places to buy whole pies?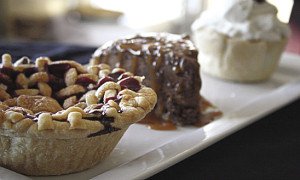 The Pie Place Café couldn't hide its passion for pie if they tried—the name gives it away. After sitting down to chat with owner Mary Lear, and her bakery manager, Plami Chase, I came away with a new appreciation for the art of pie baking. Over the past twenty years, the Pie Place Café has been creating pies, from the classic pumpkin with vanilla whipped cream to the caramel apple pie. When asked which pie Plami most enjoys to make, she shared that it is lemon buttermilk pie because "it smells like lemons" as she crafts this crème brûlée-like pie. When I first heard about this pie I wasn't sure I would like it, but now I can't pass it up when I see it on the list. Visit www.thepieplacecafe.com for more info.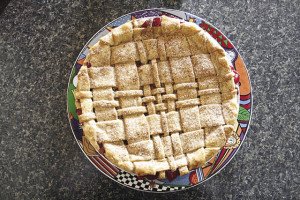 "Pie is really iconic, connecting people with tradition and family," said Mary of The Pie Place Café. This may help explain why pie still graces our holiday tables, even if pie wasn't served at the first Thanksgiving. Or, maybe, it's just too tasty not to serve.
A new option for whole pies has entered the scene this past year: Elfvin's Bakery in Grand Marais. Brother and sister team, Rain and Patricia Elfvin, have brought their talent, experience and creativity to baking. When asked about the most unusual request they have received thus far, Patricia chuckled as she remembered a tres leches cake with a shark on it. While that baked delight won't likely grace your Thanksgiving table, one of their delicious pies would be an ideal addition. This November, they will be offering pies by order, with a special on pumpkin, apple, and pecan pies. If you are looking for another baked option to celebrate the season, order their pumpkin scones with spinach and cream cheese filling. Find Elfvin's on Facebook for more info.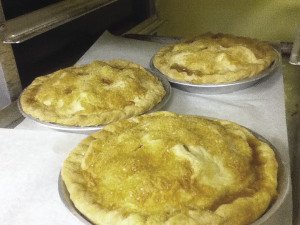 Two Harbors has two pie shop favorites, both which started from humble beginnings to become North Shore legacies. My childhood memories include both restaurants, in their original building locations. I appreciate that both have more seating these days. It was quite the treat to stop for a slice of pie then and it still is today.
Rustic Inn Café and Gifts is located just north of Two Harbors in the curiously named Castle Danger. I think the only danger these days is in wanting to try all their pies. Rustic Inn also sells its pies through the Whole Foods Co-op in Duluth, either by order or through regular pie deliveries on Mondays, Wednesdays and Fridays. Cranberry apple or raspberry cream sound like a great holiday addition. If you are driving up the shore, it is a worthwhile stop, not only for pie, but also for their great menu and gift shop (www.therusticinncafe.com).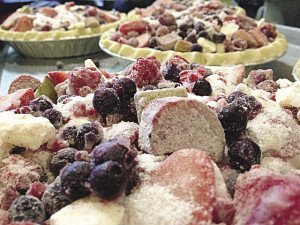 Betty's Pies is the other Two Harbors spot, with a long history starting in 1956. In the summer months, visiting Betty's Pies often means a wait in line, but this time of year you likely won't have to wait to enjoy your meal or pie. And if you can't make it to the North Shore in time for your holiday gathering, Betty's Pies has an online pie shop. Once you order online, the pies are made fresh per your specifications, fully baked, then frozen and shipped overnight to ensure prompt arrival. Just be sure to give them 48 hours head's up. Their online site (www.bettyspies.com), has photos of many of the pie options, from caramel apple crunch to strawberry rhubarb.
The Sweet North Bakery has its own sweet story. It started as a vendor at Thunder Bay's weekly Country Market and has grown into having a storefront in the downtown Waterfront District, opening last November. During the months of November and December, the bakery will be selling pies, including pumpkin, apple, and fruit and custard pies. They also make a SkullRock Stout Ganache pie, made with Sleeping Giant Brewing Co's SkullRock Stout, chocolate ganache, and topped with real whipped cream and a SkullRock Stout syrup.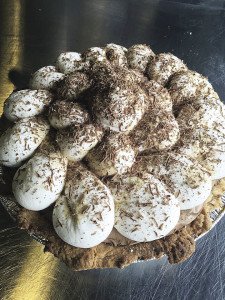 "It's light and not too sweet but totally decadent!" said proprietor Erinn Delorenzi.
If you have a home brewer or micro brew fan in the family, this may be the perfect pie.
Wondering what to serve to your gluten-free family member? Fear not. The Peartree Bakery in Thunder Bay offers gluten-free (and nut-free) apple, cherry and pumpkin pies. Peartree Bakery is a regular at the Country Market (Wednesdays and Saturdays) in addition to their storefront in Thunder Bay's downtown Waterfront District. Pies can be ordered for pick-up at the Market or at the Peartree Bakery. The Bakery is also developing new products for the holiday season. Find out more at www.peartreebakery.com.
There are more than a few great pie options on this wonderful stretch of shoreline, from Two Harbors all the way to Thunder Bay. Where ever you find your perfect pie this holiday season, be sure to enjoy it with an extra dollop of whipped cream or ice cream for me.