From Lake Bum to Rail Bait
I feel when you grow up in Thunder Bay, on or near Lake Superior, you walk a line. You either spend your childhood on one of the thousand inland lakes with an aluminum boat and an outboard motor, or on a sailboat to battle the beast of the greatest lake in the world. It is not often you have both.
In my case, I was a lake hopper until my late 20's. I walked by the sailboats at the marina at least once a week not thinking too much about them—aside from maybe they were out of my league. It was when my love of sports started to become more technical and my adventure friend circle started expanding that I was hearing of these incredible racing stories between sailboats. I became envious I had never tried. But how do you start? Weren't we all just lake bum shoe stringers with no assets? This was in 2017.
The word on the street was a few beers, some snacks, and sitting on a lone bench at the marina might get you an up-front seat on one of these seemingly untouchable sailboats.
I was nervous. I knew my friend Tuija's Dad sailed, Chip Hansen, so I got him to walk me down to the marina and explain the ropes to me—with my backpack clanging of beers and some charcuterie I could barely afford. No one was at the bench yet, but he spotted a friend of his named Ken Lang—skipper of Airborne—a yellow mellow boat known to have a laid-back crew. All it took was a wave and, "Ken! You want some rail bait for tonight's race?" He waved us over and so my first race began. I wasn't just rail bait on this tiny crew, a term sailor's usually use for new crew who basically help to balance out the boat from side to side and hang over the rail. He showed me how to work the winch which pulls in the sheets that control the sails. Usually, this is a beginner position that comes with a lot of adrenaline and more than expected cardio.
This was a Wednesday night race, which I found out later is the night of all nights that the most dedicated sailors race for blood (aka points), and mean business. With the boat keeled way over and a lot of yelling happening from neighbouring boats on all fronts, I was full of anxiety, adrenaline and pure bliss. After a heart-pumping race and having a shakedown of beer and snacks with some great instructors, I knew I was hooked.
It was a few weeks before I had the confidence to go down to the docks and wait on the bench alone. Five minutes went by and a tall man with obvious sailor appeal showed up and introduced himself as Bob Vander Ploeg—skipper of S.V. Bobsled, member of the Yacht Club, former Fleet Captain of race nights and a retired captain in Fire Prevention. A mouthful? Absolutely. As most skippers do tend to have some kind of safety background and mannerisms that people enjoy learning from, it is not surprising. Bob is a well-known instructor who captains a fun and welcoming crew that often does well in the race fleet. I had no idea I would become a some-timer crew for his boat over the next two years and a permanent member in 2021.
Like a lot of advanced sailors who teach us late bloomers, he started off sailing as a teenager on a small boat called a Lazer and took lessons from the Ontario Sailing Association ran by a bunch of admirable looking surf bums in Geraldton one summer. Enamored by the sailing lifestyle, these guys were living out of their van and spreading good vibes, that was it for him—it would be a life-long adventure of sailing to come.
In 1998 Bob bought a Sirius 28, a performance cruiser that would take him and his wife and three young sons all across Lake Superior and into all of our hidden little gems dispersed along the shores.
Aside from adventure cruising, Bob also raced this boat for four to five years and embedded himself in our sailing community. It wasn't long after that an upgrade was needed for a bigger, faster boat.
After patiently waiting for the right boat to come along, an owner of a J35 performance racer that Bob contacted a few years prior decided it was time to sell. Bobsled was born and has been a key piece of Thunder Bay's sailing community ever since.
I asked Bob what he enjoys most about sailing in our community and having your own crew on the boat. The answer is obvious, but something you don't realize until you take that first plunge and delve into the sailing subculture of the Great Lakes.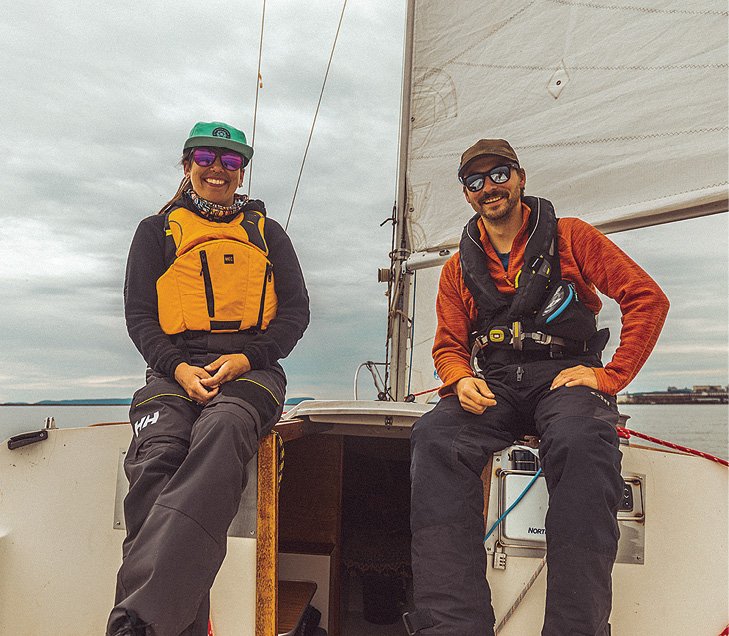 "There is a commonality between many sailors that they often have an adventurous spirit. Generally, those in the community don't mind working hard and are eager to learn things. There is an old law of the sea that I stand by. 'You have to give help if you can do it without putting yourself in danger.' There is a comradery of trust and sharing among sailors."
Bob sees his boat as welcoming and usually has a crew that is friendly, eager to learn, teach, and known for a good laugh. They aren't always at the top of the fleet but there isn't a soul out there that would deny they are having the best possible time on the water.
In 2018 and 2019 I crewed with Bobsled on Lake Superior offshore races for fun. Offshore races tend to be much longer and have straighter trajectories so it is a great time for beginner crew to join. There are often long lags in between the action where you get to sit back and view our shoreline for all that it is. It became a completely different world for me.
To me, it is like being in Fantasia or Waterworld—this unbelievable commune with a backdrop you simply can't see from land.
During 2020, in the midst of a worldwide pandemic where the race season was late to start, I managed to reconnect with some old crew of Bobsled. I became the double hander of Chris Hache's boat S.V. Sillage, a Ticon 30 that would take me to hidden islands, saunas and shipwrecks. Ending the season with some incredible races on Bobsled, you wouldn't think the season could get any better. That is until a Tanzer 22 was up for grabs (yes, for free) in our sailing community. Now here we are in 2021, I am learning to be one of the skippers of a Tanzer 22 named Mars, and in training for North American Championships with an up and coming all-female team, helmed by Audrey Dallaire Gagnon, on a Viper 640 named Surf. All it took was a few beers and some charcuterie.
By Holly Watson