When a musher says she is training yearlings, other mushers respond in empathy. Quebec musher Dennis Trembley and his partner Julie Albert, both of whom run the Beargrease most years, trained 19 yearlings a few years ago, and all of us listening just shook our heads in amazement at their fortitude to take on such an endeavor.
A yearling sled dog is plumb full of almost uncontainable energy. They don't know the rules yet—how to stay on one side of the gangline, how not to anger their neighbor, how to focus. When I heard about Julie and Dennis training up 19 of these young monsters, I thought why would you ever subject yourself to that? In past years, we have had much smaller numbers of yearlings to train—five, six or seven. But as readers of last year's dog blog already know, we bred a few females last summer and ended up with 15 puppies, plus a child of our own—making 16 exuberant one-year-olds.
Luckily, our winter extended into spring last year and we were able to harness break our puppies—introducing them to the task of pulling and wearing a harness and moving forward down the trail. I took small teams of six dogs—usually a few pups and a few adults and ran five miles until the snow turned to mud and we had to stop.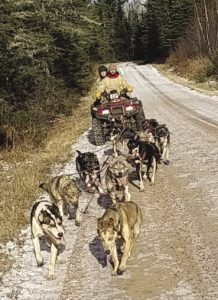 Most of these pups understood what to do from the beginning. Yes, they were wild—trying to get a harness on a puppy involves pinning them down long enough to control their thrashing body. Then you hook each to the gangline and try to have extra hands on standby to keep them from turning in circles and creating a huge tangle of the ropes. Key is that these youngsters want to run and once they figure out the harness and the lines, they just move forward—and they did, all of them except for one.
Pinto did not have a natural understanding of what he was supposed to do. He spent his first run diving into the snow on the side of the trail, riding along on his belly or his back, looking back at me like, "what is this?" Truly, of the 35 plus puppies I have trained, it was the absolute worst first training run I had witnessed. I really thought, maybe this guy just isn't cut out to do this. But after two more of these unspectacular runs, he is now the hardest driving, focused yearling of the bunch.
As the yearlings have grown, so has our daughter. She is walking and running and feeding herself and feeding dogs when she gets a chance, and generally always on the go. Match for match, the yearlings and Sylvia are pretty even-steven. She is fascinated by the dogs. I take her into the dog yard frequently via a child carrier backpack and she waves and says "hi, oh hi!" as if they are her greatest fans. She loves all dogs in fact—any dog at the park and on the street she will run to in hopes of giving them her attention. But the first time she met a cat she cried. If you ask her what the dog says, she gives the musher's child response which is not "ruff, ruff" or "woof, woof" or anything resembling a bark but rather "ooooooo, oooooo" imitating their nightly group howl.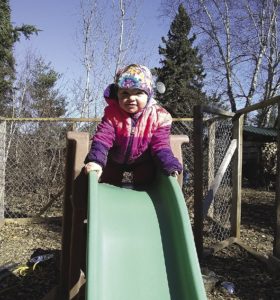 As of mid-October, training was well underway. Between the 15 yearlings and 20 adults, we have our work cut out for us to keep everyone running. Most days we take one team of 14-16 dogs with one ATV and then alternate dogs the next day. We have a new team of handlers, Hanna and Phill living in our handler yurt and helping us train. Sometimes they take a second team on the second ATV, but that ended badly for Phill one day when the ATV he was driving died and he was stuck with eight frantic dogs who didn't stop screaming to go until I was able to loop around to him (30 minutes later). We then hooked our teams together and ran all 22 back to the kennel.
We aren't exactly sure what the race season will look like. I am signed up to run the Beargrease marathon and my husband Matt is signed up to run the Beargrease 120. We are also hoping to run two teams in both the Gunflint Mail Run and the Can-Am in Maine. But, we'll take training week by week, see how the yearlings develop and then decide. Sylvia for her part, mostly watches from a distance for now. She appears eager to help in any way she can, but she is one yearling that will have to wait a few years before her rookie run. Maybe if she's lucky, we'll let her ride in the sled basket with one of us holding her behind a few old veteran dogs.