It was 2010 when in Latvia's capital city of Riga a domed stone marker was embedded with the cobblestones of their Town Square declaring in eight languages that the world's first Christmas tree was displayed here in 1510 by the Brotherhood of the Blackheads.
But Estonia, its neighbouring country to the north, fervently disputed the news and claimed the honour belonged to its capital city Tallinn (then named Reval). That's where in 1441—69 years before Latvia's date—the world's first Christmas tree had been installed by their city's Brotherhood of the Blackheads in Raekoja plats, its medieval Town Hall Square since 1322.
Neither country backed down, so, the modern-day feud continues today. Both enjoy the Christmas-themed tourism and promotion that the friendly conflict has brought to their countries.
Stepping back to 1400, the Brotherhood of the Blackheads was founded in Tallinn as a professional association of unmarried merchants, ship owners and foreigners. Unique to only Estonian and Latvia (known as Livonia at the time), the Brotherhood spread to about 20 cities, including Riga, Latvia. A dual military organization and commercial association unique to European history, it later evolved into an important social organization. It existed until 1940 when the occupation forces of Soviet Union dissolved the 540-year-old brotherhood. Why called the "Blackheads"? The origin is unclear, but the patron saint of the Brotherhood was the black Egyptian Christian Saint Maurice, who also appears on their coat of arms.
According to records and lore, in 1441 the Brotherhood decorated a tree for holiday festivities in their House of the Brotherhood in Tallinn. On the last night, the tree was taken to the Town Hall Square where members and womenfolk danced around it before it was set on fire. As historian Jüri Kuuskemann stated in an Estonian Television interview, "I believe we can confidently use that date as the world's first Christmas tree."
Like Tallinn, the Brotherhood set up Riga's first decorated tree during their twice-yearly celebration (one being Christmas/New Year), took it out to the Town Square and after dancing around it, set it on fire. Some reports indicate while the Tallinn tree was a real tree (probably spruce), the Riga's may have been a Christmas Wooden Pyramid decorated with paper shapes, flowers, fruits and toys.
Historians credit to Germany for starting the custom of bringing decorated trees into homes. First record comes from Strasburg, Germany in 1605, "…people set up Christmas trees in their rooms". At the time, the popular decorations included "roses cut of many-colored paper, apples, wafers, gilt, sugar." Within 200 years, the tree tradition spread across Europe and abroad.
How and when was the Christmas tree tradition introduced to North America? Some researchers say it was Germany's Hessian soldiers stationed at Sorel, Quebec fighting for Britain in the Revolutionary War (1775-1783). In 1781, the commander's wife Baroness von Riedesel held a Christmas party for the German and British officers, where the highlight was a decorated fir tree with candles and fruits.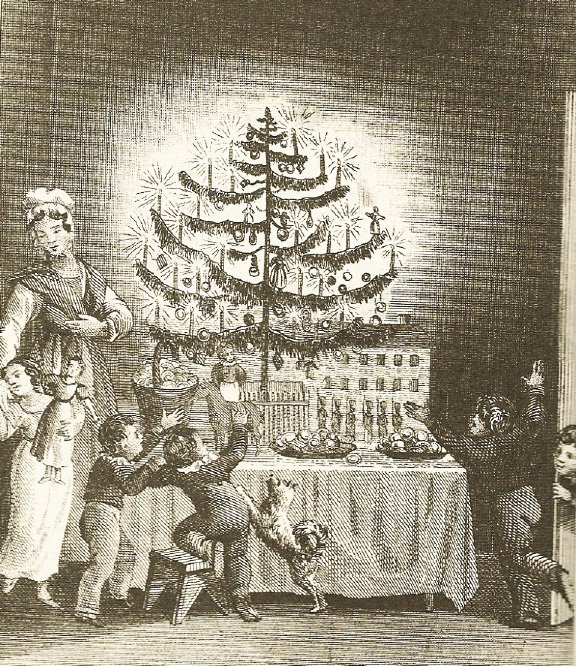 However, according to local lore (there are no primary sources), the first decorated Christmas tree in the New World could have been in the U.S. city of Windsor Locks, Connecticut, where a stone monument records, "Site of First Decorated Tree in New England 1777", which would be four years before the Quebec tree. According to local lore, a Hessian soldier named Hendrick Roddemore was captured as a prisoner of war, ended up in Windsor Locks and while in custody of a farmer, put up a Christmas tree by his cabin in 1777 (now the site of the stone marker). Others credit German settlers with bringing to America the decoration of Christmas trees.
In Britain in 1800, German-born Queen Charlotte, wife of England's King George III brought the Christmas tree tradition to England. But it wasn't widely accepted until 1848 when Queen Victoria's German-born husband Prince Albert set up a Victorian Christmas Tree at Windsor Castle. Soon, decorating evergreens spread throughout England, Canada and the United States.
From then on, the tradition evolved. The first artificial trees were developed in the 19th century by Germany; they were made of goose feathers dyed green and attached to wire branches that were wrapped to a dowel rod "trunk." And in 1882, Edward Johnson (a colleague of inventor Thomas Edison) hand-strung 80 red, white and blue light bulbs together for the first electric lights on a Christmas tree. Eight years later, the lights were mass-produced and could be found wherever there was electricity (an 1891 diary records a tree with lights in Montana).
Today, the Town Hall Square in Tallinn is the site of one of Europe's most popular open-air Christmas markets, and rising in the middle is a brightly-lit Christmas tree, honoring the tradition started in 1441. Likewise in Riga, a decorated Christmas tree is still placed in the cobblestoned Town Hall Square in the same spot as in 1510.
So, how is the Estonian-Latvian tree feud going these days? As Riga's mayor said in a 2010 message to Tallinn's mayor, "It is surely a good thing that the only disagreement between the good neighbours of Riga and Tallinn is who has the oldest Christmas tree."