In January 2010, Matt hauled home six motley, Husky mutts from a sprint kennel in Wisconsin. They came together as a free package, all tossed in the back of our Chevy S-10, covered with a topper. What we knew about sled dogs came from our experience mushing at YMCA Camp Menogyn several years previous, an experience that was basically a learn-on-your own trial-by-error kind of adventure. This is to say—we didn't know much. We rigged up chains and houses for our new crew of sled dogs, right in our front yard on our farm in Wisconsin. May and Lilly appeared to have some greyhound in them—both short-haired, lean, long-legged things. Zena and Shasta appeared to be Siberian huskies with very thick coats and a very "sled dog" appearance. Yeller and Sally didn't look anything like what I thought a sled dog should look like—Yeller looking like a Golden Retriever and Sally some sort of Bull dog or Rottweiler mix. But they all wanted to pull our sled and that is what mattered.
Within a few days, however, our tie-out system revealed some flaws. Sally got loose and though she didn't run away, she also wouldn't come anywhere near us. We spent three days trying to coax her in. She spent three days living in other dogs' houses, wandering the yard, and looking at us like we were the enemy.
We did catch her eventually and in her early years she enjoyed running laps around the farm fields and even leading the team. In my very first race at the Apostle Islands Sled Dog Race, she led my team twice around an 18-mile loop and got me hooked on racing.
But Sal was, in many ways, quite ordinary—never extraordinary in her athletic abilities or her intelligence, just a quiet presence with long floppy ears and big round eyes. Riding in the dog box didn't agree with her—she'd slobber and vomit the whole way. One time, driving north to train the team, we let Sal ride in the cab on my lap. Somewhere in the stretch between Tettegouche and the Caribou wayside, she became quite antsy. She must have to go to the bathroom, I said, and we vowed to pull over soon. But it couldn't wait, and just in time I grabbed a plastic shopping bag and held it open as she squatted in my lap and pooped.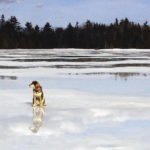 After three or four years of mushing, the majority of our team improved but Sally did not. We brought her in the house one day, vowing to house train her so we could adopt her out. She would run from Matt every time she saw him and strangers had no chance of stroking her fur. Still she won us over. She never left our family. By the time we moved north for good in 2013, she was no longer pulling the sled. She had a near death experience that summer, becoming extremely ill—at the vet we were told she might not make it, but after several days of intensive care and fluids, they brought her back.
After that, she was really slow. She became overweight despite our best efforts to control her diet. She started losing hair.… Turns out she had a low thyroid condition and needed supplementing. With thyroid pills she gained what seemed then to be her third chance at a new life and lived a healthy existence since.
Sally just happened through life by luck and got by in sticky situations by chance. Once in the fall, she tipped over Matt's canoe, forcing both of them to swim to shore in freezing cold water whereby she disappeared into the woods and as Matt said, "laid down to die." He finally coaxed her home. Another time, she ran away with our other two house dogs while we were traveling. The three of them ended up nine miles away on the Devil Track Road, in the middle of winter. The dog sitter coaxed May and Yeller into the truck but Sally ran the other way. I thought for sure she was done for, probably becoming wolf food. But she ran the nine miles home by herself that night. In one way or another, she lived at least nine lives and has the distinction of being the most expensive dog we have owned.
One day a few weeks ago, Matt noticed some funny skin lesions on her back. She had just had a vet check a few weeks previous and appeared healthy. But we brought her back to the vet as the lesions were multiplying by the day. Another day later and she had a seizure, paralyzing a back leg in the process. Treatments were not helping and within a week, we had to put her down. This turned out to be an aggressive form of skin cancer and she would not have survived.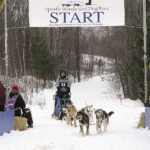 Often, I write of the extraordinary dogs. The dogs like Beezus and Nancy and Judy Blume that pull us to the end of the Beargrease like their life depended on it. Sally was perhaps not cut out for mushing. She didn't want to pull the sled much. Mostly, she just wanted to be around us. Once she overcame her incredible shyness, she was the most loyal dog I've known. She loved to lie under the bed at night or follow us around the yard and be at our side. Perhaps not by choice but by circumstance, she had the distinction of staying in our car in the parking lot at St. Luke's while I delivered Sylvia and rode quietly by the baby's side as we took Sylvia home. It could have been her keen love for food that kept her close, or maybe she just had that big of a heart. Always, the ordinary among us are extraordinary in some way, the qualities that are not raw talent but so lovable all the same.
As we mourn the loss of Sally, we continue training 34 dogs for racing, and for some tours we will be doing through Bearskin Lodge this winter on select weekends. The Beargrease looms ahead as the big race to train for, though some changes to the race make it just a little more doable this year. The race course will run from Duluth—starting at Billy's Bar to Grand Portage, clocking in around 290-300 miles. Some of the familiar faces, I hear, will not be running this year—namely Nathan Schroeder (taking a year off of racing) and Dennis Trembley who will be entering the Yukon Quest.
But a few new faces will fill the roster and make for an interesting race. Cook County musher Frank Moe will return to the marathon this year after a few years running the mid-distance, and another Cook County musher, Mary Manning, will try the marathon for the first time. Quebec musher Martin Massicotte, many-time champion of the Can-Am race in Maine will enter for the first time as well. Today, Nov. 10, there appears to be enough snow to train on sleds, and we will give it a go. This is one day later than last year, but earlier than almost any other mushers get on sleds. I still maintain that our nest between Mush Lake and Pine Mountain is the very best place to raise and train sled dogs and so, with dogs waiting for me to harness them and run, I must carry on and get to work.