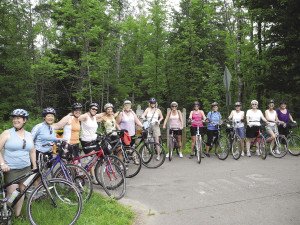 CARLTON—Women who want to explore the scenic Willard Munger State Trail and Jay Cooke State Park near Duluth can attend a Women's Camping and Biking Weekend from Aug. 14-16.
The event from the Becoming an Outdoors Woman (BOW) Program of the Minnesota DNR includes biking, campfire programs, Saturday dinner and a Sunday hike. Participants will stay in the park's camper cabins, which each sleep four people.
"This is an opportunity for women to learn outdoor sports in a friendly, supportive environment, surrounded by beautiful Jay Cooke State Park and the Willard Munger State Trail," said Linda Bylander, BOW coordinator. "It's open to all women age 16 and older, and women do need their own bikes and helmets. Our ride lengths and speed will vary depending on the group."
Two nights lodging, instruction and Saturday dinner is included in a registration fee of $110. Space is limited to 16 people. A registration form and more information on other BOW programs are available at www.mndnr.gov/bow.